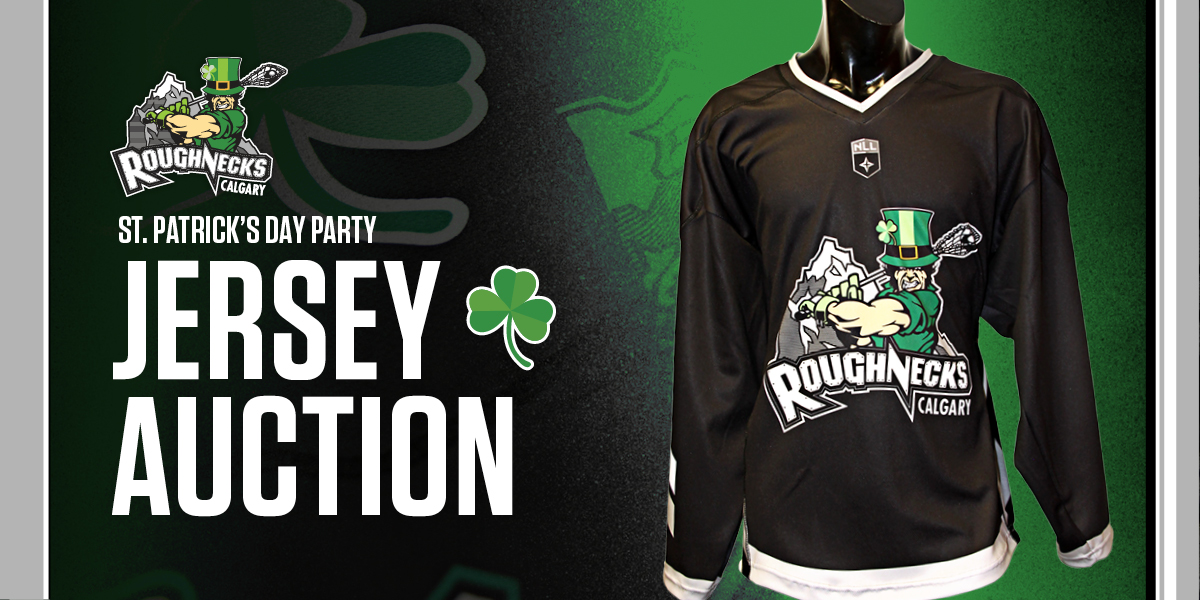 CALGARY, AB – The Calgary Roughnecks have unveiled a limited-edition St. Patrick's Day jersey that stays true to the original design, but has a distinct Irish flare with the caricature's outfit in the logo, the font of the name bars and shamrocks on the shoulders. The unique jersey will make its one and only appearance of the 2018 National Lacrosse League season this Saturday, March 17 at 7:00 p.m., when the Rochester Knighthawks visit the Scotiabank Saddledome for the BIGGEST St. Patrick's Day Party in the City presented by Cedarglen Homes.
Jersey Auction
The Calgary Roughnecks limited-edition St. Patrick's Day jerseys are up for bid at ElevateAuctions.com, with a portion of the proceeds directed to Alberta Children's Hospital Foundation and its commitment to inspire the community to invest in excellence in child health, research and family centered care. The online auction will close at 8:00 p.m. on Monday, March 26.
St. Patrick's Day Party presented by Cedarglen Homes
The festivities begin at 5:00 p.m. with music, The Calgary Fiddlers, and pub-style games on the Concourse. Roughneck's fans that arrive at the Scotiabank Saddledome between 5:00 and 5:30 p.m. will have a burger or a slice of pizza and beverage included with their game ticket. Stay in your seats for your chance to win many prizes throughout the night and for a halftime performance by The Calgary Fiddlers.
"Cedarglen is thrilled to partner with a community focused organization like the Calgary Roughnecks which provides exceptional entertainment value to all Calgarians. The opportunity to align our brands beside theirs for the St. Patrick's Day game on March 17th while also raising funds for the Alberta Children's Hospital Foundation through the game-worn jersey auction is a win-win and we couldn't be more excited" said, Cedarglen Living President, Cole Haggins.
Tickets
Second level tickets, row 5 and above, can be purchased for just $22.50 plus applicable fees and taxes, for the March 17th game only. Vouchers can also be purchased for only $21.99 at all Safeway, Sobeys and IGA locations. For more ticketing options visit Ticketmaster or the Scotiabank Saddledome box office to join the Rough House party. Fans can also secure a seat online at CalgaryRoughnecks.com or by calling 1-855-985-5000.
$5 Happy Hour Menu 5:30 to 7:00pm
• Beverages: 14 oz. Domestic Draught, 6 oz. Wine and 1 oz. Highballs
• Food: Cheeseburgers and Pizza by the Slice