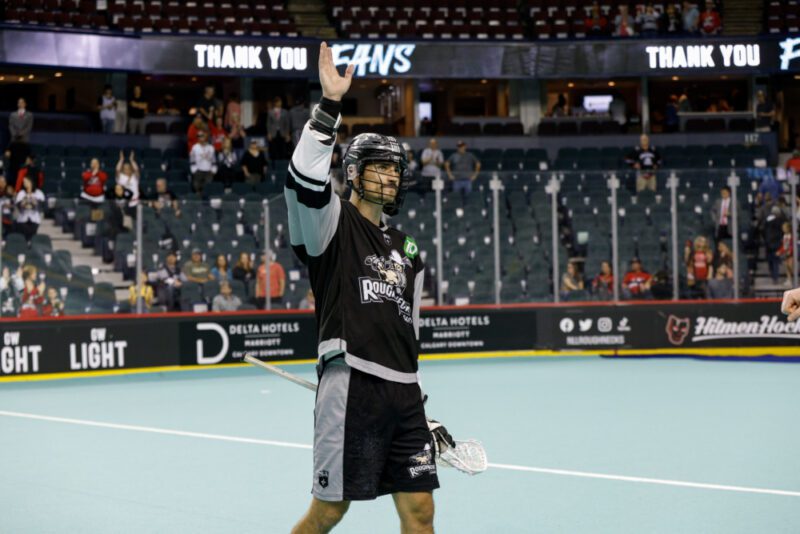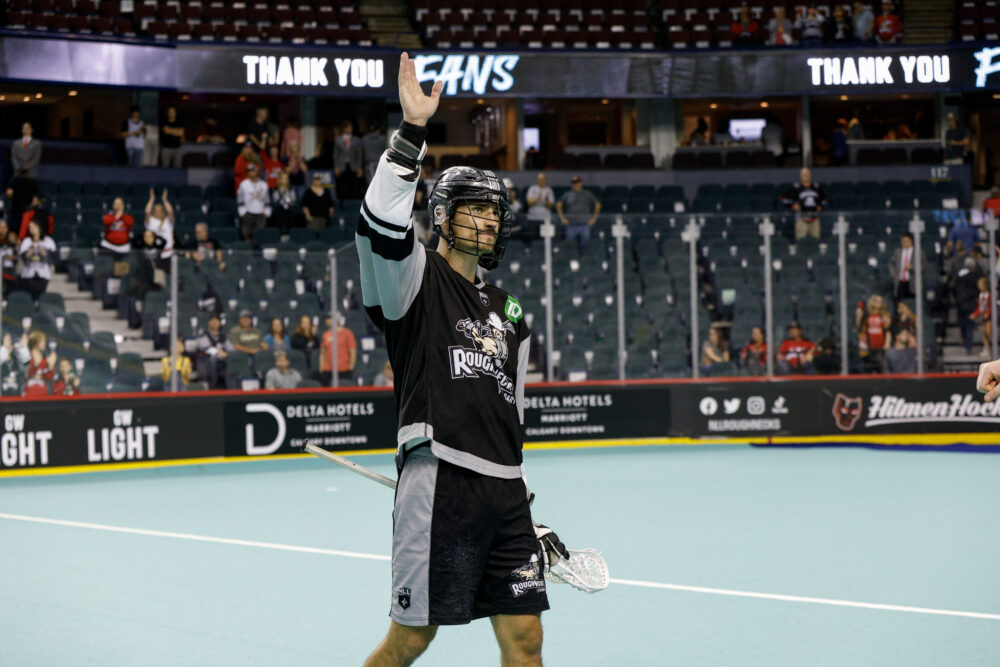 By: Laurence Heinen 
The Roughnecks suffered a disappointing 9-7 loss to the Mammoth in front of 8,251 fans at the Scotiabank Saddledome on Saturday to bring their hopes of advancing the NLL Finals to a crashing halt.
Leading 7-6 heading into the fourth quarter, the Riggers surrendered three goals to the visitors from Colorado, while they weren't able to get any of the nine shots they took past Mammoth goalie Dillon Ward, who finished with 33 saves.
The defending NLL champion Mammoth squad now advance to the league's best-of-three championship final against the Buffalo Bandits.
Haiden Dickson lead the 'Necks in scoring with a goal and two assists, while netminder Christian Del Bianco made 28 saves in a losing cause.
Jeff Cornwall opened the scoring 49 seconds into the contest with a short-handed goal when he took a pass from Liam LeClair and bounced a shot past Ward while in full stride.
The Mammoth answered right back with a power-play marker 19 seconds later before captain Jessse King whipped a long-range shot past Ward at 8:01 to put the Riggers back up by a goal.
The first period finished with a flurry of goals in a two-minute span as Dickson and Kyle Waters did the damage for the home side, while Zed Williams found the back of the net behind Del Bianco for the visitors.
The Mammoth opened the second quarter with a pair of quick goals before Zach Currier responded with another short-handed marker for the 'Necks. Currier adeptly picked up a loose ball behind the net before lunging forward and tucking a wraparound shot in behind Ward.
Despite giving up the final two goals of the first half, the Riggers rallied right back after the intermission and buried the only two tallies of the third stanza.
After Tanner Cook got things started when he converted a feed from Dickson at the 1:11 mark, Shane Simpson notched Calgary's third short-handed marker of the game just over two minutes later.
But it wasn't meant to be for the 2019 NLL champs, who gave up the final three goals of the game to end their hopes of taking on the Bandits to recapture the league title.
COACHES COMMENT
"It's tough. I said let's not let this one game define who we were and what we did. This season, we set a franchise record for wins. There's not a lot I can say – pretty hollow feeling. You really believed that you could win it and you really believed you were going to Buffalo and that you could win it all. I thought we managed well at the end and I thought we had some really good chances. I'm very proud of the guys. It's tough, and it hurts a lot. It really hurts right now."
"Number 45 (Ward) was the difference. We had some great chances on him. They made adjustments. We readjusted to them. They packed it in. I think it all starts and ends with Dillon Ward. They play a good system around Dillon. They're well coached. It was a great series. I think we're splitting hairs. The difference was by millimetres."
BY THE NUMBERS:
Haiden Dickson 1g, 2a
Zach Currier 1g, 1a, 14 loose balls, 4 caused turnovers
Jesse King 1g, 1a
Tanner Cook 1g, 1a
Kyle Waters 1g, 1a
Shane Simpson 1g, 1a
Jeff Cornwall 1g, 1a
Liam LeClair 1a
Reece Callies 1a
Christian Del Bianco 28 saves
SAY WHAT:
"We were doubted the entire year. The guys came together so well as a group and cared about each other outside of what was going on just on the floor. When you can do those types of things in the locker room, it makes these things a lot worse." – Jesse King
"I thought we outplayed them to be honest. They got a couple lucky bounces on their end. I just don't believe that we deserved to lose and it's still setting in." – King
"It's tough when those bounces don't fall your way. I thought that our offence did really well and we had a lot of really good chances. I think I hit like three or four posts and a couple unlucky bounces in front of our net that led to goals for them. A couple posts here and there. When those don't fall your way it can be … not only do they not go in, but it's also a little bit defeating. The only thing you can do is try and get back up and come out the next shift and score. Credit to them, they made adjustments and played really well in their defensive end. At the end of the day, either one of us could have won this game." – King