Lena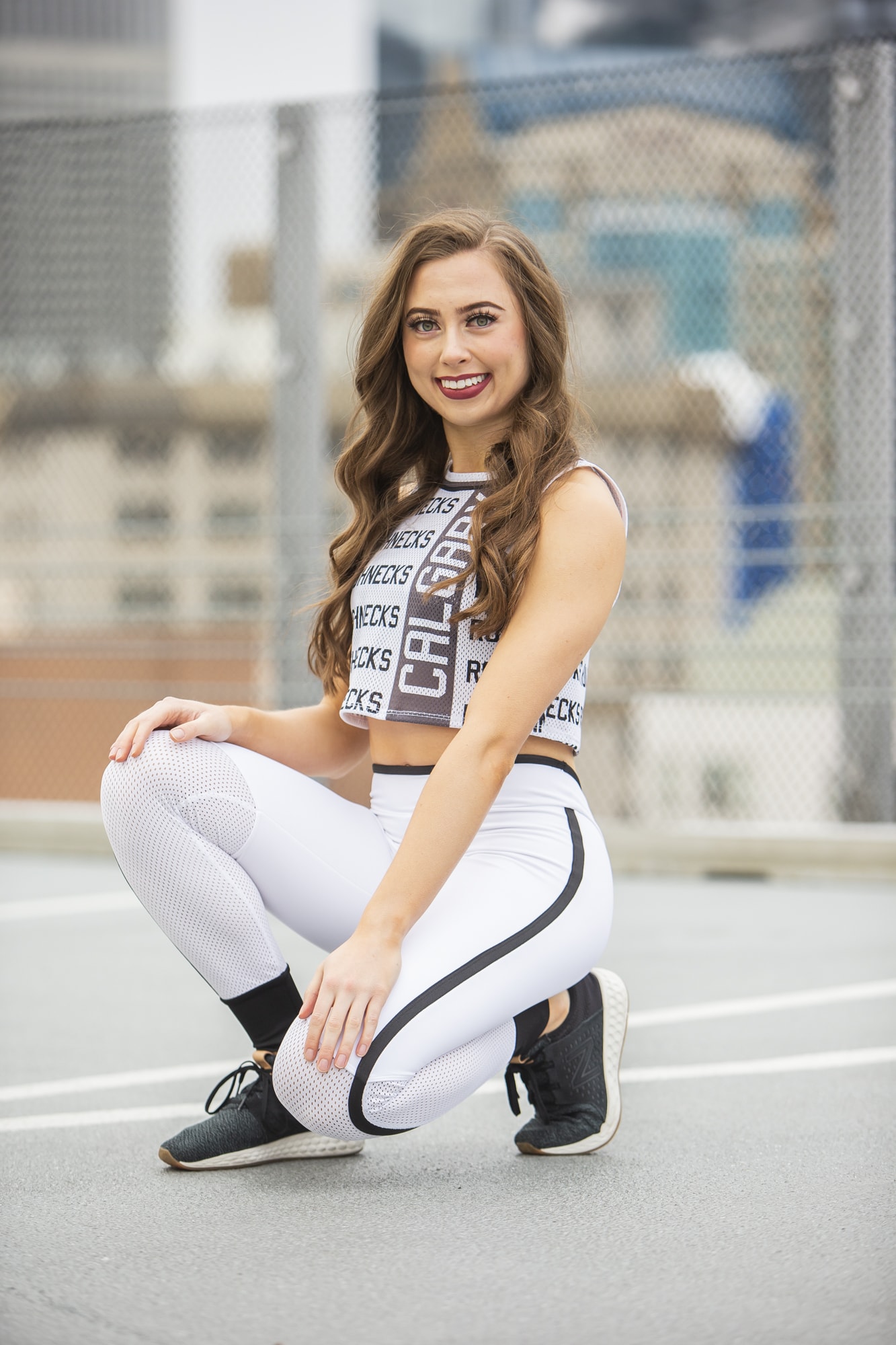 Seasons: 4
Occupation: Laboratory Technician at the Arnie Charbonneau Cancer Institute
Hometown: Calgary
What is your dance/performance background?: I started dancing at the age of 9 after my mom showed me a flyer of a local neighborhood dance studio in our mailbox. After joining a once-a-week 45 min jazz class, I quickly became very dedicated and wanted to do more. I proceeded to do competitive dance for the next 8 years and then naturally became a certified dance teacher. Shortly after completing my final year of formal dance competition, I had the opportunity to dance professionally. I started my professional dance career at 18 where I performed at Calaway Amusement Park with the Calaway Live Cast. During this time, I also auditioned for the Roughnecks Drill Crew and came in as the youngest rookie on the team that year. Since then, I have continued to dance with the Calgary Roughnecks Drill Crew and most recently joined the Calgary Stampeder Outriders.
What is your favourite part about being on the Drill Crew Dance Team?: My teammates! We have an amazing group of passionate dancers that are committed to cheering on and supporting our Calgary Roughnecks as well as each other. Every single one of us strives to entertain the fans with intense, hard-hitting choreography that requires perseverance and skill to synchronously look impressive as an entire team. Also props to our amazing coach Dana who always makes us look good!
What is your best memory on the team?: When the Calgary Roughnecks made history for the 2019 NLL Championship game here in Calgary! I remember all of us on the Drill Crew right up against the glass holding hands in overtime when the Calgary Roughnecks scored the winning overtime goal against the Buffalo Bandits. Every single fan in the Saddledome jumped out of their seats and screamed. It was a surreal energy and feeling like none other that I have ever experienced. I was so proud to be supporting such an incredible team of athletes and sharing the moment with my team and Calgary community. Let's do it again! Go Roughnecks!
Favorite game day song?: "Don't Stop Me Now" – Queen
Favorite style of dance?: Acrobatic Dance
Favorite thing about Calgary?: The diversity of both the opportunities and people the city presents. We are such a hard-working population of individuals where there is no shortage of possibilities in finding others that have similar interests and values to make you feel connected and welcomed into a community of like-minded people.