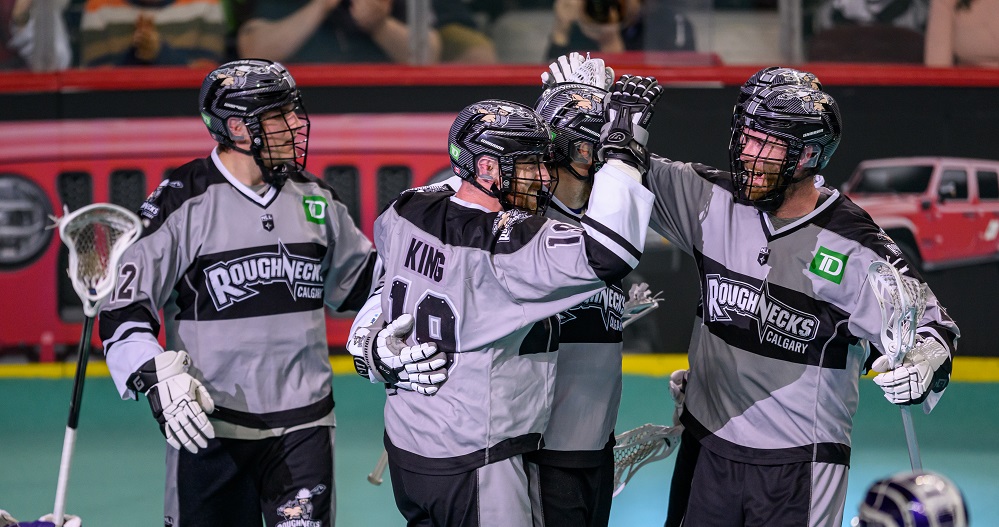 By: Riley Pollock – 13-04-23
SETTIN' IT UP
There's plenty to play for when the 11-5 Roughnecks host the 5-10 expansion Las Vegas Desert Dogs Friday night at 7 p.m. TICKETS.
It's the Fan Appreciation Party at the Rough House and the final regular-season home game of the year.
Calgary has already clinched a home playoff game in the first round but could tie a franchise record for wins in a season (12) with a victory on Friday night, and still have an outside shot at first in the West.
This is the second and final meeting between these two teams this season. The Desert Dogs beat the Roughnecks 11-9 on Feb. 24 in Sin City.
The Riggers are looking to win a second straight game after dismantling Panther City 12-5 last weekend.
For Las Vegas, they are hoping to keep their faint playoff hopes alive with a win. They fell 14-10 to San Diego last weekend.
Worth noting that Christian Del Bianco will dress in his 100th NLL game in the outing.
Tanner Cook needs six points to hit 100 in his NLL career while Tyler Pace needs one assist to hit 50 in a season for the first time.
2022-23 Head To Head:
The Riggers suffered a disappointing loss in Las Vegas earlier this season. Josh Currier and Shane Simpson had three goals and an assist in the loss.
2022-23 Scoring Leaders
Roughnecks:
Jesse King – 87 points (37g, 50a)
Tyler Pace – 71 points (22g, 49a)
Tanner Cook – 53 points (28g, 25a)
Dan Taylor – 39 points (13g, 26a)
Las Vegas:
Rob Hellyer – 81 points (21g, 60a)
Jack Hannah – 53 points (27g, 26a)
Zack Greer – 50 points (30g, 20a)
Goaltending 2022-23 Head-to-Head:
Christian Del Bianco: 11-5
GAA: 9.25
SV %: .813
Landon Kells: 5-8
GAA: 11.12
SV %: .765