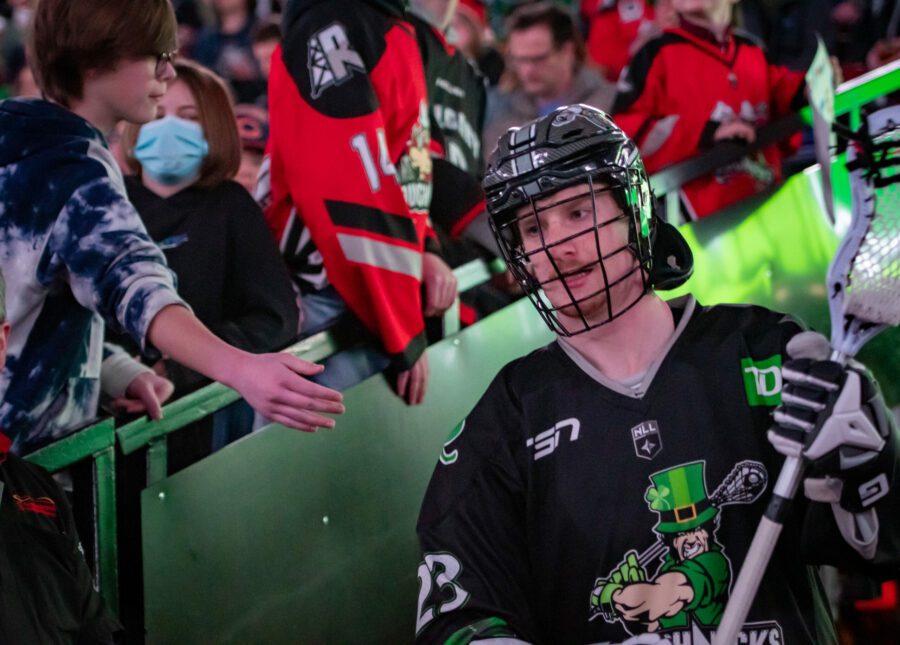 By: Riley Pollock – 16-03-23
SETTIN' IT UP
The Rough House is going to be LOUD on Friday night.
The Roughnecks (8-4) host the Saskatchewan Rush (5-6) at WestJet Field at the Scotiabank Saddledome Friday night at 7 p.m. for the annual St. Patrick's Day game. More than 16,000 tickets have been sold for the game, with limited press level seating still remaining. TICKETS
This is the second meeting between these teams this season. The Roughnecks won the first tilt 13-6 score in Calgary. They will meet again for the final time next weekend in Saskatoon.
The Riggers look for their second straight win after defeating the Mammoth in Colorado 16-10 last weekend. Jesse King had two goals and five assists in the victory.
For Saskatchewan, they have lost three straight games and are in a battle for the final playoff spot in the West with Colorado, who are also 5-6.
The Roughnecks head into the tilt second in the West behind San Diego (8-2) and looking to keep pace.
Riggers forward Josh Currier needs one assist to hit 100 in his career, while Riggers Head Coach Curt Malawsky would move into eighth all-time in coaching wins with a victory.
Christian Del Bianco needs 18 saves to hit 3,000 in his career.
2022-23 Head-To-Head
The Riggers lead the season series 1-0 thanks to a 13-6 win at home. Jesse King was the leading scorer that night with one goal and six assists.
2022-23 Scoring Leaders
Roughnecks:
Jesse King – 65 points (24g, 41a)
Tyler Pace – 51 points (17g, 34a)
Tanner Cook – 36 points (18g, 18a)
Haiden Dickson – 30 points (18g, 12a)
Rush:
Mark Matthews – 67 points (17g, 50a)
Robert Church – 67 points (31g, 36a)
Ryan Keenan – 50 points (14g, 36a)
Goaltending 2022-23 Head-to-Head:
Christian Del Bianco: 8-4
GAA: 9.75
SV %: .811
Alex Buque: 5-6
GAA: 10.75
SV %: .773