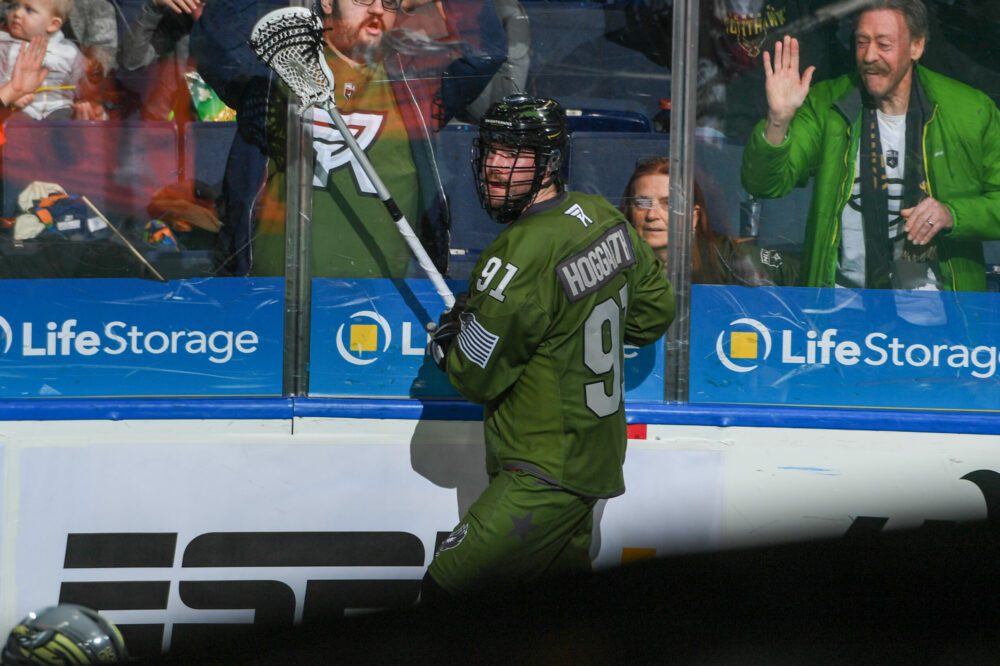 By: Riley Pollock – 21-09-23
Thomas Hoggarth always had an eye on the Roughnecks growing up.
Now, he gets to play for them.
"I'm very excited," said the forward. "I grew up in Toronto so I always circled the Calgary games on the schedule. My dad's friend Andy Ogilvie used to play for the team so I'd always go to the games. Now, just watching the team grow and how close they've been for the past couple of years, I feel like it's a good time for me to join the organization."
As for a quick introduction to the new Riggers offensive standout – acquired in a trade on draft day last Saturday – he stands at 6-foot-3 and 205-lb., and uses that size to have an impact on the floor.
"My game is to open up other players," he explained. "And I feel like whenever I get a good opportunity I put the ball in the net. So, I feel like my job is to score and try to open up the players around me."
Riggers General Manager Mike Board echoed those sentiments.
"Thomas brings a winning pedigree and attitude," Board said. "He is a gritty player who gets to the gritty areas and has scoring touch in tight."
Hoggarth has 95 goals and 171 points in 85 NLL games played over his seven-season NLL career and he is looking forward to adding to those totals with the offensive weapons this team already has.
"I'm really looking forward to camp to start building chemistry," he said. "Working with the guys and hopefully we can carry it into the regular season."
Although Hoggarth has never worked with new Riggers Head Coach Josh Sanderson, he has seen him play many times growing up and can't wait to learn from one of the league's all-time best forwards.
"Growing up in Peterborough he played for Brampton so every Thursday night you'd go and watch the game," explained Hoggarth. "Watching Sanderson play against the Lakers and the way he would score and play the game, and in the NLL watching him in Toronto, I feel like I'm very excited to learn from him and learn his way of offence."
As a Peterborough area guy, Hoggarth has also played for the Senior A Lakers in the summer with the Currier brothers (Zach and Josh) and won four Mann Cups with the team. He hasn't had the opportunity to play with many others within the Roughnecks organization but is looking forward to making new friends.
"I'm not too familiar with many on the team, "said Hoggarth." But I've played with the Curriers and I've played against the majority of the team so I think you build friendships from playing against each other, I played against (Christian) Del Bianco for years through junior and the NLL so I think it's just growing new friendships when I get in there."
Hoggarth started his NLL career in Vancouver with the Stealth so he knows all about the Rough House environment – and he's pumped to be on the home side of it now.
"I started my career out West so I'm familiar with this crowd," Hoggarth said. "I'll say it's very exciting to be on the right side of the crowd now."