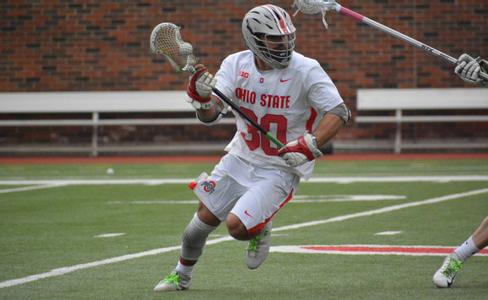 By: Riley Pollock – 14-10-23
Justin Inacio is ready to take on the NLL after a knee injury just before camp last season.
The 2021 10-overall pick had to watch from the sidelines in what should have been his first pro season following a strong career at Ohio State.
"It was horrible," said Inacio. "As I was trying to prepare for camp I played in an alumni game which doesn't mean anything. I was trying to get ready for camp with the resources I had and ended up getting injured and it sucked.
"I got to come to Calgary for camp last year and meet all the guys and got to come out for the home-opener. It was great to support them but it was frustrating."
Inacio did meet a goal of playing for Canada at the world field lacrosse games this offseason, which boosted his confidence.
"Starting the tournament almost exactly seven months post operation was a huge goal of mine to attain," he explained. "That was the one thing I was preparing for and the one thing I cared about this summer. That was a great experience playing with Zach (Currier) and playing with and against the best in the world."
The faceoff-specialist's first goal was achieved, but he has even bigger aspirations for his first season with the Roughnecks.
"I've been thinking about this a lot recently," said Inacio. "I want to be at least a top-three faceoff guy in the league and make an impact on defence. I was chatting with Troy (Cordingley) earlier today and he asked me what I see myself playing as, just a faceoff guy or a defence guy. I told him I want to become a top defence guy on the team as well. I don't want to just be a faceoff guy.
"So, being a top defence guy on the team and a top-three faceoff guy in the league this year are goals of mine."
Inacio finished his Ohio State career second in all-time faceoff percentage and first in ground balls in team history with 360. He described what Riggers fans can expect from him as a player.
"I'm scrappy," Inacio explained. "I'm going to try and pick up every single ball on the ground I can. That's who I am and that's why I have the ground ball record at Ohio State. I like to be aggressive. I don't do anything fancy but I'll scrap for everything."
Inacio has been preparing hard for camp which starts in the first weekend of November and will get in some more game action with Canada's Under 25 team at the Fall Classic this weekend in Sparks, Maryland.