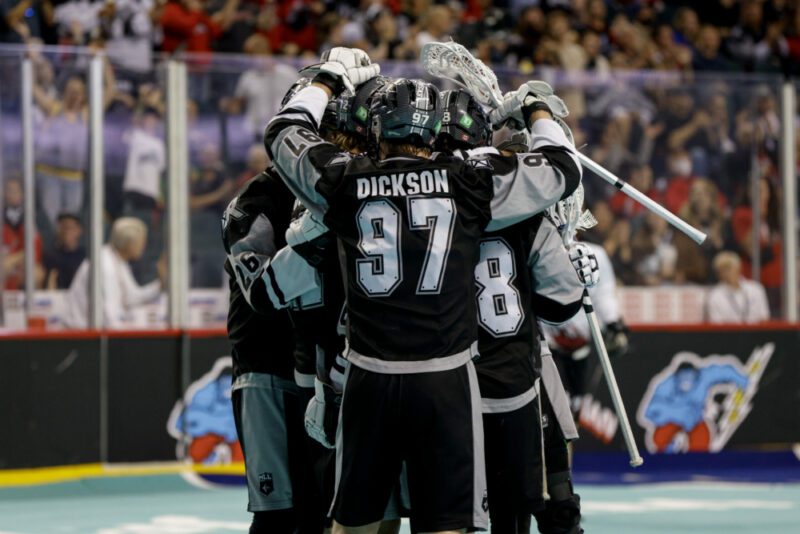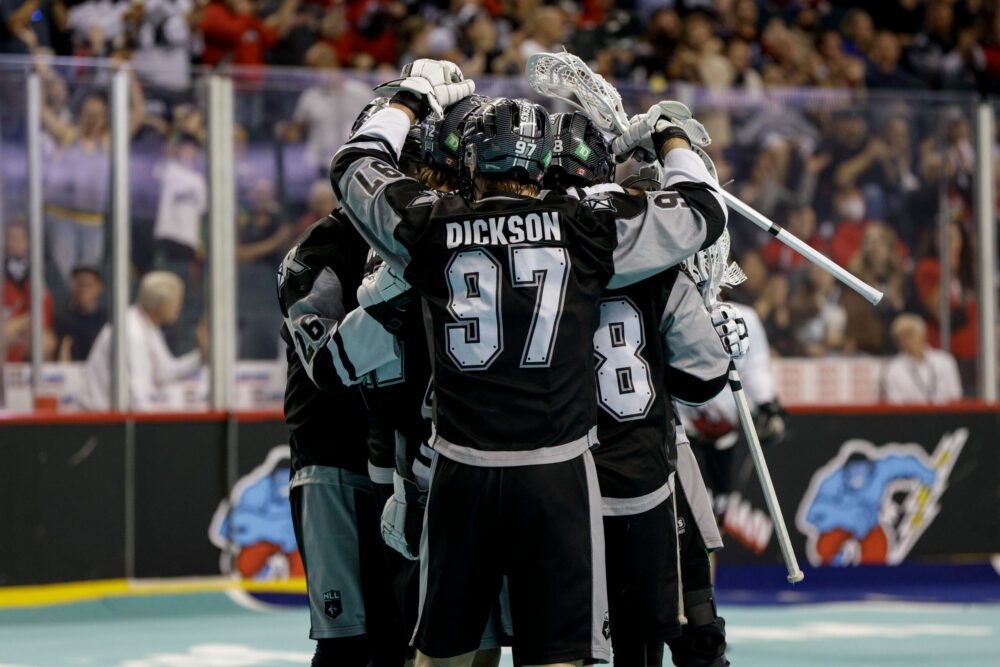 By: Laurence Heinen
Make it a best-of-one.
Tyler Pace had a hat trick and four assists to lead the Roughnecks to a thrilling 13-12 win over the Colorado Mammoth on WestJet Field at the Scotiabank Saddledome in front of 7,681 fans on Saturday.
Tanner Cook also fired three goals to go with one helper, while captain Jesse King scored twice and added six assists.
The victory helped the Riggers avenge an 8-7 setback they suffered in Denver to the Mammoth on Thursday in Game 1 of the best-of-three West Conference Finals.
The two teams will settle the affair next Saturday night (7:30 p.m.) at the Rough House to find out who will earn the right to face off against the Buffalo Bandits in the best-of-three NLL Finals.
Goalie Christian Del Bianco made 32 saves to pick up the win, while Zach Currier had an inspired performance with a goal, an assist and seven caused turnovers, while also scooping up 17 loose balls.
The 'Necks had a great chance to open the scoring at the five-minute mark of the first quarter, but Mammoth netminder Dillon Ward stood his ground to stop Zach Currier's breakaway attempt.
Trailing 1-0 at the mid-way point of the first quarter, the Riggers rallied to score two goals in 53 seconds to take the lead.
Shane Simpson sped past a pair of defenders and snapped a quick shot past Ward at 8:40 before King converted a feed from Pace during a Calgary man advantage 53 seconds later.
The visitors then evened the score late in the opening frame before the Riggers went ahead 4-2 thanks to goals by Dan Taylor and Pace at 7:29 and 9:05 of the second quarter.
After the Mammoth pulled to within a goal, Cook scored a clutch goal with 13.8 seconds remaining in the first half when he picked up a rebound and quickly shovelled it past Ward.
It was a back-and-forth affair in the third quarter as each team scored three times by the 12:11 mark with Pace, Taylor and Josh Currier doing the damage for the Riggers.
Zach Currier then scored with 41.8 seconds remaining in the quarter to put the home side up 9-6.
The final frame started well for the 'Necks, who scored two of the first three goals as King and Cook both found the back of the net for the second time in the contest.
The visitors then made it interesting as they scored the next three goals before Cook and Pace answered right back to put the Riggers up 13-10.
The Mammoth fought right back with two goals of their own, but weren't able to get the equalizer past Del Bianco, much to the delight of the crowd.
BY THE NUMBERS:
Tyler Pace 3g, 4a
Tanner Cook 3g, 1a
Jesse King 2g, 6a
Dan Taylor 2g
Zach Currier 1g, 1a, 17 loose balls, 7 caused turnovers
Shane Simpson 1g, 1a
Josh Currier 1g, 1a
Haiden Dickson 4a
Kyle Waters 2a
Christian Del Bianco 32 saves
COACH'S COMMENT
"That resolve is amazing. That's a really good lacrosse team over there. It's a series for a reason. It's back and forth. It's like you're playing ping pong. They bang it back. We bang it back. It's the way it is and you've got to learn from those games. In a blowout, you learn some, but not what you can learn here in this. Just to have that mental fortitude of just to stay focused on your job and not look at the scoreclock and even though they go on momentum runs, don't change and that is tough to do in a sport. That's what I was most proud of our guys. We didn't change – no matter what the score was, no matter if they went on a two- or three-goal run or we went on a three-goal run, we didn't change and that was the difference."
Re Zach Currier – "He gets just rail-roaded into the wall early. I'm not saying that was their plan, but they went after the right guy probably, but he just gets right up and just keeps competing and competing. I always say that compete level's contagious. How do you not work as hard when you see 77 competing like that. You don't even have to say anything. You just watch the guy and it's like, I'm going to match that effort. That's what he brings. Of all the intangibles that he brings, that's one of the biggest things that I love so much about Zach is that he's a true champion, he's a true winner, he knows what it takes to be successful and he does those little things that make a difference in a game."
SAY WHAT
"I wanted to spend another weekend with the guys – that's all I was focusing on. When you care about something, you go out and get it no matter what you have to do. I left it all out on the floor. I was bent over on the bench quite a bit. I definitely left it out there for the guys to my left and to my right, so we could have another week together." – Zach Currier.
"Two past champions – we all know what it takes to win in this league, so not surprised at all. It's been a dogfight out there. Great offences – a ton of skill on both sides of the ball out there." – Currier
"I think it's just one of those games where you just have the belief that you're always going to win and our destiny is in the Finals, so I think that we believe that in the dressing room and we're going to come out in the next game and battle hard for it. We always hope to see a bigger crowd. I mean, let's pack this thing up." – Tanner Cook