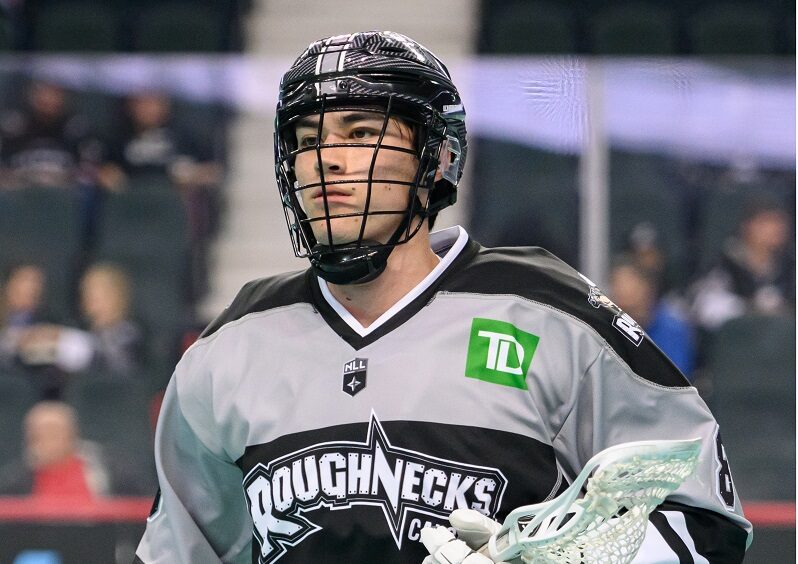 By: Riley Pollock – 26.10.23
A permanent spot on the Riggers back end is on the mind of Kieran McKay.
The second-year Calgary defender got in four games last season as a rookie when injuries on the Roughnecks backend started piling up.
Now, he wants to make sure he takes another step by earning a regular spot.
"I think the goal is to get more playing time this year," McKay explained. "I got into a few games last year and I was happy about that. I think this year, I want to stick with the team out of camp and seeing where it goes would be awesome. I would like to fight for a spot to be a consistent player on the active roster.
"Overall I'm happy with how it went last year and my expectations are higher this year."
After a strong season of summer ball with the Burnaby Lakers in which McKay had 10 points in 14 games, he feels he is ready for that next step.
"I personally feel like I'm ready to make more of an impact," he said. "I want to benefit the team as much as I can so if I can take on a bigger role to help the team I'd be happy to take on that responsibility."
McKay knows the first step will come in camp when the battle for jobs begins on Nov. 4.
"I'm happy we are keeping the strong group of guys that we have," said McKay. "We did have (Curtis) Manning retire and Mitch (Wilde) head to New York but we're returning a strong group of guys. We were able to do quite a bit with this group last year so we should be able to do much more this year especially with our additions."
The former McGill University athlete has continued his schooling after getting his Bachelor's Degree in Science in 2021. He says besides lacrosse, the end of the last school year and the beginning of this one kept him busy while waiting for camp to start.
"I got back out west a little late to play summer ball because I was in school until mid-June," Mckay explained. "So, I've been busy with school as always, I was back to university by mid August so didn't get a chance to do much besides school and summer ball this summer."