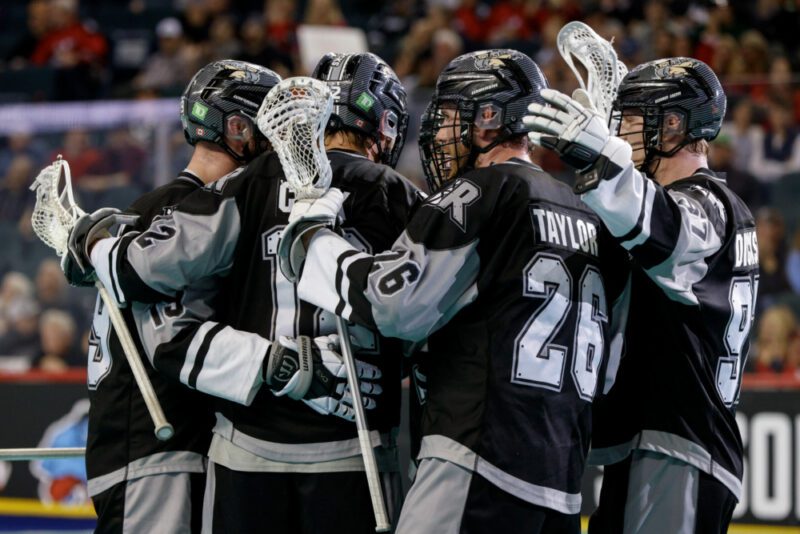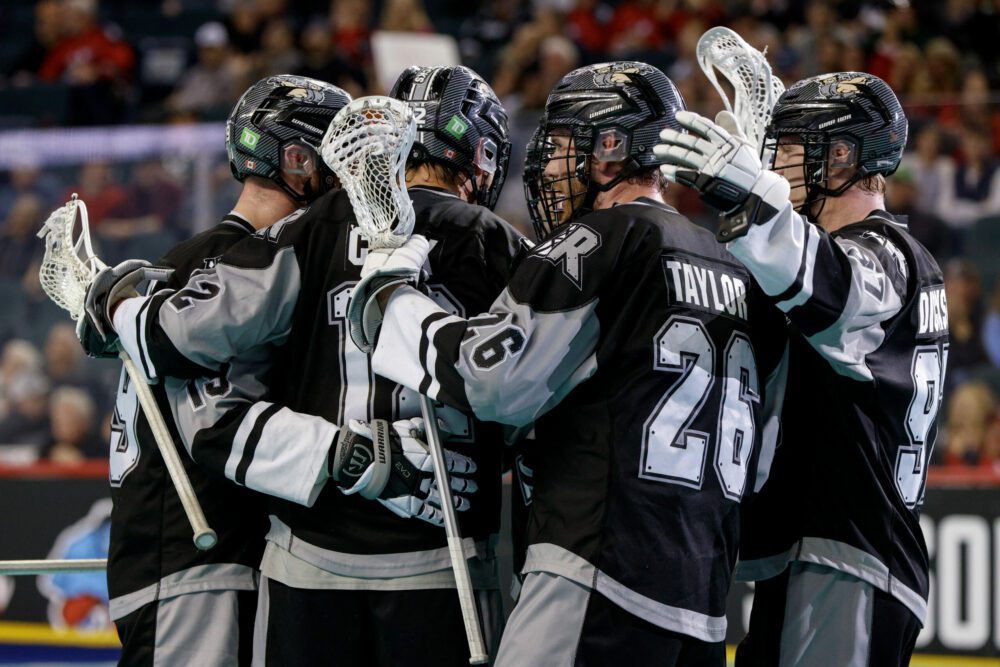 By: Laurence Heinen – 06-05-23
Tyler Pace came up big in the clutch when the Roughnecks needed him the most.
Pace scored a pair of power-play goals in the fourth quarter and another even-strength marker to complete a natural hat trick to lead the Roughnecks to a thrilling 12-9 win over the Panther City Lacrosse Club on WestJet Field at Scotiabank Saddledome.
Thanks to his four-goal, four-assist performance in Calgary's first-round NLL playoff victory over Panther City, Pace was selected as the game's first star, much to the delight of the 10,104 fans in attendance.
Jesse King also had a hat trick to go with three helpers, while Tanner Cook chipped in with three goals and four assists.
After giving up six goals on the first nine shots fired his way, goalie Christian Del Bianco only allowed three goals the rest of the way as he finished with xx saves to backstop the Riggers to victory.
King opened the scoring for Calgary 31 seconds into the game when he took a nice pass from Cook before cutting to the net and snapping a shot past Panther City goalie Nick Damude.
The visitors then scored the next three goals before Pace converted a pass from King to pull the homeside within one.
After Patrick Dodds put PCLC up 4-2 at 7:30 of the first quarter, Cook responded for the Riggers 29 seconds later when he caught a pass from Pace and flicked the ball past Damude, all with just one hand on his stick.
With time winding down in the opening frame and the 'Necks trailing 6-3, Zach Currier used his speed and cut around a defender towards the net before snapping a low shot past Damude.
King, Currier and Cook then scored the first three goals of the second quarter to put the hometown favourites up by a count of 7-6.
The visitors then pulled even once again before King completed his hat trick with 1:30 left to play in the first half.
After surrendering the only two goals of the third quarter, the Riggers pulled even at 2:05 of the final frame with a power-play goal authored by Pace, who fired a long-range shot past Damude.
Pace potted a pair more before Travis Cornwall scored into an empty net to complete the come-from-behind triumph.
BY THE NUMBERS:
Jesse King 3g, 3a
Tyler Pace 4g, 4a
Tanner Cook 2g, 4a
Zach Currier 2g, 10 loose balls
Travis Cornwall 1a
Josh Currier 2a
Christian Del Bianco 37 saves, 1a
Reece Callies 1a
Haiden Dickson 1a
Curtis Manning 1a
COACH'S CORNER
"They score a short-handed goal that could have been a back breaker, but we just keep grinding and grinding and grinding. That blue collar work ethic that I talk about and that belief and that trust in each other and that resiliency … you bend, you don't break attitude. If you really believe in something, you'll do whatever it takes to get it done and the guys did. I was proud of them."
Re Pace's performance: "Outstanding. He's huge for us. He puts a lot of pressure on himself. He's a perfectionist and he's a big game player. He proved it today. I think he had all three last goals, outside of Cornwall's empty netter. He moves his feet well. He's so, so intelligent. He's like having another coach on the floor. He sees stuff out there and he's a big, big part of this team."
SAY WHAT:
"I think it was more just get your head out of your you know what, right. Obviously they're a great team. They work hard and you have to give them credit just for how they come out in games … that sprint. They have a lot of young bodies out there that just keep going. Obviously they came out swinging and it kind of caught us off guard and we were able to regroup." – Christian Del Bianco
"We were disappointed last year after our home (playoff) game, so to move onto the second round is big, but I think we deserve this. We earned it throughout the year. We put in the work throughout the week. We stayed accountable to each other. And this is the result." – Tyler Pace
"Just keep shooting, to be honest. Shoot to get hot. Shoot to stay hot. I owe a lot of credit to the guys on my side, with Watty (Kyler Waters) and Josh (Currier) and Tows (Dan Taylor) getting me open a lot. They did a lot of work on the inside. And then our lefties did a good job finding me for those open looks. It was my responsibility to can it. That's my job – and I ended up doing it." – Pace