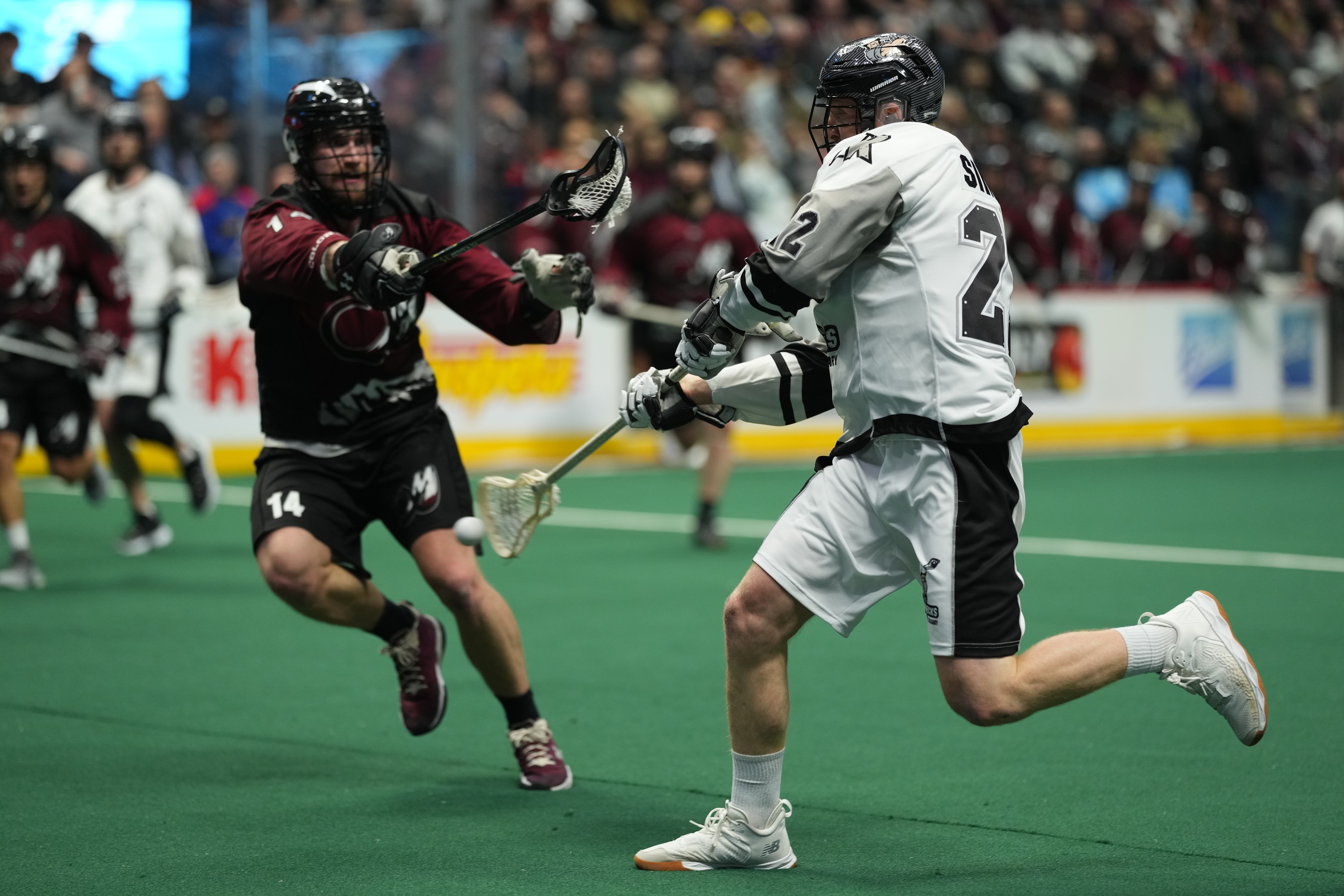 By: Riley Pollock - 07-01-22
It was a hard-fought battle that went right down to the wire.
The Roughnecks started strong on Saturday night and pushed to the final horn but the Mammoth battled back to win 9-8 in Colorado.
The Riggers are now 2-2 while Colorado improves to 2-1 on the season.
Jesse King wasted little time opening the scoring, he found the back of the net just 31-seconds in.
Tyler Pace would extend the lead to 2-0 not long after
The Mammoth would get on the board late in the quarter as former-Rigger Rhys Duch scored a goal to become the 11th player in NLL history to record 1,000 points.
The score was 2-1 after the first quarter.
Colorado would tie the game up early in the second quarter in transition before Eli Salama scored the Roughnecks NLL-leading, fourth short-handed goal to regain the lead.
Then, Tanner Cook picked up his first of the night to make the score 4-2.
The Roughnecks would extend lead to three as King fired home his second of the game off a set-play coming out of a commercial break.
The Riggers had a 5-2 lead at the half.
Colorado would cut into the Riggers lead on the powerplay early in the second-half to make the score 5-3.
The Mammoth got back within one goal before Cook scored his second of the night on a beautiful pick-and-roll play to make the score 6-4 in favour of the Roughnecks.
Colorado wouldn't let the two-goal lead last long as they bounced one under Christian Del Bianco making the score 6-5 halfway through the third-quarter.
The Mammoth would tie the game again before Seth Van Schepen scored his first career goal to make the score 7-6 Riggers.
Colorado would not go away however, tying the game again this time at seven. That would be the score heading into the final frame.
The Roughnecks would trail for the first time early in the quarter as the Mammoth made the score 8-7.
Pace added his second of the night on a beautiful cross-crease dive to once again tie the game 8-8.
The Mammoth regained the lead shortly after making the score 9-8.
The Roughnecks went to the powerplay with 2:03 remaining and had some great looks but Mammoth goaltender Dillon Ward made some huge saves late in the game to preserve the win.
BY THE NUMBERS
Jesse King: 2 goals, 3 assists
Tanner Cook: 2 goals, 2 assists
Tyler Pace: 2 goals, 1 assist
Dan Taylor: 3 assists
Eli Salama: 1 goal
Seth Van Schepen: 1 goal
Brett Hickey: 1 assist
NEXT UP
The Riggers host the San Diego Seals at the Rough House Jan. 14 at 7 p.m… CLICK HERE FOR TICKETS