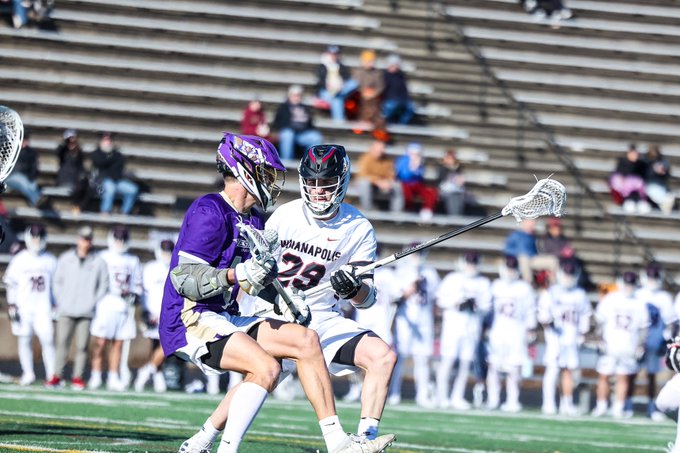 By: Riley Pollock – 05-10-23
Evan Soucy just wants a shot to prove he can play at the pro level.
He will get that opportunity at the beginning of November when the Roughnecks open training camp.
https://x.com/NLLRoughnecks/status/1703148665479852442?s=20
The 6-foot-1, 200-lb. defender – who was taken in the second round,  thirty-seventh overall in the September NLL draft – can't wait to get down to business.
"I'm hoping to show what I can do and have a chance of making the team," he said. "I'm very excited. Growing up I would always watch the Roughnecks and I'm super excited to get the opportunity to play at this level."
Soucy played collegiate ball for the University of Indianapolis, where he recorded 38 loose balls and 23 caused turnovers to go along with three points from the back-end in his senior season.
He also played for the Senior A Nanaimo Timbermen this summer, something he thinks will help ease the transition to the pro game.
"Lots of the (NLL) guys already play at that level," he explained. "I've played with guys like (Ethan) Ticehurst, who is on the Roughnecks.
"It's a jump from junior to senior and it was a pretty smooth transition but from what I understand it's another jump to the NLL, but I think playing a summer of Senior A with some high-level players will definitely help with making the transition a little smoother."
Soucy said when it comes to his style of play, he prides himself on hard defence but isn't afraid to get up the floor.
"I like to get to the hard areas," he said. "I like to go to the tough spots on the floor for loose balls then just play a fundamental, defensive game and when there is an opportunity to push in transition, I'll run with the ball."
Soucy briefly spoke with the coaching staff after being drafted about expectations as we head to towards November and the beginning of training camp.
"I spoke with Coach (Josh) Sanderson after the draft" he explained. "We just talked about how it's going to be very competitive in camp and how they expect us to show up in shape.
"I'm pretty excited to be heading to Calgary at the beginning of November and getting started."