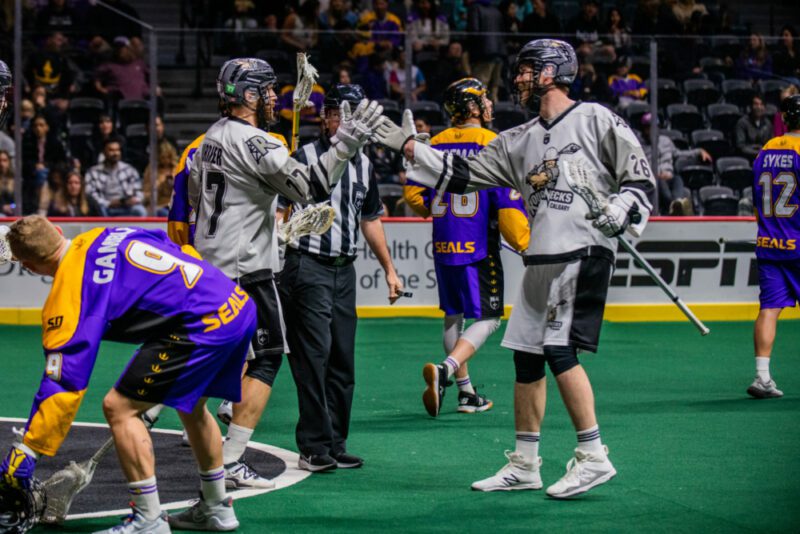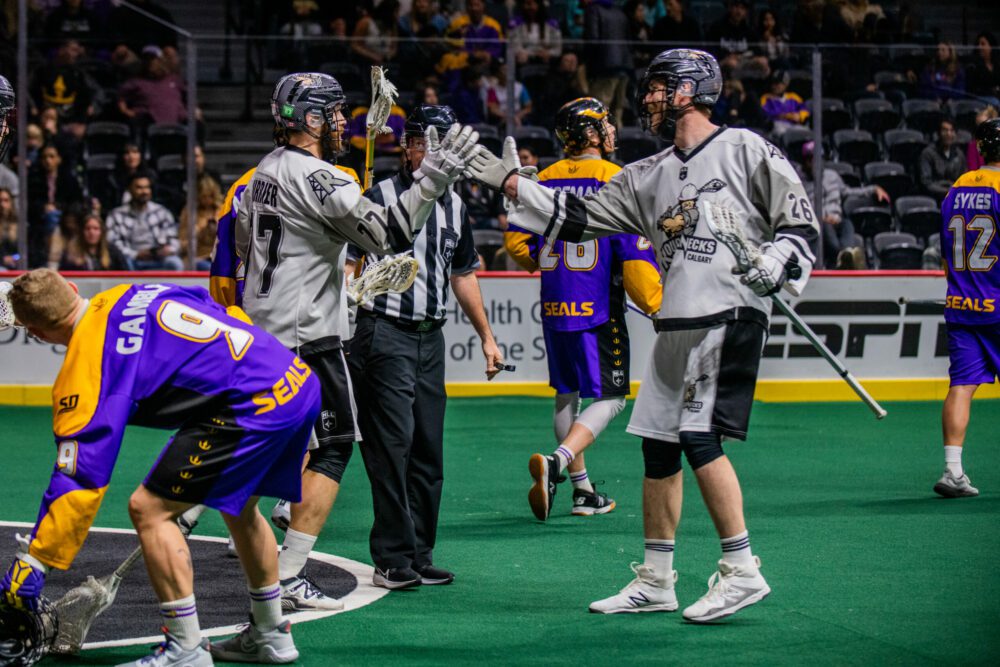 In a battle for first place, the Riggers fell 14-8 to the Seals in San Diego.
The Riggers did clinch a playoff spot thanks to a Las Vegas loss as they fall to 10-5 on the season.
The Seals opened the scoring early in this one as former Roughneck Curtis Dickson found the back of the net to make the score 1-0.
They continued a strong first-quarter adding two more to make it 3-0 heading into the first commercial break.
The Riggers would answer back as Jesse King scored the opening Roughnecks goal for a fourth-straight game to make the score 3-1.
Zach Currier picked up his 14 of the season to get the Roughnecks within one, 3-2.
The Seals would regain their two-goal lead on the powerplay to make the score 4-2.
San Diego would add another short-handed to make the score 5-2 heading into the second-quarter.
The Seals continued to add to their lead early in the quarter making it 6-2.
San Diego controlled the special-teams scoring their second short-handed goal of the night to make the score 7-2.
Tanner Cook ended the Seals run with a five-hole laser to make it 7-3.
There was four penalties called within two-minutes, the fourth one leading to a Seals penalty shot as the Riggers already had two in the box. San Diego would score on the penalty shot to make the score 8-3. That was the score heading into the half.
Kyle Waters got things started in the second-half on the powerplay with a wire from up high to put the Riggers within four, 8-4.
Josh Currier found the scoreboard wiring one far-side top corner to making it 8-5.
The Seals would get their first of the half with just over three-minutes to go in the third, putting the score at 9-5.
San Diego scored their third short-handed goal of the night to make it 10-5,
King picked up his second of the night with just seconds remaining in the quarter to send the game to the final frame 10-6.
Waters scored his second early in the fourth to the make the score 10-7.
San Diego continued to dominate the special teams scoring their fourth and fifth short-handed goals of the night to make it 12-7.
After the Seals added another, Shane Simpson scored in transition to make the score 13-8.
San Diego would tack on one more to make the final score 14-8.
By The Numbers:
Jesse King: 2g, 1a
Kyle Waters: 2g, 1a
Tanner Cook: 1g, 1a
Josh Currier: 1g, 1a
Zach Currier: 1g, 1a, 11lb
Haiden Dickson: 2a
Shane Simpson: 1g
Christian Del Bianco: 35 saves
Next Up: 
The Riggers return home to host Panther City April 8 at 7 p.m.