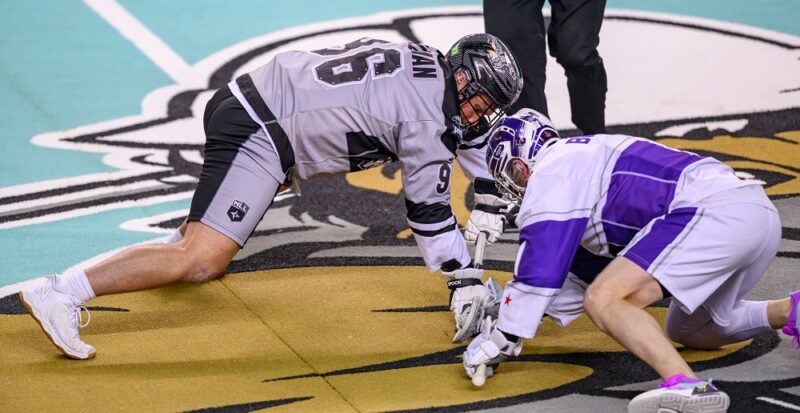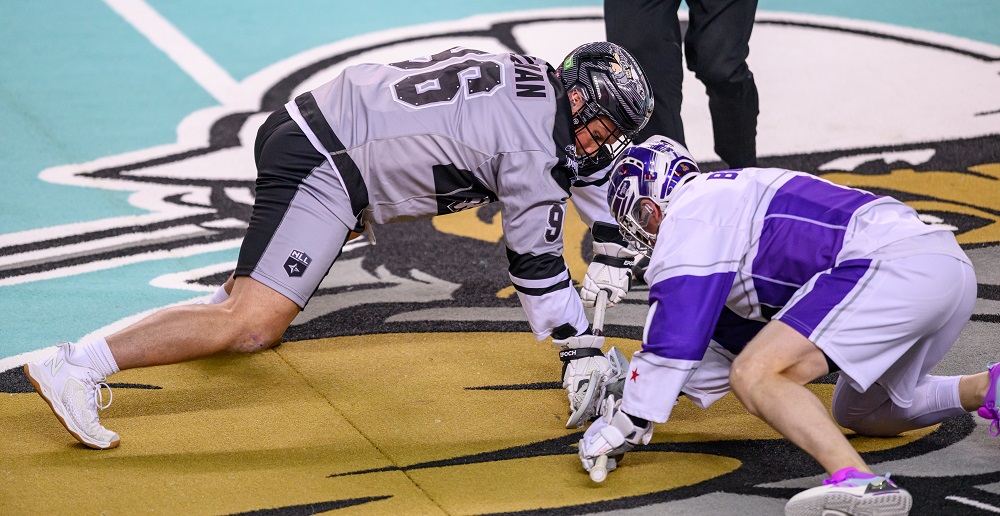 By Riley Pollock – 12-04-23
The grass seems a little greener for Chris Willman.
Willman joined the Riggers practice roster early this season after two years with the Rochester Knighthawks, who won just six games while he was on the roster. This year, Calgary is 11-5 and sitting in second place in the West and Willman has dressed in six games for the club.
"To be honest, it's been one of the most enjoyable thus far in the NLL in my young career," Willman said. "My first two years in Rochester the reality was we just weren't really competing for a playoff spot. Being a new expansion team, we went through those expansion struggles. It's a lot different (here), it's nice to get back in the win column and just the overall team atmosphere is something I've thoroughly enjoyed. I love the guys."
And there's playing in the Rough House – quite an experience. Calgary has the biggest average crowd in the West and is second overall in the NLL this season.
"There's nothing like it," he said. "Through my work (at the Hill Academy in Ontario) there's a number of NLL players that work here as well like (San Diego's) Brody Merrill and (New York's) Jeff Teat and I've told them it's incredible.
"We've played in an almost sold-out arena this season. So, it's like nothing I've ever experienced, nothing has really come close to the atmosphere in Calgary."
Willman was in and out of the lineup to start the season but due to unfortunate injuries on the back end he has found himself on the floor for the better part of the last two months.
"It's nice to be able to contribute on the floor," said Willman. "It can be difficult, like at the start of the year when I was on the practice roster, it's a little bit more self-motivated and you don't really know when your opportunity to play will be. Unfortunately, our team got a case of the injury bug so I've been able to get in a little bit so I'm just happy to be able to play and contribute as much as I can."
The Roughnecks struggled in the faceoff circle early in the season but, with Willman being a faceoff specialist, he has improved that area for the club.
"I think I started taking faceoffs in peewee, so since I've been 10 or 12 years old," he explained. "It's always been something I've been naturally gifted with so it's something I've always stuck with. I've taken faceoffs through my junior career, my senior career, through the summer, so faceoffs have always been a facet of my game."
Willman came into a group of defenders that were highly touted as one of the biggest and best groups in the NLL and he has enjoyed learning from his teammates.
"To be honest, it's unbelievable," Willman said. "It's nice to know that you have (Christian Del Bianco) behind you. In my mind, probably the best goalie in the league this year and he's a top-three goalie consistently every year. With the defence as well it's just such a big tough group. I unfortunately bring the height of the group down a little bit but it is a big, bruising type of group so it plays into the style of defence that I like to play where we keep it nice and tight, nice and compact, and just kind of beat on guys in the middle."