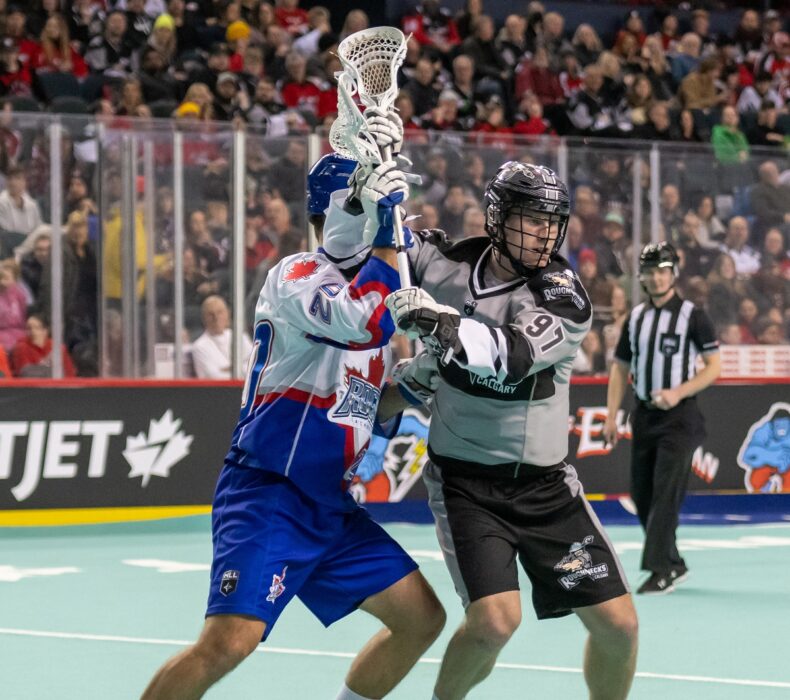 By: Riley Pollock
The Roughnecks offence has gone through a few changes this offseason, but, two big bodied forwards are showing strong development in their heightened rolls. .
With the loss of Curtis Dickson in the summer, young forwards Haiden Dickson and Tanner Cook have played bigger roles in this new look group and are both on their way to new career highs in most statistical categories.
Cook has seven goals already this season while scoring 11 in 18 games last year while Dickson has eight goals and is well on his way to passing his career high of 12 set last season.
"Early on in the season I knew there was going to be some big changes," said Cook. "I knew I was going to have to do my best to step in and fill a bigger role and contribute more offensively. I think that I've done an OK job at growing as a player from last year but there's definitely still a long way to go to be considered satisfied. I mean, I'm definitely nowhere near satisfied with my play, I have a lot more that I can contribute to the offence."
Cook and Dickson are both big, strong players that bang and grind for the offence, Dickson was drafted in the first-round in the 2019 draft while Cook was taken in the first-round in 2020. Cook sees similarities in their games and their integration into the offence.
"We're both pretty physical players," he said. "We try to get our teammates open as much as we can by moving defenders around but we also have the ability to take the ball ourselves to the net. I think from us two it's more building that confidence and finding our concrete role and the way we can play off the other offensive players."
The Roughnecks are 3-3 through six games this year and Dickson says coming out stronger early may be the key to more wins for his group.
"I think in the first couple games, in the first quarter of games I think we can come out a bit stronger," Dickson said. "We've been down a little bit early and we're trying to fight back in the third and fourth so I think the first quarter is definitely the top thing we need to start grinding out."
Another struggle for the Riggers has been the powerplay this season. They are just two-for-eleven in their last three games but Cook says it's just a matter of time before they start finding the back of the net.
"I think we've been playing around with the powerplay a little bit over the first six games, "Cook said. "I think we're trying to get to the point where we're going to find those five guys that are going to go out every time and we're going to roll with those guys and see what we can do. I think the balls are going to start to fall for us, we're getting lots of opportunities so we've got to find a way somehow."
Cook, Dickson and the Roughnecks will look to get back in the win column this Saturday when they battle the Thunderbirds in Halifax at 4 P.M.