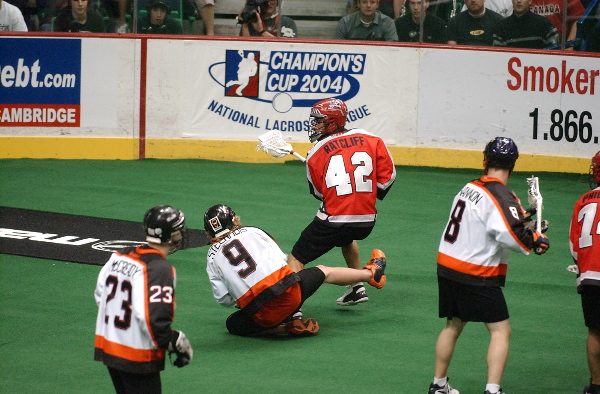 The Roughnecks will battle the Buffalo Bandits for the NLL championship this year, the best-of-three series starting this Saturday in Buffalo with Game 2 in Calgary on May 25 (Tickets). The two teams played a one game winner-take-all title tilt back in 2004, with the Riggers coming out on top 14-11. Over the next 10 days, we'll touch base with some of the Roughnecks players that played in that game through Skype interview and stories. Today in Part III, we talk with Lewis Ratcliff.
SEE ALSO:
Championship Memories Part I – Jesse Phillips
Championship Memories Part II – Tyson Leies
Carpe Diem.
Enjoy the ride.
Make it count.
Those old clichés – and any others of a similar ilk – all ring true when you're talking about the opportunity to play for a championship.
In any league, in any sport.
Back in 2004, Lewis Ratcliff was in just his second season of what would become a stellar 14-year NLL career where he finished with 1,040 points in 212 combined regular-season and playoff games.
Already a key part of a potent offence on a Roughnecks team on the rise, he played an integral role in Calgary's 14-11 championship win over the Buffalo Bandits on the Scotiabank Saddledome floor, scoring three times in the victory.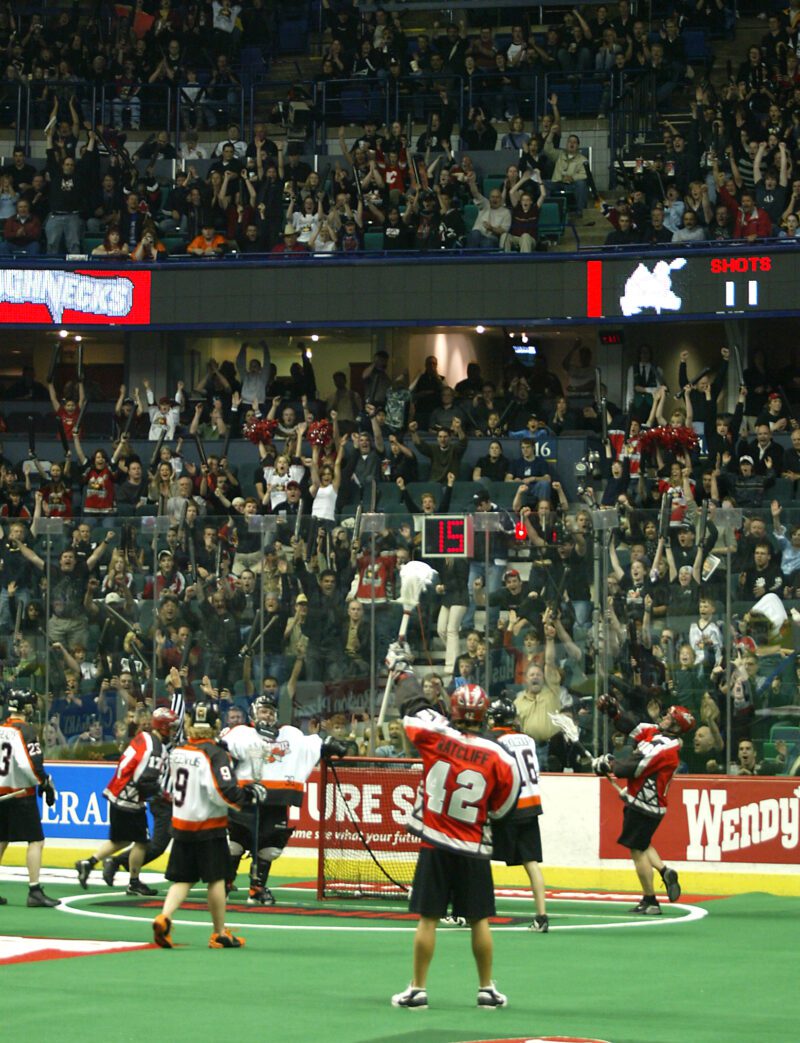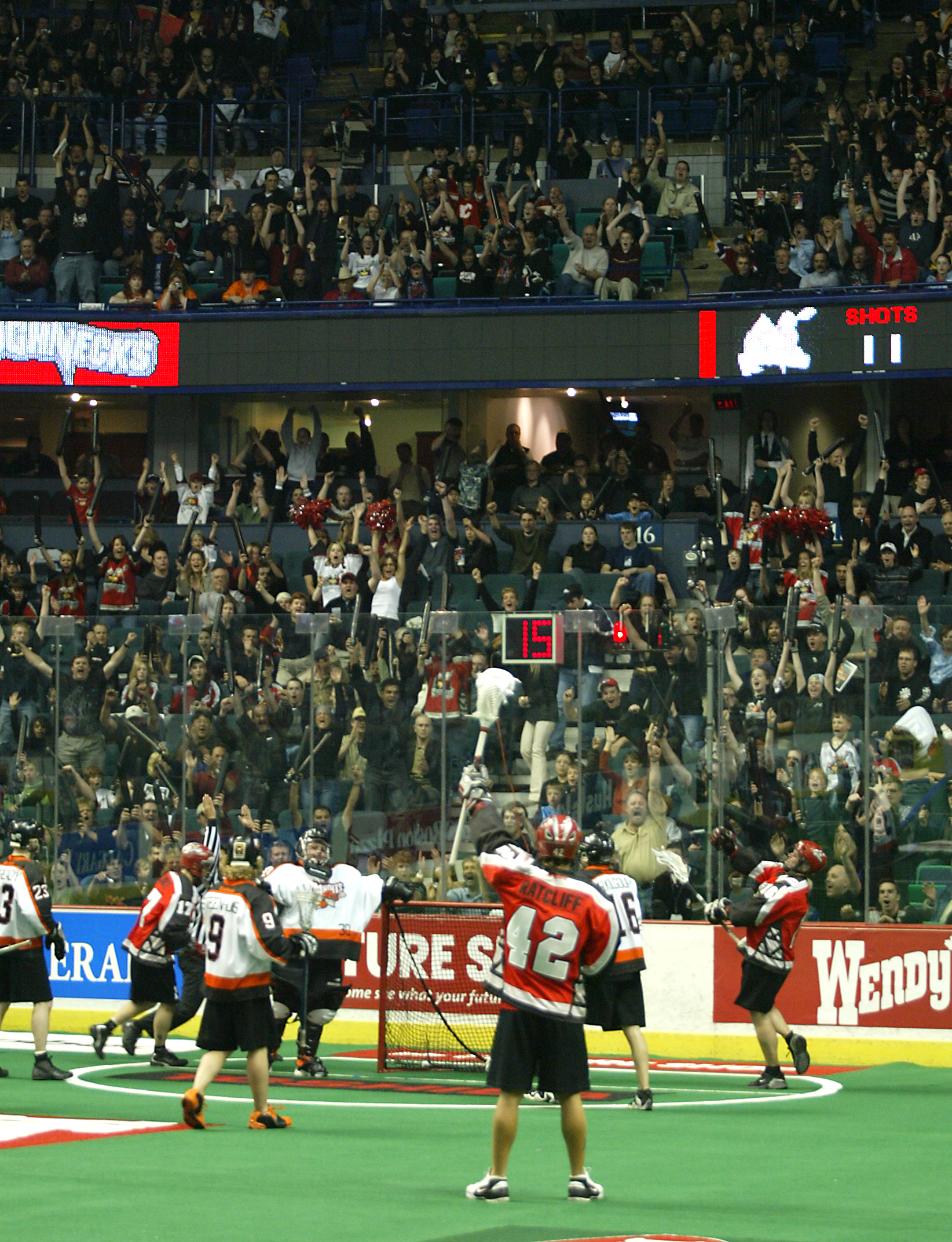 "It seems like a long time ago – almost 15 years," said Ratcliff, now a successful real estate agent in his hometown of Victoria. "We were a young team, we didn't have a ton of success the year before. We were kind of up-and-coming and had a bunch of good young players trying to prove themselves. We just peaked at the right time."
The Roughnecks will look to win their third NLL title when they take on the Bandits in a best-of-three championship series starting this Saturday in Buffalo, with Game 2 slated for the 'Dome on May 25 (Tickets)
This current edition of the Riggers also features many young players getting their first crack at winning the big game.
Any words of wisdom from someone who's been there, done that?
"Advice is tough," answered Ratcliff. "You never know how you're going to play until you get there; how your nerves are gonna feel.
"I think the only advice I could say is that this is something that may never happen again, enjoy it.
"I was lucky to have the NLL championship early, and for the summer (with the senior A Victoria Shamrocks) I think I went to the Mann Cup four times in my first four years. I just thought I was going to go to these championship games every year. That didn't happen.
"I'd say take advantage of it. Leave it all on the floor and make sure you know that this is an incredible chance."
Much has been written about the spectacular sellout crowd of 19,289 that packed the 'Dome to the rafters for that 2004 tilt, cheering so loud that players said they couldn't hear each other on the bench as time wound down.
A similar scene is the goal for Game 2.
"We had incredible fans at all times in Calgary," said Ratcliff. "It really makes a huge difference. It's crazy and loud – you can play forever, you don't get tired. It definitely gets you pretty pumped up."
Still a big fan of the game, Ratcliff – who also played for the Toronto Rock and Washington/Vancouver Stealth – will be watching this final closely.
As a former Roughneck with good pals currently playing for the club, there's no doubt who he'll be rooting for.
"I try and watch about 75 percent of the (NLL) games," said Ratcliff. "I don't really follow a team. I just follow my friends. I'm super close with Rhys (Duch), and I'm friends with Jesse King, and I've got some buddies on every team. Calgary is the main one I focus on and I've definitely been cheering for them.
"I love the way they play. I like Curt (Malawsky) as a coach. He's, in my opinion, if not the top coach then he's in the discussion to be the top coach in the league. They are always entertaining. And with a great young goalie, it pushes them over the top."