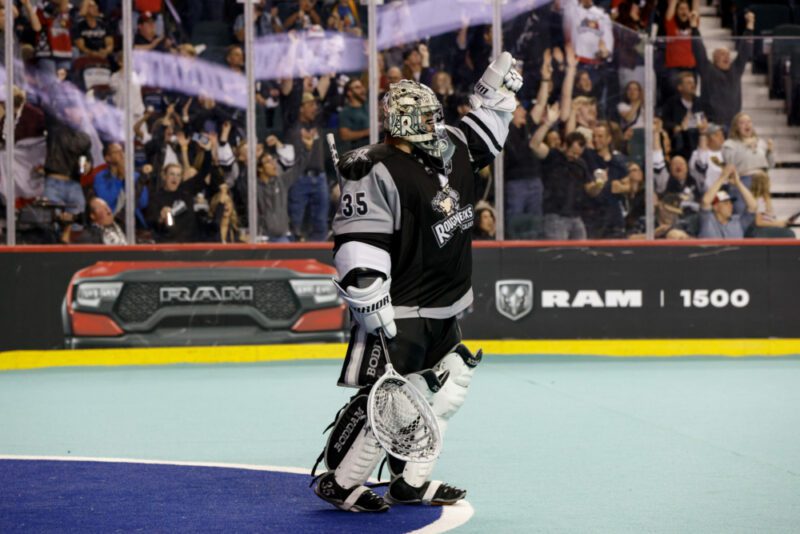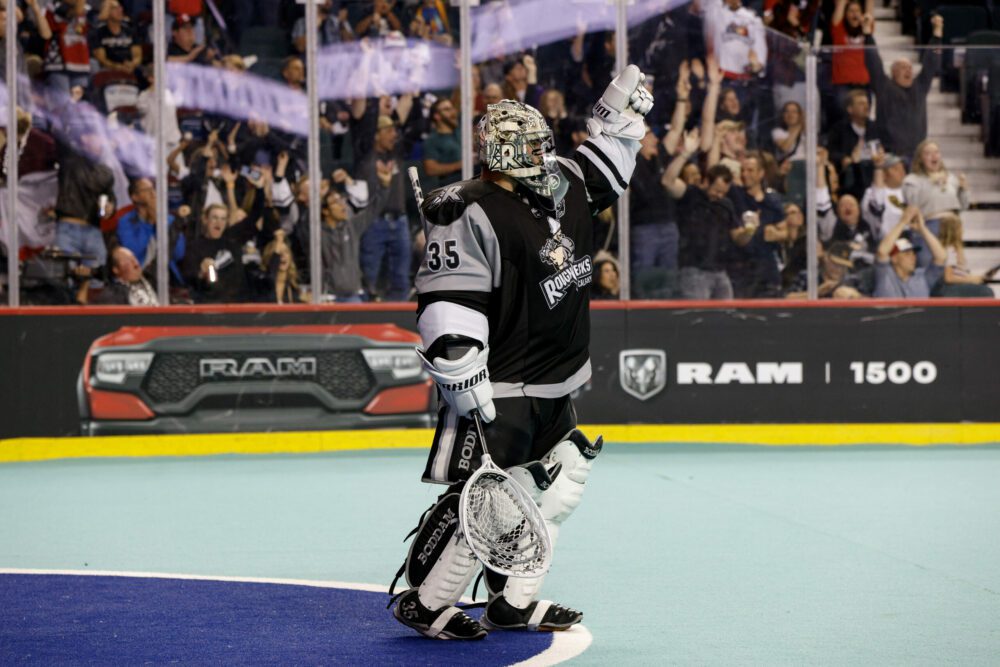 By: Laura Barker – 26-05-23
Calgary, AB – The National Lacrosse League today announced Calgary Roughnecks goaltender Christian Del Bianco has been awarded Most Valuable Player for the 2022-23 NLL season.
Del Bianco, a Coquitlam, BC native, set a Calgary Roughnecks franchise record for wins this season with 13. His ability to hold onto the ball and make across-the-floor passes to his transition teammates led to a career high 19 assists for the goaltender, and he set the NLL record for goaltender minutes played in a regular season this year, with 1080:19.
The 25-year-old had 712 saves in the regular season, the second most in his career, and finished the year with a career best 9.28 GAA. His 81% save percentage was also a career high in his eight seasons in the NLL.
This is the second time in league history that a goaltender has won both Goaltender of the Year, and Most Valuable Player, in the same season (the first being Steve Dietrich of the Buffalo Bandits in 2006).
"First off, on behalf of the Calgary Roughneck's organization, I would like to congratulate Christian on being selected the MVP of the National Lacrosse League" said Roughnecks Head Coach Curt Malawsky. "It is an enormous honor to be recognized by the wide spectrum of voters throughout the league who cast ballots including coaches, general managers, governors and media."
"Delbs had an outstanding year for us. There is no doubt that we would not have had the franchise record-setting, 13-win season we had without Christian. The confidence of our team was directly related to his play, night in and night out. In the most important position on the floor, he was our best player. That gave all of us trust and belief which is a true sign of an MVP."
"MVP to me means your value to the team is unquantifiable and that you make everyone around you better" continued Malawsky, "Christian did just that with his poise, calmness, compete and a will to win."
Del Bianco was drafted by the Calgary Roughnecks in the second round, 15th overall, in the 2015 NLL Entry Draft, and has played his entire career to date with the team.
Along with winning the Most Valuable Player award, Del Bianco has been named to the NLL's 2022-23 1st Team All-League alongside teammate Zach Currier.
Christian Del Bianco 2022-23 Regular Season Statistics
| | | | | | | | | |
| --- | --- | --- | --- | --- | --- | --- | --- | --- |
| GP | MIN | W | L | GA | GAA | SA | SVS | SV% |
| 18 | 1080:19 | 13 | 5 | 167 | 9.28 | 879 | 712 | 81% |
Christian Del Bianco 2022-23 Playoff Statistics
| | | | | | | | | |
| --- | --- | --- | --- | --- | --- | --- | --- | --- |
| GP | MIN | W | L | GA | GAA | SA | SVS | SV% |
| 4 | 239:59 | 2 | 2 | 37 | 9.25 | 176 | 139 | 79% |