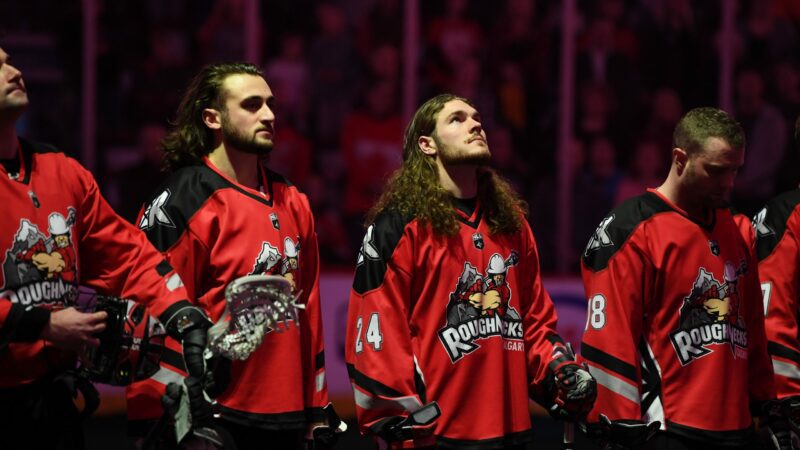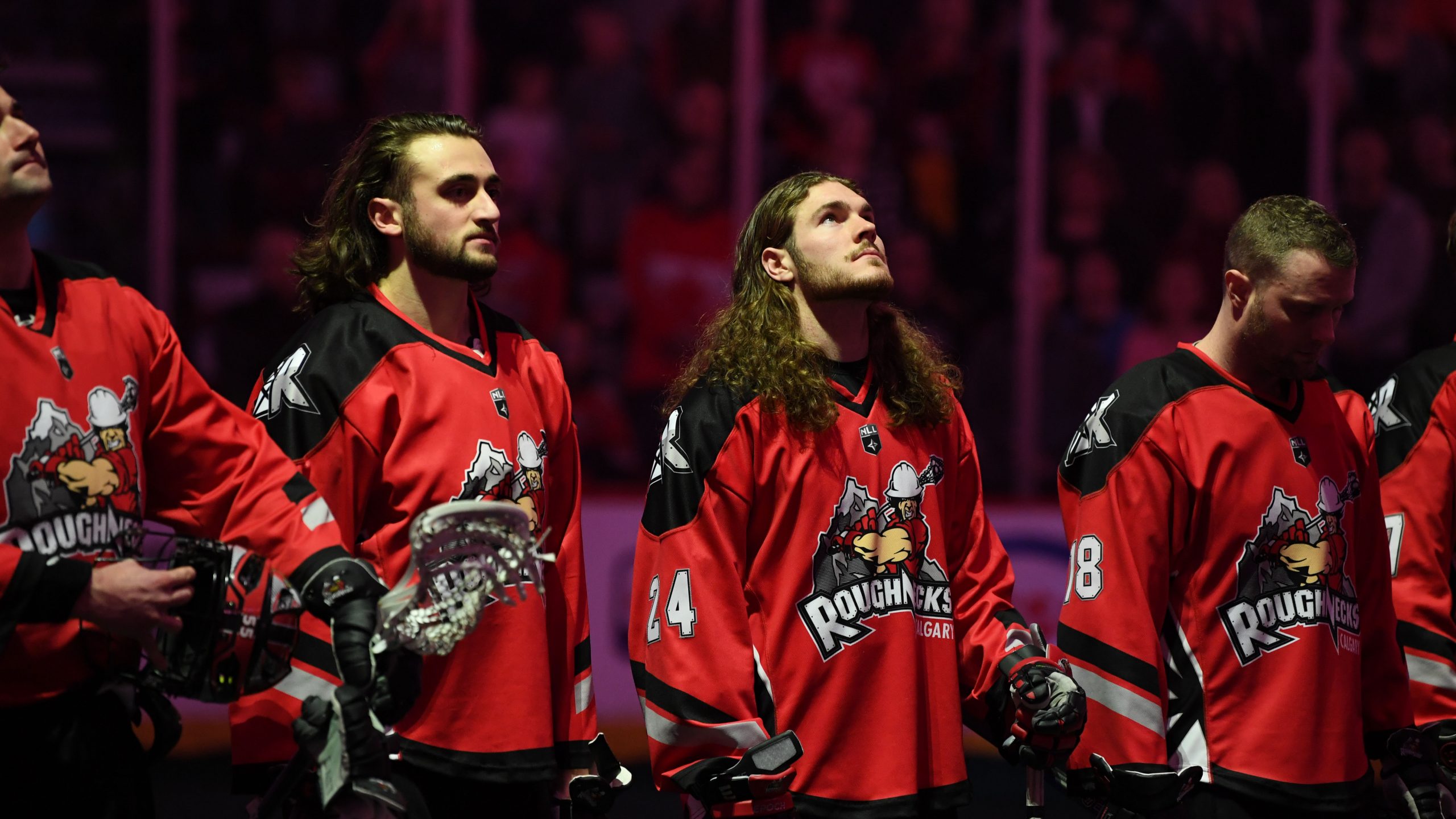 RIGGER RAMBLINGS: The Calgary Roughnecks will look to end a three-game slide tonight as they host 2019 expansion team, the New York Riptide, at the Scotiabank Saddledome. Game time is 7:30 p.m. while doors open at 6:00 p.m. for the $5 Happy Hour including food and beverage specials at all concourse concessions. Calgary last saw action on Jan. 25 when they fell to the league-leading Halifax Thunderbirds by a score of 15-12. The Roughnecks jumped out to an early lead propelled by a four-goal first quarter. Tyler Pace (4g, 1a) led the way with five points while Curtis Dickson (3g, 1a) was next with four. Calgary went into the halftime break holding a 6-3 advantage but Halifax quickly turned the tables tallying nine third-quarter markers to overcome the home side. Stephen Keogh recorded five goals for the Thunderbirds while Clarke Petterson (3g, 2a) and Cody Jamieson (3g, 1a) completed hat tricks.
NEW YORK: Tonight marks the first and only regular season meeting between the Roughnecks and Riptide. The 2019 expansion team has begun their inaugural season with a 1-7 record, including an 0-4 mark on the road. New York is coming off a 15-11 loss to the San Diego Seals on Jan. 25. Former Roughneck Tyler Digby (2g, 4a) was the Riptides leading offensive performer with six points while Jean-Luc Chetner and Tyson Gibson each recorded hat tricks and added two assists.
HEAD-TO-HEAD: 2019-20 REGULAR SEASON
| | | |
| --- | --- | --- |
| Category | Calgary (2-4) | New York (1-7) |
| Home Record | 0-3 | 1-3 |
| Away Record | 2-1 | 0-4 |
| Goals For | 66 | 71 |
| Goals Against | 62 | 114 |
| Power Play Pct. | 25.9 | 43.8 |
| Penalty Kill Pct. | 53.1 | 41.7 |
| Faceoffs Pct. | 48.0 | 47.5 |
| Loose Balls | 416 | 552 |
| Points Leader – Season | Curtis Dickson (26) | Tyler Digby (32) |
SITTING OUT: Forward Dane Dobbie is serving the final game of a six-game suspension tonight.
RECORD WHEN:
Leading at halftime …… 2-3 Outshooting opponent .…… 1-2
Trailing at halftime ……. 0-1 Outshot by opponent …..….. 1-1
Tied at halftime …….…. 0-0 Shots are tied ……..………… 0-1
ROUGHNECKS MONTH-BY-MONTH: November (1-0), December (1-2), January (0-2).
ROUGHNECKS VS.: (BUF 0-0), (COL 0-1), (GA 0-0), (HFX 0-1), (NE 0-0), (NY 0-0), (PHI 0-1), (ROC 0-1), (SD 1-0), (SAS 0-0), (TOR 0-0), (VAN 1-0).
FAMILIAR FACES: Tonight marks the first meeting between the Roughnecks and their former captain, Dan MacRae, after New York selected him in the 2019 NLL Expansion Draft. MacRae now serves as captain for the Riptide. The New York roster also features Tyler Digby, who played three seasons with Calgary from 2016-2018. The forward has a team-leading 32 points (12g, 20a) in eight games.
NLL TOP 10: Goaltender Christian Del Bianco is third in the NLL with a 0.821 save percentage. He sits fifth in the league with 284 saves and tops all goalies with 63 saves in a single game… Tyson Bell leads the league with 24 penalty minutes… Curtis Dickson sits fourth for shots with 111… Zach Currier's 66 loose balls are tied with Kiel Matisz and ranked fourth in the league. Currier and Shane Simpson are tied for seventh among defencemen with 10 points.
STREAKING: Several players take point streaks into today's game: Curtis Dickson (13g, 13a) and Dan Taylor (9g, 11a) have both tallied points in all six contests this season. Shane Simpson (4g, 4a) and Mitch Wilde (2g, 4a) are riding four-game streaks while Zach Herreweyers (3g, 4a), Reece Callies (1g, 3a), Rhys Duch (5a) and Dereck Downs (2g, 1a) have points in back-to-back outings.
BYE-WEEK BARRAGE: The Roughnecks will see their sixth bye-week during week 12 of the 2019-20 NLL campaign, sitting idle for half of the season. On the flip side, it will be the last break in the team's schedule until week 20 when they lay dormant for the final time this season.
MILESTONE MARKERS: On Jan. 18, Dan Taylor eclipsed 100 career points with a three-goal effort while Shane Simpson and Reece Callies both surpassed the 50 loose balls mark.
BY THE NUMBERS:
2 – Curtis Manning is two assists back from 50
2 – Curtis Dickson is two points shy of 750
2 – Tyler Pace needs two loose balls for 100
2 – Tyler Burton needs two loose balls for 600
3 – Mitch Wilde is three games away from 100
3 – Eli Salama is three loose balls back from 100
3 – Rhys Duch needs three goals for 400
3 – Anthony Kalinich is three loose balls back from 50
4 – Tyson Bell needs four points for 50
4 – Tyler Burton is four caused turnovers away from 100
5 – Mitch Wilde is five points shy of 100
6 – Tyson Bell needs six loose balls for 400
7 – Chad Cummings is seven caused turnovers away from 50
8 – Dan Taylor is eight goals away from 50
8 – Dan Taylor needs eight loose balls for 100
9 – Tyler Pace needs nine assists for 50
ACTION FOR AARCS: On Jan. 29, the Roughnecks announced 'Action for AARCS', a program that will raises funds and awareness for the Alberta Animal Rescue Crew Society. AARCS is a grassroots animal welfare organization based in Calgary with a foundation of compassion and kindness. For every home goal scored by the Roughnecks this season, the Calgary Roughnecks Foundation will direct $25 to AARCS to help with the rehabilitation and re-homing of homeless and helpless animals in our province. Saturday, February 29 is Superhero Night as the Roughnecks host the San Diego Seals in a 7:30 p.m. start at the 'Dome. For every ticket purchased through the AARCS website, $5 will go back to the organization to help fund their rescue missions and find FURever homes for the animals they shelter. Get your tickets now at RoughnecksGroups.com/aarcs.
TRAIN WITH THE PROS: The Roughnecks are proud to present 'Train with the Pros' lacrosse camps. The camps, which will take place on March 29 and April 4 at the Calgary Soccer Centre, will be run by Roughnecks forwards Dane Dobbie and Curtis Dickson along with goaltender Christian Del Bianco. Lacrosse players from Novice to Midget are invited to register for the 1.5 hour clinics where Dobbie, Dickson and Del Bianco will be instructing small groups with a focus on stick skills, game fundamentals and goalie angles. Registraion is $100 per player and limited to only 40 spots in each clinic. 'Train with the Pros' registration is now open and can be found at CalgaryRoughnecks.com/roughnecks-train-with-the-pros-camp-2020/
DRILL BITS: The popular Drill Bits program presented by Halliburton is back! Dancers 3-12 years of age have an exciting opportunity to perform of the turf with the Roughnecks Drill Crew during halftime on Saturday, Feb. 29. Game time is 7:30 p.m. as the Roughnecks take on the San Diego Seals. Participants will receive two practice sessions with the Drill Crew Dance Team, a ticket to the game, a t-shirt and a set of poms. Registration is now open at CalgaryRoughnecks.com/drillbits/
PRE-GAME IN SADDLEROOM GRILL: New this year, the Saddleroom Grill located above section 212, will be open before all Roughnecks home games. The pre-game meal, which begins two hours prior to puck drop, features a brand new Roughnecks menu with great prices including platters that start at just $13 per person. Visit Roughnecks.com/Saddleroom or call 403-777-3694 for more information.
POST-GAME AUTOGRAPHS: After each home game, fans are invited down on the turf through Section 103 where they can meet the Roughnecks players and get autographs.
THE ROAD AHEAD: Following tonight's game, the Roughnecks are on a bye-week returning to action on February 22 when they visit the Infinite Energy Center to face off against the Georgia Swarm. Fans can catch all the action on BR Live as the ball drops at 5:00 p.m. MT.