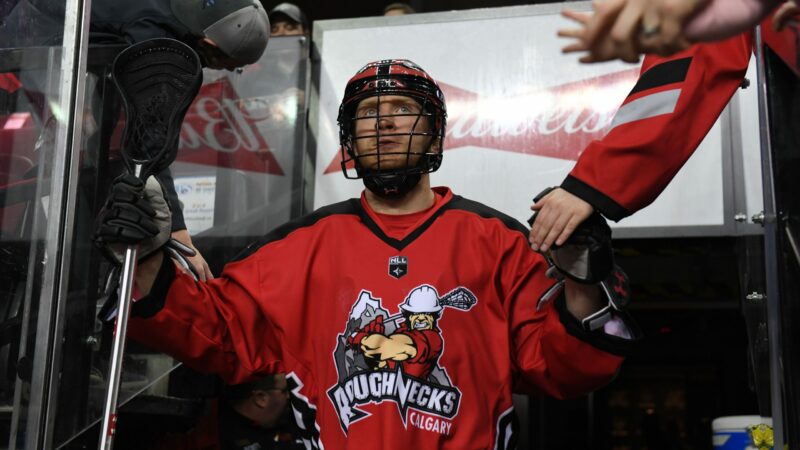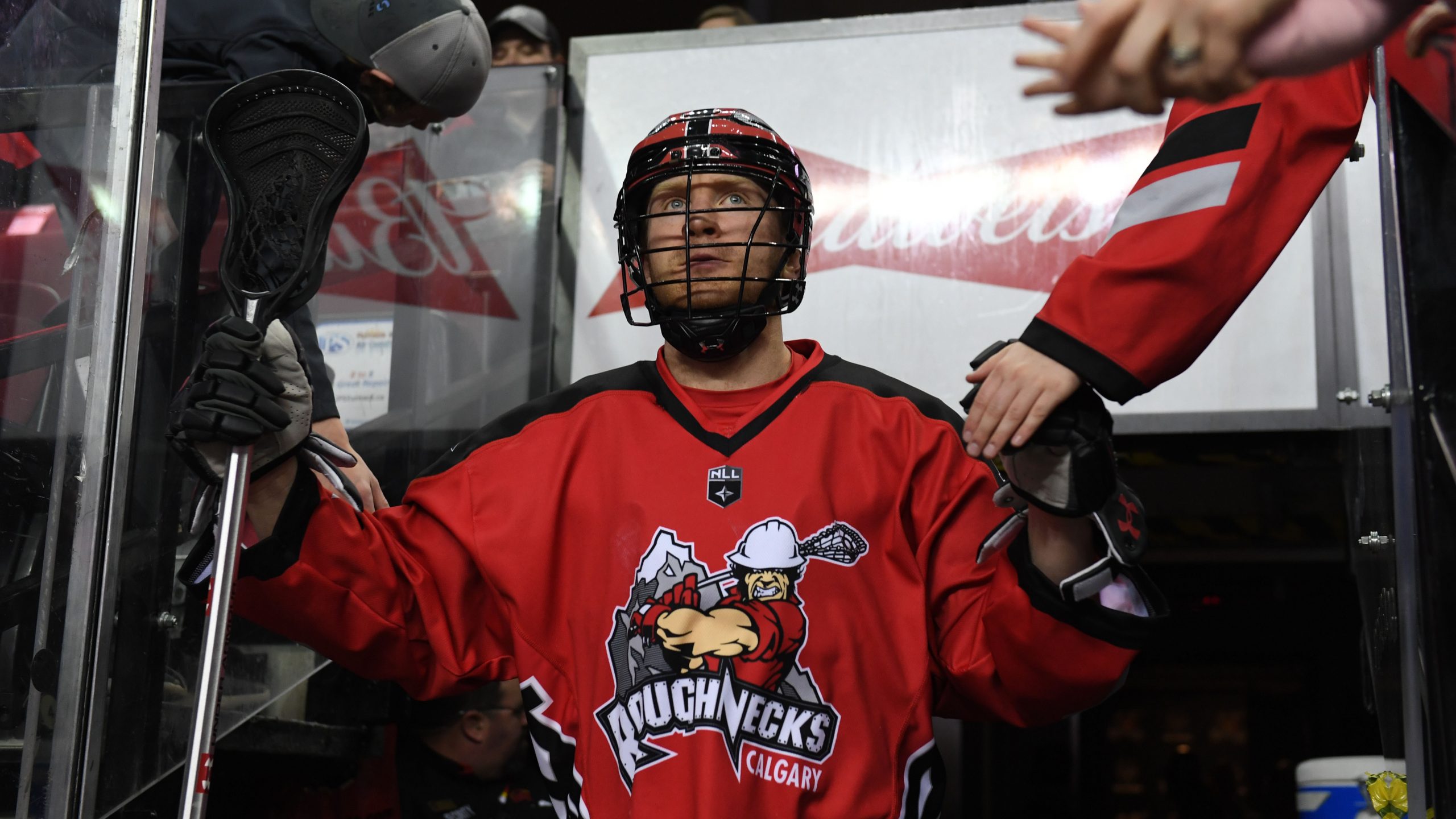 There's a great story behind how I started playing lacrosse. I was four or five playing house league soccer, it was my very first sport. We were battling not to finish last. We ended up losing and I just threw the biggest temper tantrum ever, and basically said I don't want to play this anymore. That's because of who I am – I'm super competitive in everything I do. My dad's like 'yup, we'll get you out of soccer and get you doing something more physical where you can get your aggression out.'
So I enrolled in the Hamilton lacrosse program. I got a stick from Santa Claus that year and basically just started doing tricks for family members. I thought it was the coolest thing that I could twirl my stick and balance the ball on the side of the stick. I would never put my lacrosse stick down, I was always playing in the backyard by myself.
A little temper tantrum led to me getting into lacrosse, nothing new there.
There's one funny memory that comes to mind from when I was a kid. If you look at the resume of the stuff I've won with the NLL, NCAA, two Minto Cups and just a host of real championships, this is the funniest championship I've ever won. When I was 10 years old, we won the D championship, which is the lowest of the low bracket for the Ontario Provincials. We thought that was just the coolest thing. But the funny story behind that is we had four kids who went on to play NCAA lacrosse and one kid who is now in the NHL. He was a first-round pick for the Edmonton Oilers, Darnell Nurse. He is still one of my best friends. We had five elite athletes on that team at 10 years old, and we sucked. That's still something when I go over to Darnell's house – my dad and Darnell's dad were the coaches on that team – that's something they remind us of pretty often.
Surprisingly, when I was younger, I didn't get picked up in the junior-A draft. That was probably because I was playing a lot of field lacrosse trying to get noticed by schools. I got invited out to the Burlington Chiefs training camp and they said 'ya, you're great but we won't sign you.' Six Nations then came knocking on the door, which is a storied program here in Ontario and across Canada. I went out there, did my thing and they signed me right away. Fast forward four or five years later and I played with a lot of great players on a lot of great teams. You probably see at least one Six Nations alum on every NLL roster. We won two Minto cups; one out in Coquitlam and one in Six Nations.
Funny story, I actually fought Tyler Pace in junior during the Minto Cup in Coquitlam. Pacer and I are both very, very competitive guys. Six Nations actually went down two games to nothing, and then we basically reverse-swept them and went four games in a row and ended up winning the series against the Adanacs.
It was right at the end of the game and they gave me the ball because I was the fast kid and could kill the clock. Pacer ended up coming after me and gave me a few whacks. I didn't like that very much given the short amount of time left in the game. We ended up just grabbing each other's face masks, ripping each other's helmets off and did a little wrestle down to the ground. Now we're best buds.
I then went to the University of North Carolina to play NCAA lacrosse and major in finance. It was an unbelievable experience. I was lucky enough to start during my freshman year and we had a stacked team but we lost in the first round of the NCAA Finals. That's kind of the UNC curse, we'd have awesome recruits and basically choke. In my sophomore year we were favoured to win the NCAA and we lost in the quarter-final to a really good Maryland team.
We thought all hope was lost after that because we lost a great senior class. My junior year we had good leadership but we weren't the most talented. But we fought for each other and everyone realized they had a role to play on that team. We were unranked going into the NCAA Finals and we put together a good string of wins and ended up winning the NCAA Championship. Chris Cloutier, who is on the Buffalo Bandits now, scored the OT game-winner.
I don't think I'll ever experience a high like that. You're packed into an NFL stadium were there's sixty or seventy thousand people cheering. You can't even hear yourself think, it's a one-goal game, it's overtime. It was the craziest swing of emotions I've ever had in my life. I don't think I had ever cried tears of joy before that, but when the ball went in and I was running across the field, I definitely cried.
When I was drafted, I was just at home with friends and family. Curt Malawsky had told me they were going to take me if I was available and I was. I went to a first-class organization in Calgary. It was a great feeling. To be honest, when I was younger I never had the dream and aspiration to play in the NLL as opposed to other kids. I just didn't think it was attainable. But I kept going after the next best thing and one thing led to another.
My first impressions of the NLL were that guys are big, fast and strong. I worked very hard to get into shape and be the best version of myself out there. We had a great group last year. I was bouncing back and forth between the offence and the defence doing whatever Mouse (Malawsky) needed from me.
That's what the team needed and I loved bringing that. Even though it sucked sitting some of the games out, not a lot of guys can play out the O and D door and do pretty decent on both. For Mouse to be confident enough for me to play both ways, even in playoff games – like Game 1 of the NLL Finals in Buffalo – that said a lot. I was trying to hold onto the little things, and that said a lot about the confidence Mouse had in me for the long term.
This year I had the mentality that I was going to be put in the lineup from Day 1 and I was never going to look back, I was never going to give Mouse an opportunity to take me out of the lineup. Thankfully this past season they haven't been moving me back and forth that much.
I think I had a pretty good year. I was the top true transition and D player in points-per-game, my scoring was definitely getting noticed by people. But there was other stuff that meant more to me. Like when Curt talks to the media about my compete level, my desire to win and make the team better, that's what stands out to me. I love to contribute and throw the ball in the net, but if I'm being recognized by my coaches and teammates as someone who will go the extra mile that's what really matters to me.
To give back to Calgary and the organization is so important. There's nowhere I would rather play. It's an awesome feeling walking into the 'Dome on game day. There's just this energy and a buzz, there's nothing like it. And with our fans, it doesn't compare to anywhere else. Especially in the playoffs; last year it was crazy, I had never seen anything like that in box lacrosse in my life.
It's not even just the fans going to the games and filling the seats, either. It's the people. We have crazy, diehard fans. I actually met somebody who had a Roughnecks tattoo on his arm. It's unbelievable to think people care that much about us, our well-being, and our sport.
Looking ahead, well, I got a big goal out of the way in my first year – I'm thankful for that. You can't be complacent though. I want a few more NLL championships. I also want to be better every single year. I'd love to be in consideration for transition player of the year one day. But most of all I want to be the best teammate I can be, I think that's one thing that's helped me is the relationships I've built with everybody. That's something that's really special to me, we're a family.
I think that would be a pretty good NLL career.