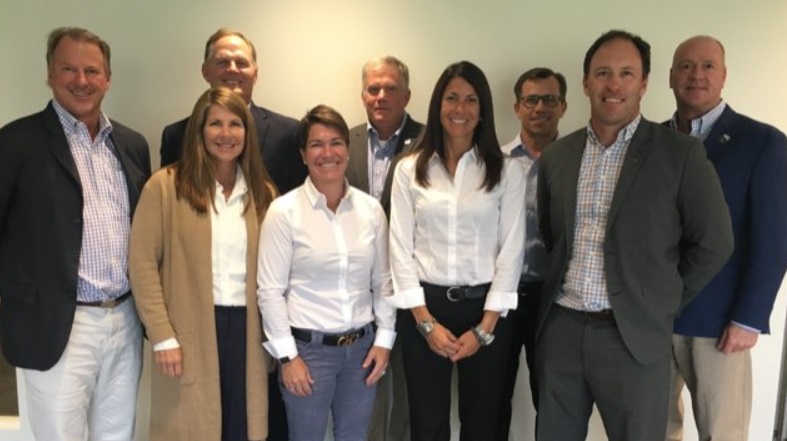 PHILADELPHIA, October 19, 2018 – Leaders of nine national lacrosse organizations met on October 8 to share organizational priorities, strengthen relationships and expand collaboration on common objectives. The gathering was the first of what will be semi-annual meetings of the sport's most influential stakeholders.
The group consisted of Intercollegiate Women's Lacrosse Coaches Association (IWLCA) President Kathy Taylor, Intercollegiate Men's Lacrosse Coaches Association (IMLCA) President J.B. Clark, National Lacrosse League (NLL) Chief Operating Officer Dave Rowan, Major League Lacrosse (MLL) Commissioner Sandy Brown, United Women's Lacrosse League (UWLX) General Manager Kristan Ash, Women's Professional Lacrosse League (WPLL) Chief Executive Officer Michele DeJuliis, Federation of International Lacrosse (FIL) Chief Executive Officer Jim Scherr, United States Intercollegiate Lacrosse Association (USILA) President Gene McCabe, US Lacrosse Board Chair Ed Calkins, and US Lacrosse Chief Executive Officer Steve Stenersen.
The day consisted of presentations from each attendee on organizational priorities and vision, observations and concerns on the state of the sport, and suggested strategies to advance the sport.
"I would like to thank US Lacrosse for hosting many of lacrosse's most influential representatives," said NLL Commissioner Nick Sakiewicz. "It is a great first step in scaling our sport for the future and the NLL looks forward to continued efforts to grow the game."
Those in attendance agreed to increase cooperation on several shared priorities, including collaborative efforts to introduce the sport to more diverse communities, build the pool of youth coaches and officials, address cultural concerns related to alcohol and drug use in the sport, and support the goal of lacrosse inclusion in the 2028 Olympic Games.
About the National Lacrosse League
The National Lacrosse League (NLL) is North America's premier professional indoor lacrosse league. Founded in 1986, the NLL ranks third in average attendance for pro indoor sports worldwide, behind only the NHL and NBA. The League is comprised of 12 franchises across the United States and Canada: Buffalo Bandits, Calgary Roughnecks, Colorado Mammoth, Georgia Swarm, New England Black Wolves, Philadelphia Wings, Rochester Knighthawks, San Diego Seals, Saskatchewan Rush, Toronto Rock, Vancouver Warriors and Halifax '18. The 2018-19 NLL season, commemorating the League's 33rd year, will begin December 1st for #FaceOffWknd. For more information, visit NLL.com and find the NLL on Facebook, Instagram and Twitter.