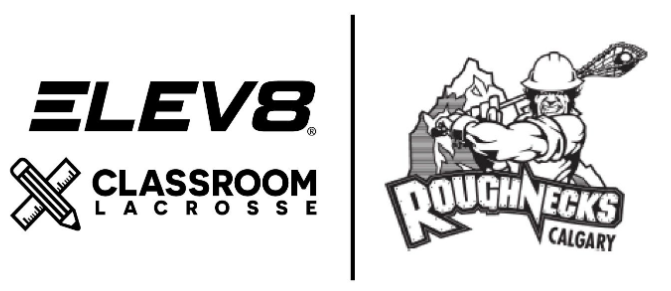 The Calgary Roughnecks Lacrosse Club is proud to announce their partnership with ELEV8 Lacrosse to present the ELEV8 CLASSROOM Lacrosse program.
As the presenting sponsor of the ELEV8 CLASSROOM Lacrosse program, the Roughnecks will provide funding for twenty local schools in the Calgary and Rockyview school districts to take part in learning the fundamentals of the game of lacrosse. In addition, the Roughnecks will donate two home game tickets to every student who participates in the program for the 2018-19 school year.
"We couldn't be more pleased to welcome the Calgary Roughnecks as a presenting sponsor of the ELEV8 CLASSROOM Lacrosse program," said Geoff Snider, Founder and CEO of ELEV8 Lacrosse Inc. "We look forward to working with the Roughnecks this year and extend our sincere appreciation of their support of grassroots lacrosse in our community which clearly puts the emphasis on our shared vision for growth."
The ELEV8 CLASSROOM Lacrosse program introduces the sport of lacrosse to students while educating them on the history of the sport in Canada and North America. Students learn basic skills and drills of lacrosse from ELEV8's professional coaching staff led by Roughnecks alumni Geoff Snider, current defenceman Bob Snider and forward Dan Taylor.
"The Calgary Roughnecks are fortunate to partner with ELEV8 Lacrosse as the presenting sponsor of the CLASSROOM Lacrosse program, led by Roughnecks Alumni, Geoff Snider," said Roughnecks Vice President and Alternate Governor Mike Moore. "The partnership is a terrific opportunity to introduce youth to this great game at the grassroots level. It makes it even more special knowing that one of our former players is at the forefront of such an important initiative in our community"
For more information or to register your school please contact info@elev8lacrosse.com or phone 403.479.4307.
About ELEV8 Lacrosse
ELEV8 Lacrosse is a leading provider of comprehensive, innovative and integrated lacrosse education founded by Geoff Snider in 2007. ELEV8 is aimed to develop and provide the highest level of instruction for the growing sports of field and box lacrosse for Canadian student-athletes. Since its inception, ELEV8 has broadened its scope to include grassroots implementation; CLASSROOM Lacrosse, Elite box lacrosse, Women's Hybrid Elite Training, and Elite field lacrosse development, coaching mentorship, as well as NCAA recruiting and guidance for student-athletes and families.