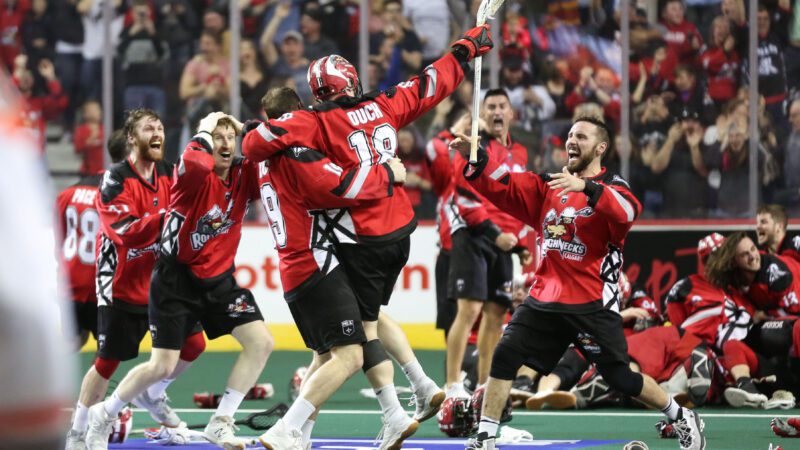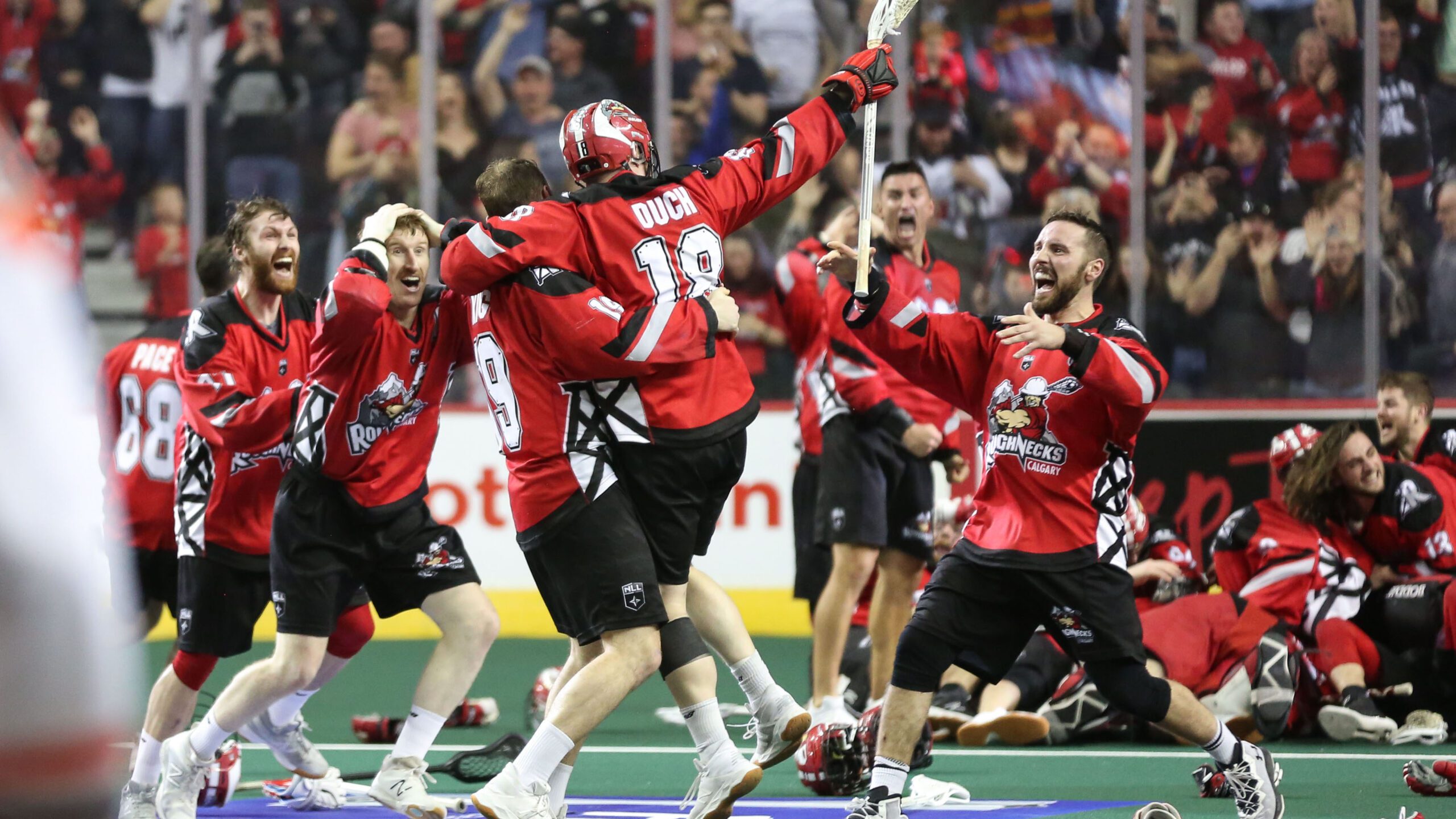 The 2018-19 Calgary Roughnecks are NLL Cup Champions!
Rhys Duch came in clutch, scoring the overtime winner, giving the Roughnecks the 14-13 win over the Buffalo Bandits to secure the team's third-ever championship.
In front of packed house at the Scotiabank Saddledome, the Riggers delivered in the biggest of moments and were thrilled to do so for their home town crowd.
"We had almost 19,000 here tonight and the roof almost blew off of this place," said NLL Cup Finals MVP Dane Dobbie. "It's just unbelievable to play in front of. As a kid, it's something you dream of and you constantly keep dreaming of it. You want to be in that Game 7, you want to be in that overtime game, and you want a chance to win it.
"Tonight, we did it. This is what we live for, this is a fantastic feeling."
A back and forth game, the two teams saved the biggest drama for the final minute.
Dane Dobbie scored with 58.4 seconds left to put the Riggers up one after he corralled a long outlet pass from Christian Del Bianco. But they couldn't hold onto the lead as Corey Small tied things up with an extra attacker on the floor just under thirty seconds later.
"I wished it was over," Dobbie said of relinquishing the lead. "That's how it works, you're just so close and time keeps getting slower and slower and slower. You know, our defence just battled all game, all series, all season. We knew as an offensive group that our defence was going to bail us out."
The defence, and Del Bianco, did bail out the Roughnecks early in OT as they stone-walled a great chance by the Bandits offence.
"Nothing affects him," Dobbie said of Del Bianco. "That's the thing that I get from him. I've seen him get a goal scored on him in Game 7 of the Minto Cup. He picks it out of the net, hands it to the refs, and moves on. He's been doing that with us for two or three years now.
"I love the guy, man. He's our backbone. I'll constantly say it. If I had a chance, this would be going to him, and his name would be right here — he'd be right beside me. He's going to be here for a long time, and we look forward to it."
With the next possession, Duch (2g, 1a) netted the game-winning goal on a low shot past Matt Vinc.
While Dobbie led the charge for the offensive group, Jesse King (1g, 5a), Curtis Dickson (2g, 2a), and Riley Loewen (2g, 2a) each made significant impacts.
But this was entirely a team effort.
"That's what it takes, we talk about 25 guys together and no one is bigger than the team," said coach Curt Malawsky. "Everyone is a part of it, whether you dress or you don't dress. It's complete buy-in. You don't get to where we are without a complete buy-in from every guy."
Ten years removed from their last championship, the Roughnecks believed that they were due.
"I think it was truly our time," said Dobbie. I hate to say it, but I'm going to say it. We deserved this. Our guys worked hard for this, our young guys came in this season and worked hard for this. We deserved this. I'm just super excited right now.
"Our guy came in this year and we knew we had something special. Just within our locker room. I couldn't be happier for the boys."