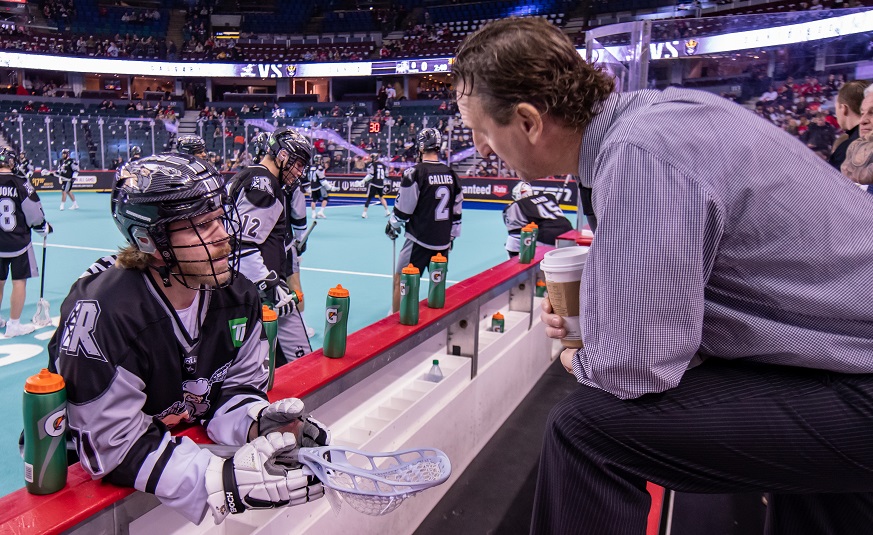 By: Riley Pollock – 11-01-23
So, what's coach Curt Malawsky's take on the Roughnecks season so far?
Four games in, they find themselves 2-2 and have allowed the third least amount of goals against per game, while averaging three transition goals per game.
Here's what the bench boss thinks.
"The first game at home against Vancouver I wasn't big on," Malawsky said. "In Vancouver, I thought we were very good. Against San Diego, I didn't like our start but I liked our finish but it was too late, you can't get behind on a team like that and then I thought we battled really hard in Colorado.
"We've done a really good job defensively and I think (Christian Del Bianco) has been outstanding, MVP style goaltending for us so that's been our backbone all the way since training camp and into the start of the season he's just been exceptional."
The Riggers have moved players in and out of the lineup on the front-end through the first four games and Malawsky says he's just trying to get the right chemistry.
"We're still trying to find the right mix up front, I've been changing guys in and out throughout the start of the year," he said. "Just trying to find that right mix of seven that can consistently put the ball in the net for us.
"The last spot there is up for grabs and whoever can grab it that can set us at a consistent seven guys; that's what I want to do and that's why I've been kind of moving things around so hopefully we can get some consistency over the next couple of games with the seven guys and start moving forward."
One guy who has drawn into the lineup on the defensive end after playing forward in training camp is Riggers 2022 first-round pick, Seth Van Schepen. He has played the last two games on defence and scored his first NLL goal on Saturday.
"He's a really calm guy, doesn't get too excited," said Malawsky. "He plays hard, plays physical, runs the ball really well out of our own end.
"I think starting him up front in training camp was just because he's comfortable in that position but I think he's more of a defender right now in his career where he can just push the ball in transition and then down the road, he stays and plays and if we have turnover then he would probably be a steady offensive player in the league.
"He's very similar in the transition area roles to like a Dhane Smith starting," he added. "Jeff Shattler started out the back end and they slowly transitioned into offensive players. That's kind of the plan for Seth, put him on the back end, his defence has been excellent. I want him to push the ball a little bit more and I think after scoring last game he will have a little bit more confidence."
The Riggers will get another look at San Diego on Saturday at the Rough House TICKETS. The Seals beat the Roughnecks 17-14 on Dec. 30.
"I just think we have to have a good start," Malawsky said. "I think we have to manage their superstars. You're never going to stop them but we're going to have to limit their opportunities and put them in positions where they are uncomfortable and then we have to execute our shooting.
"We put 14 up on them last time so we have to look to score 12 or more. But, I think just an overall game where you have lapses in a game like that against a team like that you're going to be in trouble so we just have to be consistent throughout the whole game and just keep it tight and hopefully it's a defensive battle for us and we get a couple more than they get late in the game."