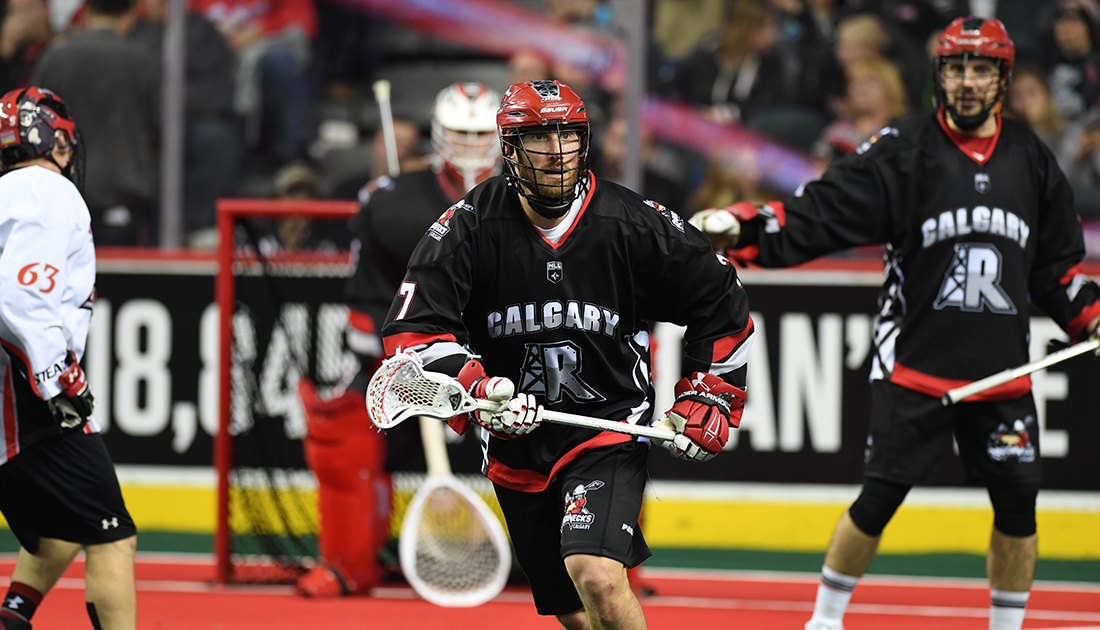 Hard-hitting.
Physical.
Fast.
They describe how the Roughnecks defence played in the team's 13-5 win over the Vancouver Stealth in pre-season action last Saturday at the Scotiabank Saddledome.
"They were great," said coach Curt Malawsky. "We talk about getting on the hands and living off of the cross-check and playing straight up. We didn't get a lot of penalties as far as holding penalties and things like that. We played a good, fundamentally sound game in the back-end and it's nice when you can preach that and the guys go out and work hard and get rewarded for their hard work and honest effort. That was nice to see on the defensive end."
The Riggers came out strong in the first half, playing aggressive, tenacious defence, which held their opponents to just a single goal. During the second half, the defence was still very active in their own end, forcing turnovers and frustrating the Stealth forwards.
Not only were the defenders making plays in their own end, but they were getting up the floor in a hurry in transition.
"Like Mouse (Malawsky) has preached all pre-season, transition is going to be key this year," said defender Tyson Bell. "With some of the draft picks like Zach Currier, that's going to help our back-end."
Their speed was a key component of the team's win, as Garrett McIntosh found the net twice, while Steph Charbonneau and Mitch Wilde each added a goal.
"I thought everyone played well," Malawsky said. "I thought Charbonneau, who has been good all camp, was exceptional. I thought Anthony Kalinich was a bull. Currier got great chances, the ball didn't fall for him, but he had some real, real good chances. He adds an element of speed. Our incumbents and our veteran guys were not giving up their spots. It's going to be really, really tough decisions for us. We're a deep team and I'd like to keep the whole room."
Strong performances from each member of the defence made life easy for general manager Mike Board and Malawsky as the looked to pencil in the final roster. Although they had to make some tough calls, they were excited to keep most of their pre-season team together.
Captain Dan MacRae knows that the team that will suit up on opening night can continue to compete at the same level they showed at the Preview Party, as long as they don't cut corners and keep the same intensity.
"From the goalie out, everyone put in a great effort," said MacRae. "That's all we're asking for, just everyone to put in the effort and we know the results will show."