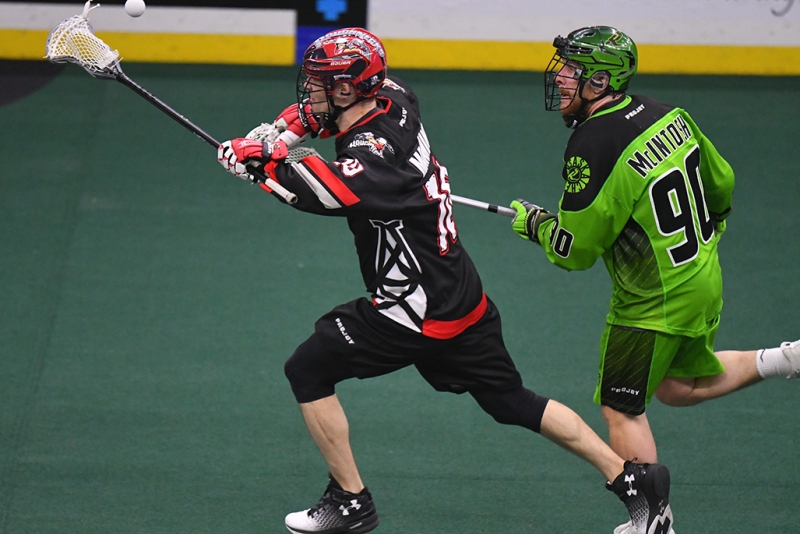 The Roughnecks had their three-game winning streak stopped on Saturday, falling 10-6 to the Saskatchewan Rush on the road.
Here are five things we took from the game:
LOW-SCORING AFFAIR
The Riggers and Rush combined for just 16 goals on Saturday. The Rush's 10 goals marked their lowest offensive output of the season after entering the match averaging a league-best 15 goals-per-game. The Roughnecks, meanwhile, matched their season-low with six goals after scoring six in their season-opening 17-6 loss to Rochester back on Dec. 9. Saskatchewan goaltender Evan Kirk posted an .860 save percentage with 37 saves on 43 shots, while Riggers netminder Christian Del Bianco stopped 42 of 51 shots for an 0.826 save percentage.
DYNAMIC DUO
Although the Roughnecks only managed to find the back of the net six times, forwards Wesley Berg and Dane Dobbie were all over the scoresheet. Berg led all Riggers with six points, including four goals, while Dobbie drew five assists. Berg accounted for two of the Roughnecks three powerplay goals and drew an assist on the other, scored by Curtis Dickson, and Dobbie had a helper on all three man-advantage tallies. Berg also posted a game-high 11 shots on goal.
FACEOFF FINESSE
Tyler Burton was once again dominant in the faceoff dot for the Roughnecks, taking all 20 faceoffs for his team and winning 13 of them (65%). Mike Messenger took six draws against Burton and held the edge with four wins (66.7%), while Jeremy Thompson had a rough night in the dot, winning just three of his 14 draws against Burton (21.4%). Burton is one of five players in the NLL to take at least 200 faceoffs this season, and ranks second among those five in win percentage with 137 wins on 226 draws (60.62%). Only Rochester's Jake Withers has been more efficient with 148 wins on 226 attempts (65.78%)
LORD OF THE LOOSIES
While the Rush edged the Roughnecks 75-59 in loose balls on Saturday, Zach Currier led all players on both teams with 16 loosies. The rookie transition man continues to dominate the league in loose balls, with 101 through 10 games this season. The next highest totals belong to Ian Hawksbee of the Stealth with 91 and Saskatchewan's Jeremy Thompson with 90. Thompson finished with six loosies in Saturday's contest.
STREAK SNAPPED
With the loss, the Roughnecks had their winning streak halted at three games. Had they managed to defeat the Rush, the Riggers would have had their first four-game winning streak since 2014, when the team went to the Champion's Cup Finals. Despite suffering their first loss since Jan. 27 — also against the Rush — the Roughnecks have surged back into the mix for a home playoff date, sitting two games back of Colorado for second in the Western Division and 4.5 games back of league-leading Saskatchewan.