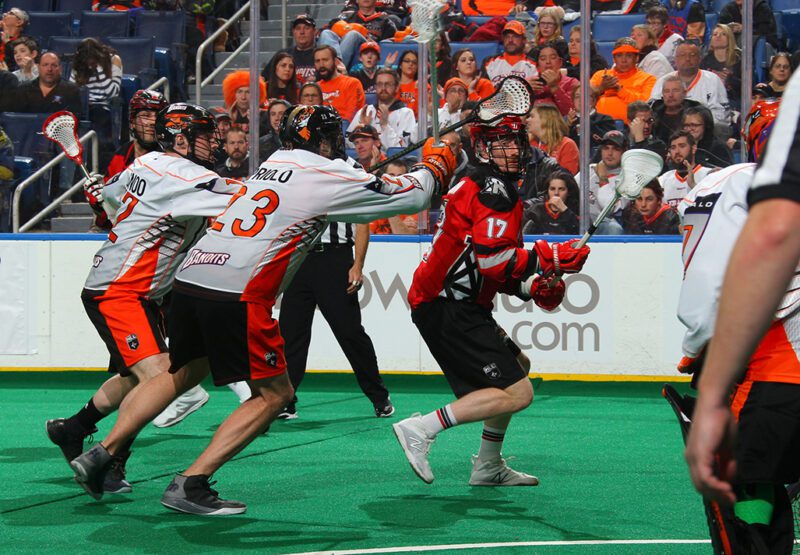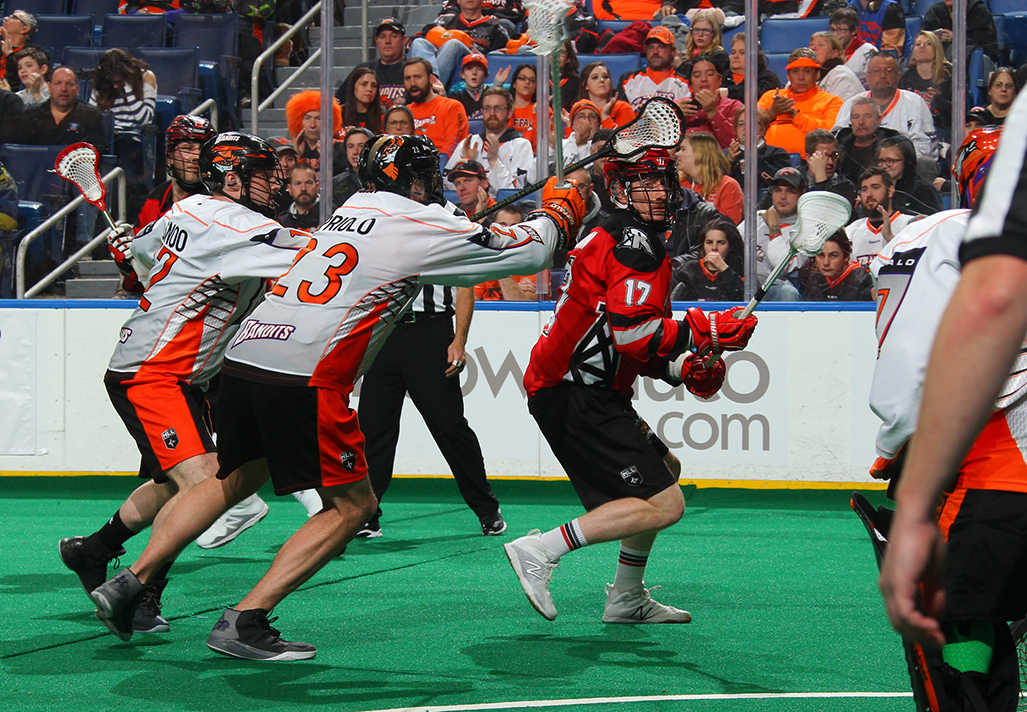 The Roughnecks left Buffalo dissatisfied as they fell 13-8 to the Buffalo Bandits on Saturday, Jan. 6.
Here are five things we took from the game:
TYLER BURTON
On Saturday, one of the Roughnecks' best players was defender Tyler Burton. The Riggers face-off man was dominating Buffalo's Nick Weiss and Chase Fraser, helping his team gain possession on 18 of 25 draws. Burton's 72% mark against the Bandits brings his season total to 67.8%, which is 22% above his career level. He is getting better and better within the circle and continues to be a bright spot for the Roughnecks.
LOOSE BALLS
After finishing the 2017 campaign second-last in the NLL in loose balls, the Riggers have put an emphasis on fighting for every available ball. That concerted effort has led to the team averaging almost 13 more loose balls per game in 2017/18 than the season prior. They were able to out-scoop the Bandits on Saturday to the tune of 89-81.
SPECIAL TEAMS
For the second straight game, the Roughnecks have turned out a 3 for 5 effort on the power play. After a slow start to the season where they scored on just one of eight extra-man opportunities, the team has since converted on 60% of their chances, increasing their powerplay percentage by almost 30 points.
SUPERMAN
Curtis Dickson was held goal-less against the Colorado Mammoth on Dec. 29, something that doesn't happen regularly. He responded to that performance by scoring four great goals against the Bandits and showing why the fans have nicknamed him Superman. After scoring a ridiculous 115 goals over the past two seasons, there's no doubt that the Roughnecks superstar will keep finding the back of the net.
THE ROOKIES
Transition player Zach Currier continued his terrific rookie campaign, scooping eight loose balls, playing solid defence and collecting an assist on a great long pass to Curtis Dickson in transition. Both playing their second game of the year, defenders Tyler Pace and Anthony Kalinich played well in their own end and each picked up a pair of lose balls in the contest.