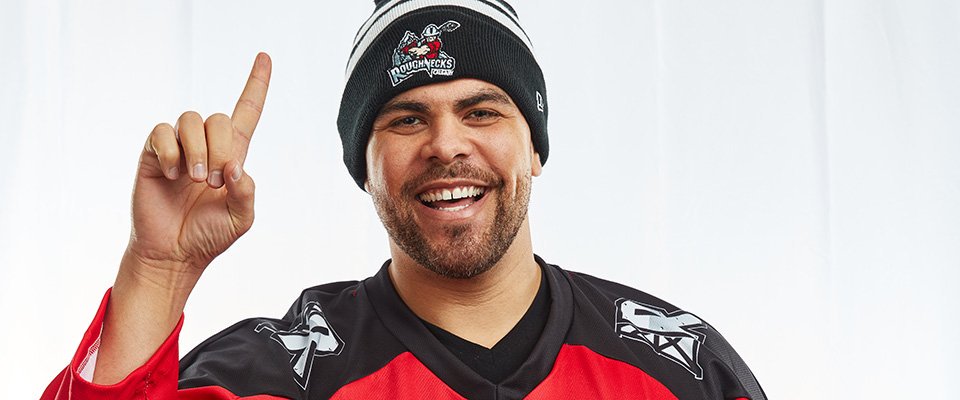 A former NFL'er.
A Grey Cup champion.
And a huge Calgary Roughnecks fan.
Corey Mace, the Calgary Stampeders defensive line coach, first got a taste of box lacrosse when he arrived in Calgary in 2010.
"The reason I went the very first time was because I just wanted to check it out," admitted Mace, who had never been to a pro lacrosse game before coming to Cowtown.
He attended his first game and from that moment, he was hooked.
"After going to the game, the excitement, it was a different vibe," explained Mace. "I wasn't a lacrosse fan growing up, really, but it's become something I look forward to every off-season. When the Roughnecks season starts up, I make sure that I attend as many games as possible."
Growing up in Port Moody, B.C., Mace played football, but never put a lacrosse stick in his hands.
That's not to say he wasn't invited to try.
"It's a funny story because assistant coach Rob Williams and his brother used to try to get me to come out and play lacrosse," reminisced Mace.
Maybe in a different universe Mace could have made a career out of it but, in his words, not likely.
"Maybe throw some hands or something, be a big dude, maybe quicker than most, but I don't know," Mace said of what he might be able to do in the box. "These dudes are different animals. I'm not sure my skills match-up with these guys. The athleticism they have to run around non-stop and then they're handling the ball with the stick. Some of the stuff they do, to this day, I still don't know how it's done. That's why I enjoy going."
It's probably for the better that he didn't pursue a pro lacrosse career, as he had a very successful professional football career. Mace played three seasons with the Buffalo Bills of the NFL, playing five games. He followed that up with a lengthy CFL career, primarily with the Stampeders.
While football and lacrosse share very few of the same characteristics, there are still some parallels between the two sports, especially in regards to the mentality of the players.
"It's definitely a demanding sport on the body. The one thing you do see out there is the guys passion and the will to win," Mace said, comparing football and lacrosse. "They're putting their bodies on the line, sacrificing their bodies. That's what makes fans excited."
While he may not be ideal for a spot in the Roughnecks line-up, when asked about which teammate would make a great lacrosse player, he took his time to decide.
"I'm not going go with the generic answer and say Bo [Levi Mitchell] because I'm not sure that's the case," Mace thought out loud.
"I'm going to have to go with Quinn Smith and put him in net. Quinn is fat enough to be an o-lineman and athletic enough to be a d-lineman. So I think he'd be a perfect goalie."
Mace has been a Roughnecks Season Ticket Holder for many years now and he has experienced quite a few big games in the stands.
Of those moments, his favourite is a one of the few tie-breaker games in which the Roughnecks have played during the playoffs.
"In '14 or '15 when they went into the mini-game, I think it was the first year they incorporated the mini-series in the finals," Mace said. "The atmosphere that year and obviously in the final, to this day, it was one of my favourite sporting events that I've been to."
Being a huge fan of the team, Mace has become a huge advocate for people to come to the games.
For the 25-plus goals per game, for the big hits, for the intense action, for the crazy fans, for the party. But don't take it from us, let Corey tell you:
"I tell all the boys here, coaches, players, old teammates. You can't ask for a better atmosphere. If you love sports, competition, you couldn't ask for more," said Mace The slogan hits it the best. Come for the party, stay for the game. It's exactly what it is. The game is freaking awesome and the party is right there with it.
"I think bang for your buck, just entertainment alone, if you haven't caught a Roughnecks game, you're missing out."