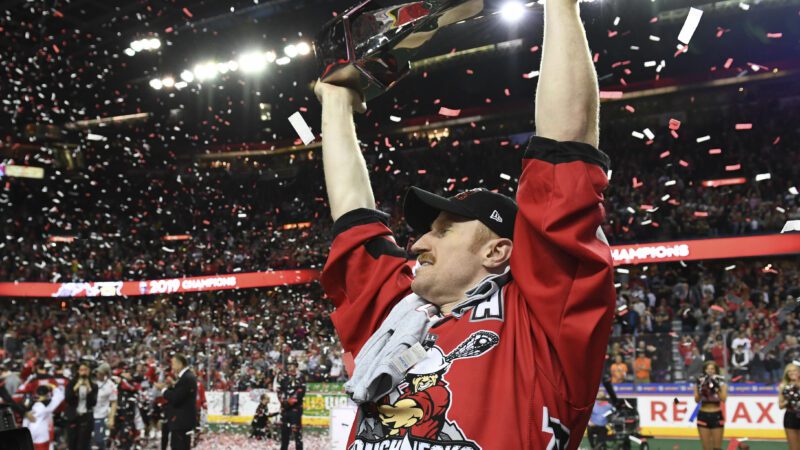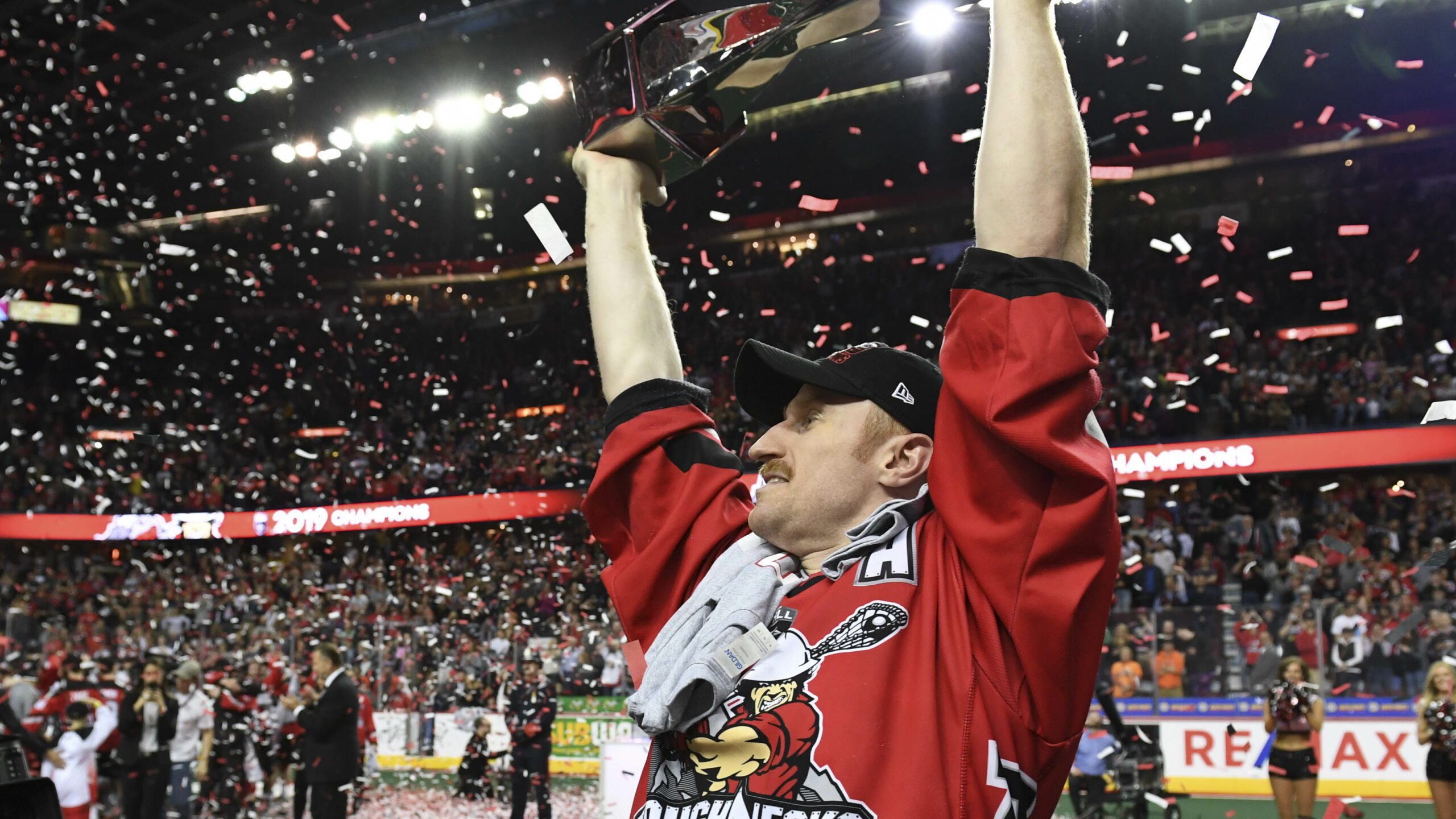 It's about time.
Curtis 'Superman' Dickson finally hoisted his first NLL Cup Saturday night after the Roughnecks defeated the Buffalo Bandits 14-13 in overtime of Game 2 of the NLL Finals in front of 17,038 raucous fans at the Scotiabank Saddledome.
The victory gave them a sweep of the best-of-three championship series.
It was a moment nine years in the making for the star forward.
"It's been a long time coming," he agreed. "I felt such a close bond with those guys on the team, to have it end like that was absolutely perfect. I'm so happy for everyone, myself included – it's unbelievable.
"It's incredible. I don't know if it's totally sunk in yet."
It will no doubt take some time to process the unbelievable end to the Riggers' season. It was an OT thriller for the fans, and the men on the bench.
Rhys Duch scored 1:12 into extra time, following a shot from Dickson that rang off the post.
"It lasted less than two minutes," Dickson said. "It felt an hour long.
"It was very intense, but ended with an incredible moment."
It was a redemption of sorts for Dickson, motivated by a bitter defeat the last time he and his Roughneck teammates battled for an NLL title.
"2014 was obviously a heartbreaker," said Dickson, who was a part of the Roughnecks team that fell to the Rochester Knighthawks in the Championship on the road.
"It was only my third or fourth year in the league. I thought I'd be back (right away) and I'd have another crack at it, obviously it takes a lot longer to get there than you think."
Proving the old adage that it's best to peak late rather than early, the Roughnecks struggled early at points in the season, finishing with a 10-8 record.
However, they were straight fire down the stretch when it mattered most.
"To finish the season with seven straight victories and a championship is pretty remarkable," Dickson said.
"The biggest thing was consistency for us. We had games where we played like we did at the end of the year but we couldn't string multiple games together. But we came and said 'we gotta start playing payoff lacrosse now. You've got to string wins together to win that championship once you get into the playoffs so we might as well start now'. And we started playing how we knew we were capable of playing."
Of course, the addition of forward Jesse King had a massive impact, too.
His return to the lineup late in the season after sitting out recovering from injury was one of those 'TSN Turning Points.'
"Well, I mean, you have to look at Jesse King coming back in the lineup," Dickson said. "He pushed us over the edge to be that championship team we became.
"He's undefeated as a Roughneck with the championship. Not a lot of fans knew what to expect with the trade they made for Holden Cattoni during the draft but we knew what we were getting out of Jesse; he's a world class player.
"Unfortunately he went down with an injury in training camp. We were patiently awaiting his return and he lived up to our hype and so much more."
Looking forward, there's no rest for Calgary's superhero, now, though. He'll be playing lacrosse all summer long in both the Western Lacrosse Association (box) and new Premier Lacrosse League (field).
Dickson is a member of the WLA's Maple Ridge Burrards and the PLL's Chaos.
"I'll have a stick in my hand the entire off-season," Dickson said. "I'll have a quick month off before training camp and it'll be November before you know it."
We can't wait.
"Me either," he said.