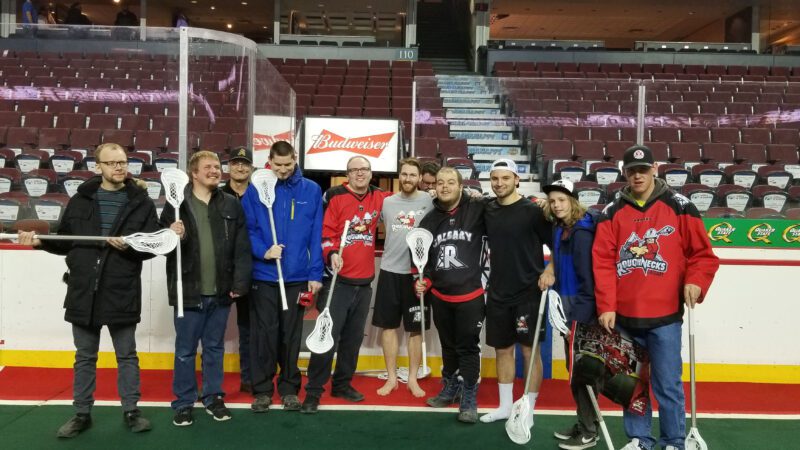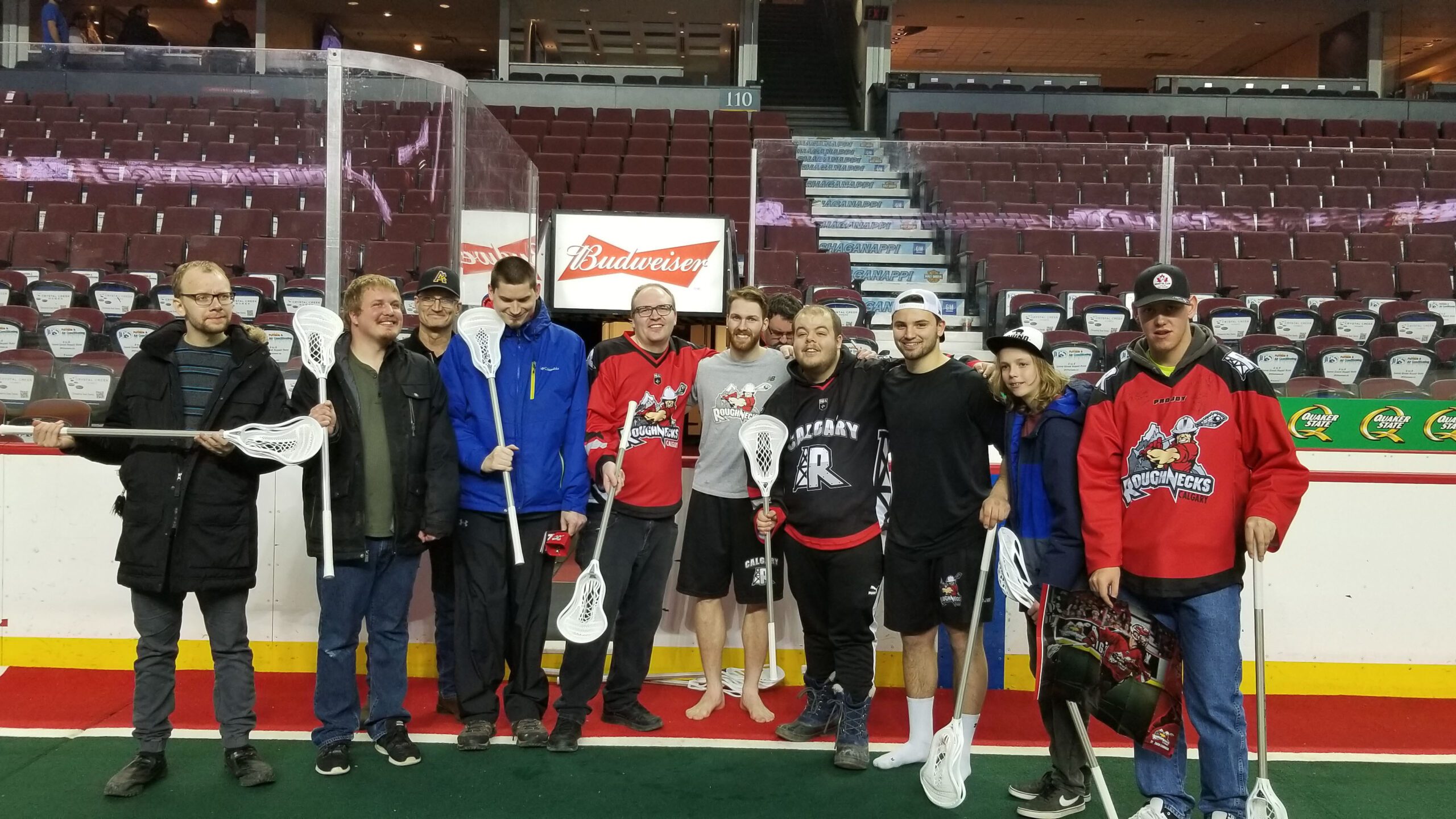 It started with a small gesture – but it's made a massive impact.
Inspired by Roughnecks goaltender Christian Del Bianco, the Autism Asperger's Friendship Society of Calgary has started its own lacrosse program.
Fittingly, the 23 players call themselves the AAFS Lacrosse Pioneers.
Because there's no doubt they've broken new ground.
"One of our guys, Owen, volunteered to participate in the lacrosse program," said AAFS program coordinator Scott Godfrey. "He said it's because 'I've always wanted to be on a team.'
"He's doing the lacrosse program because he's never had the chance to be on a team."
The story began in August when AAFS members went to the Max Bell Centre to see Del Bianco and his Coquitlam Adanacs play the Brampton Excelsiors in the national junior A championship Minto Cup finals.
This led to a chance meeting.
"Scott Wortley from the Coquitlam Adanacs rolled out the red carpet for us," said Godfrey. "He said 'we're having a shoot around, we'd love to see you.' Of course, Christian was there, he came out and said 'hey, I'm not from Calgary but I play here in the winter.
"I smiled and said 'you know, I'm really well aware of who you are.'
"He then asked, 'would it be okay if I invited some guys to games?'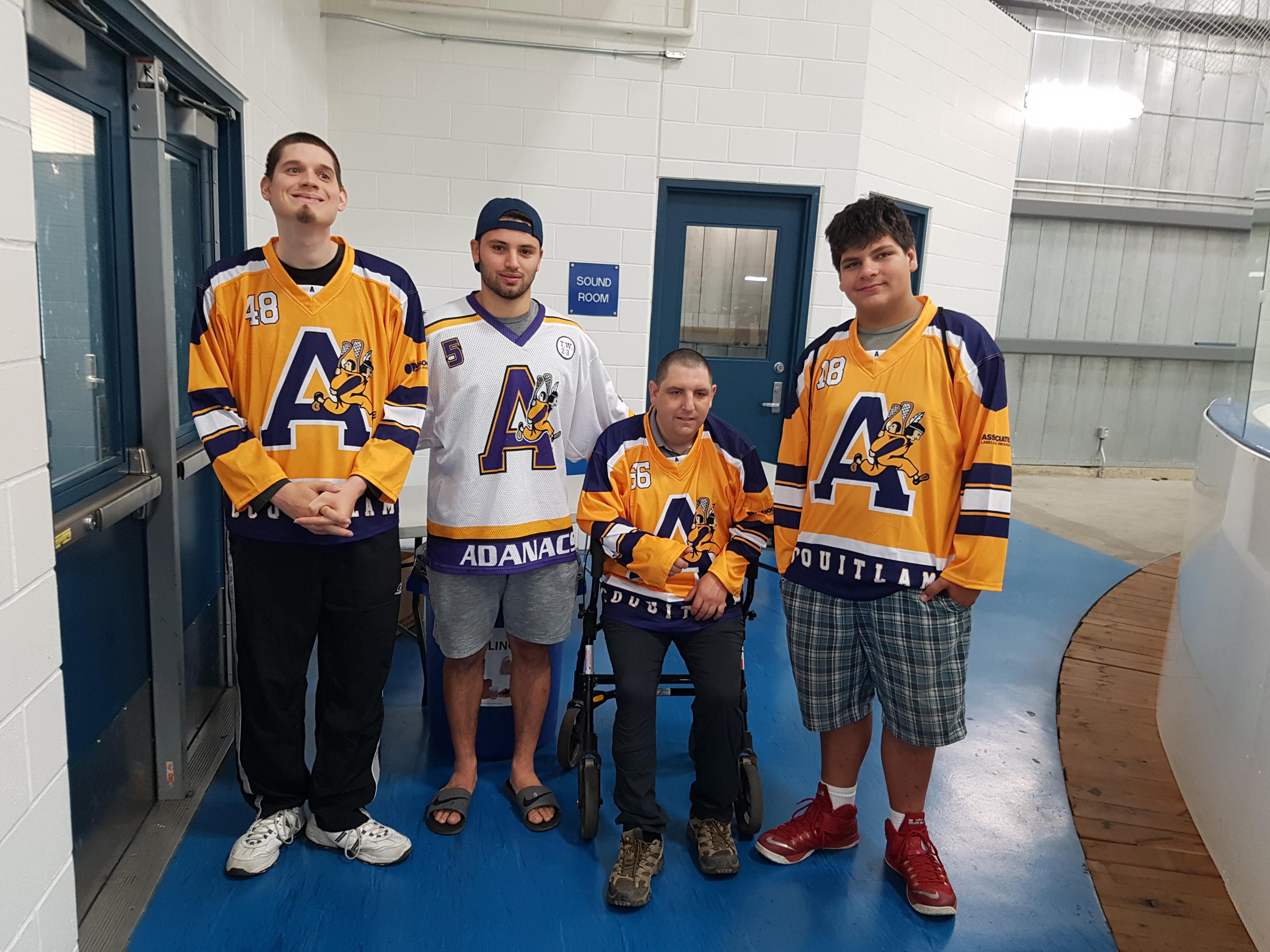 "After that, the guys kept in touch with Christian. Soon enough, they said they wanted to do a lacrosse program."
So, the work began for AAFS Calgary to undertake the project for its members, starting at square one with no equipment, apparel or turf time.
However as many know, the lacrosse world is small, but has a big heart.
"We've received donations from across the U.S., from Vancouver Island all the way to Akwesasne and Six Nations," Godfrey explained.
"People are asking us: 'what do you need?'
"Nobody has said no, they've said 'how much?'
"After donations from across the country, it looks like we'll have equipment head to toe for each guy."
And everybody is welcome to join.
"We have a member, Mike, who also has cerebral palsy. After we went to a Roughnecks game we were talking to Christian, and Christian had asked if he was going to play lacrosse.
"Mike goes 'my balance isn't very good. He said if I fall, will someone pick me up?
"Christian said, 'yeah of course they will, it's lacrosse.'
"Mike is now going to play lacrosse with a walker, and he's going to stand right by the crease and shoot and score.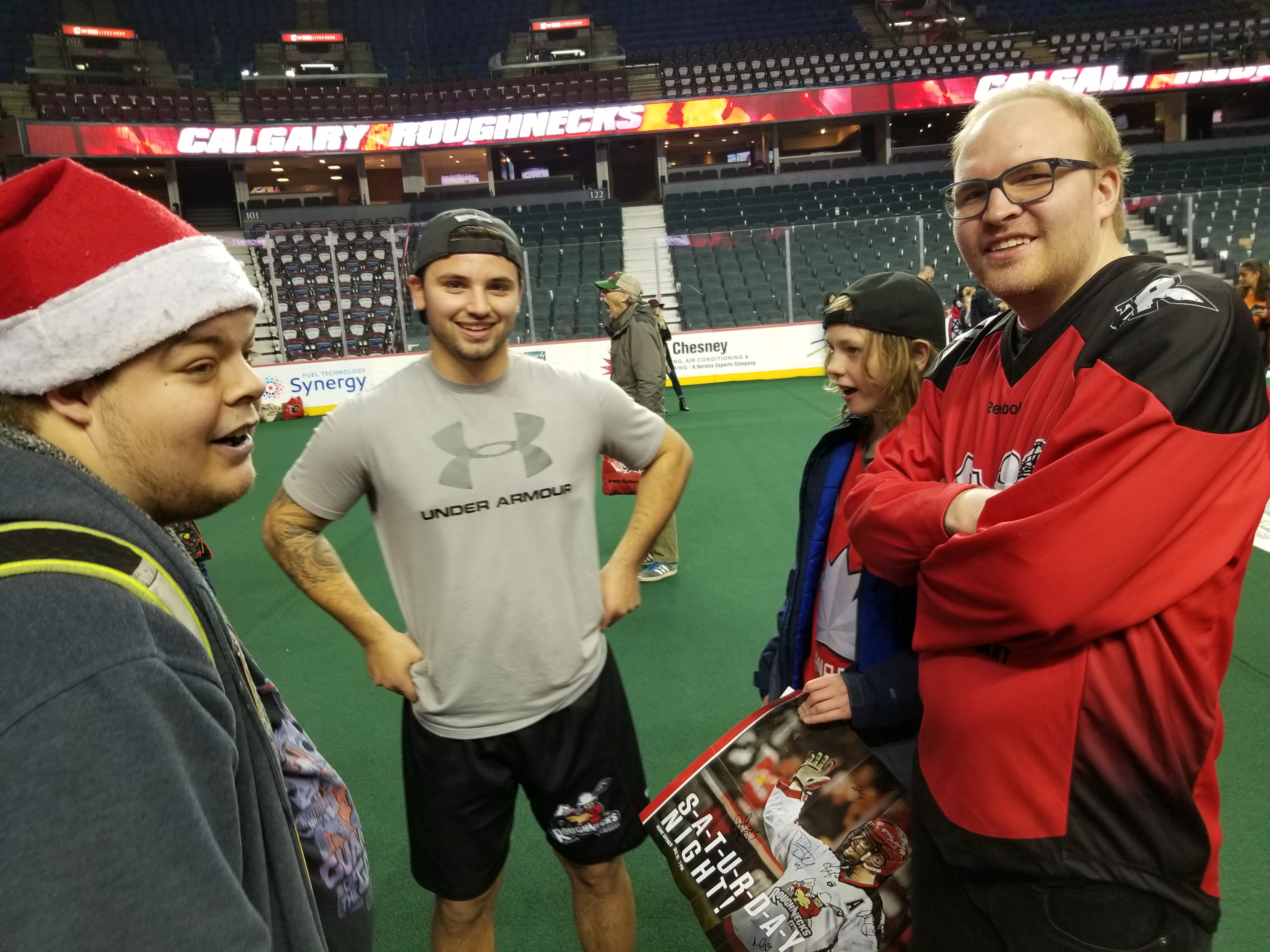 "Anybody who comes, plays.
"When they walk on the floor, our motto is yes we can.
"They've been told you'll never catch a bus, you'll never write properly. But with this, no one is telling them they can't – if you have a stick you can play.
"They have a place where they're accepted and they belong. I wouldn't trade this all for the world."
Former Roughnecks Geoff Snider and current Rigger Bob Snider have volunteered their ELEV8 Lacrosse program to help AAFS as well.
"We had our first experience with it a few weeks ago," said Bob Snider. "They had never touched a lacrosse stick, never put on gear before. We assisted with getting them outfitted and showing them through some skills.
"It's extremely rewarding. We've got more sessions in the next few weeks and we're really looking forward to getting involved a little bit more."
The affect these relationships have had on the AAFS members has been profound.
"There is a member, named Eric, who struggles with communication, he speaks very little," said Godfrey.
"During post-game autographs, Bob Snider, Dane Dobbie, and Zach Currier, they all jumped over the gate. They all introduced themselves and hung out with him. He got a stick from Zach and he got to meet these guys.
"When he got home from the game, his mom texted me.
"She said, 'Eric was singing and chatting with me!'
"Eric was singing! That's incredible.
"The bond these guys have with the Roughnecks players is friendship, not lacrosse anymore. It's a new community."
"Any time you get a lacrosse stick in someone's hands it's awesome," beamed Del Bianco. "To get people involved with the sport and help grow the game is sweet. The Roughnecks have been huge for them and they've done it on their side, too, being some of the loudest fans we have."