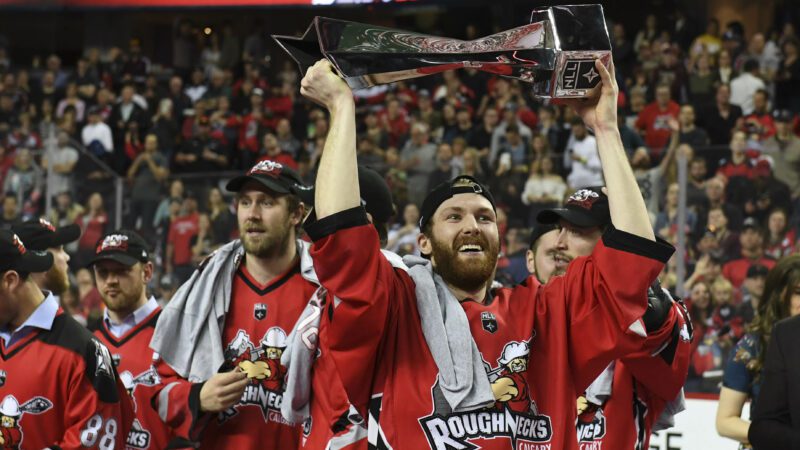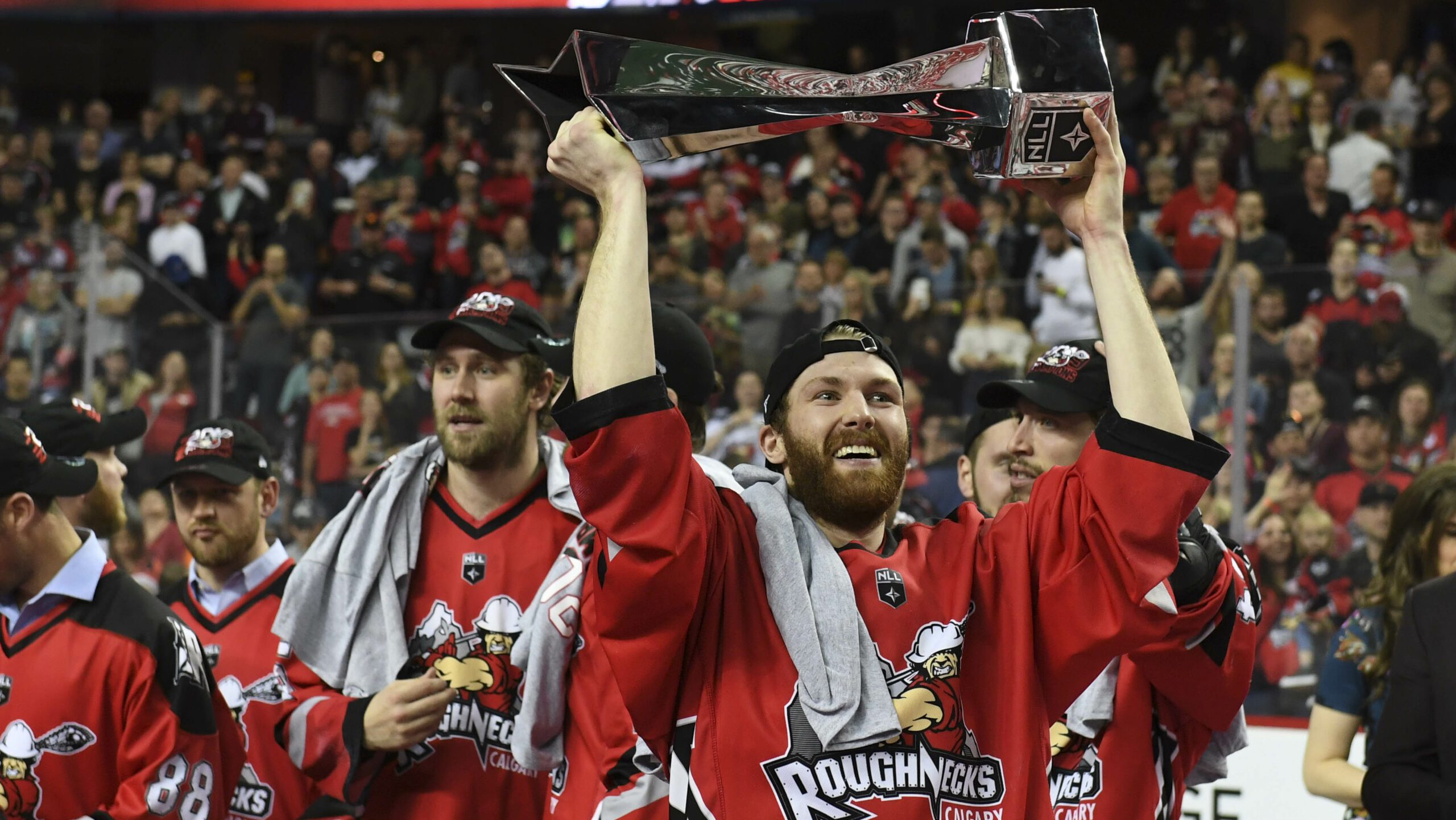 Put everything on the line for each other.
That was an important mantra this year for the NLL Champion Roughnecks.
A prime example: Zach Currier putting his body on the line in the early moments of overtime on Saturday night during the Roughnecks 14-13 OT NLL Cup Game 2 victory over the Buffalo Bandits at the Scotiabank Saddledome.
The victory gave them their third NLL title with a sweep of the best-of-three NLL Finals series.
Let's refresh your memory: the 5'11, 177-lb. Currier jumped in the net with his goaltender Christian Del Bianco out of position, staring down a rocket from Bandits forward, and one of the best in the NLL, Dhane Smith.
Ask the average Joe to put themselves in front of a large, hard rubber ball travelling upwards of 100 kilometers per hour – and you can likely predict their answer.
But it's an easy decision to make when you're willing to do anything for the man beside you.
"It was terrifying," Currier said. "I saw Delbs made that save on Corey Small and the ball was kind of rolling around in the crease. I knew Delbs didn't know where it was and I knew Dhane Smith did know where it was.
"And I thought the only way we had a chance of stopping it is if I hopped in there. I'm not sure if it hit me or if it hit the crossbar, but regardless I was there in some capacity to try to help keep the ball out of the net.
Can we all please just take a moment to appreciate this incredible save by @CachZurrier? #ChasefortheChampionship ep 2📺👉https://t.co/mwBPdUPrhz pic.twitter.com/7gr1pKTUzV

— Devan Kaney (@DevanKaneyTV) May 29, 2019
"We ended up getting the ball and calling a time out – we won the game on the next possession."
It's a concept that's still sinking in for the newly-crowned NLL Champion.
"It doesn't really feel real," Currier said. "It's something I'm never going to forget for the rest of my life. And I'm happy to do it with the group I did. We had a really special thing in the group – I know that's a word that's been thrown around a ton, but it truly meant a lot to all the guys.
"We did deserve to win that trophy, there's not a team in the league that put in as much work as we did and it showed down the stretch. We put it all on the line for each other to win that trophy."
In just his second year in the league, Currier scooped 199 loose-balls – second best in the league – and had 34 caused turnovers. The young transition player also notched six goals and 22 points.
"I was most proud of the way I played defence this year compared to last," he explained. "It's night and day. The loose- balls and transition stuff come naturally to me as I was an offensive player growing up. But the defence doesn't.
"I studied a lot of film, and learned from looking back on games where I messed up. By the end of the year I thought I was pretty solid back there and I wasn't a liability like I was last year."
Currier is has now achieved a rare feat, winning the NLL Cup, Mann Cup (Canadian senior A title), and the Steinfeld Trophy (MLL pro field lacrosse league) in a 12-month span.
"It's a right place, right time kind of thing," Currier said. "I was brought on to a really strong Calgary Roughnecks, Peterborough Lakers (MSL), Denver Outlaws team (MLL). I've just been lucky enough to be on teams that are really good to start with and contribute where I can. But I'm happy I was able to do it, it's awesome."
Roughnecks 2019-20 season tickets are now available for as low as $32.11/seat for adults and $23/seat for children and students (plus applicable fees and taxes). Click here for details.