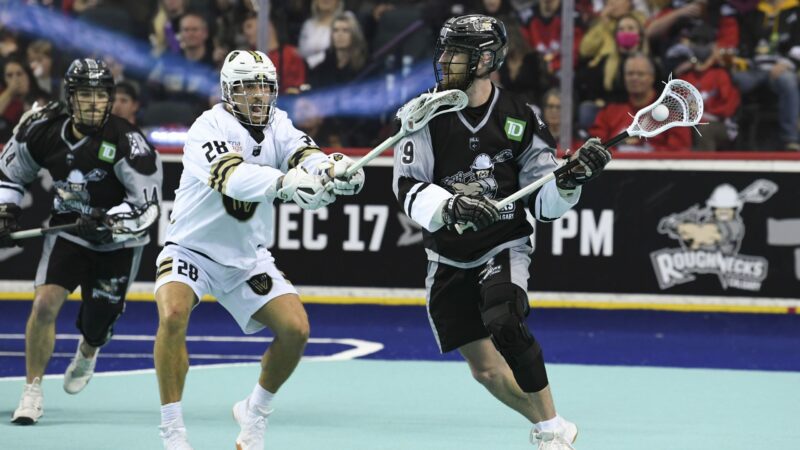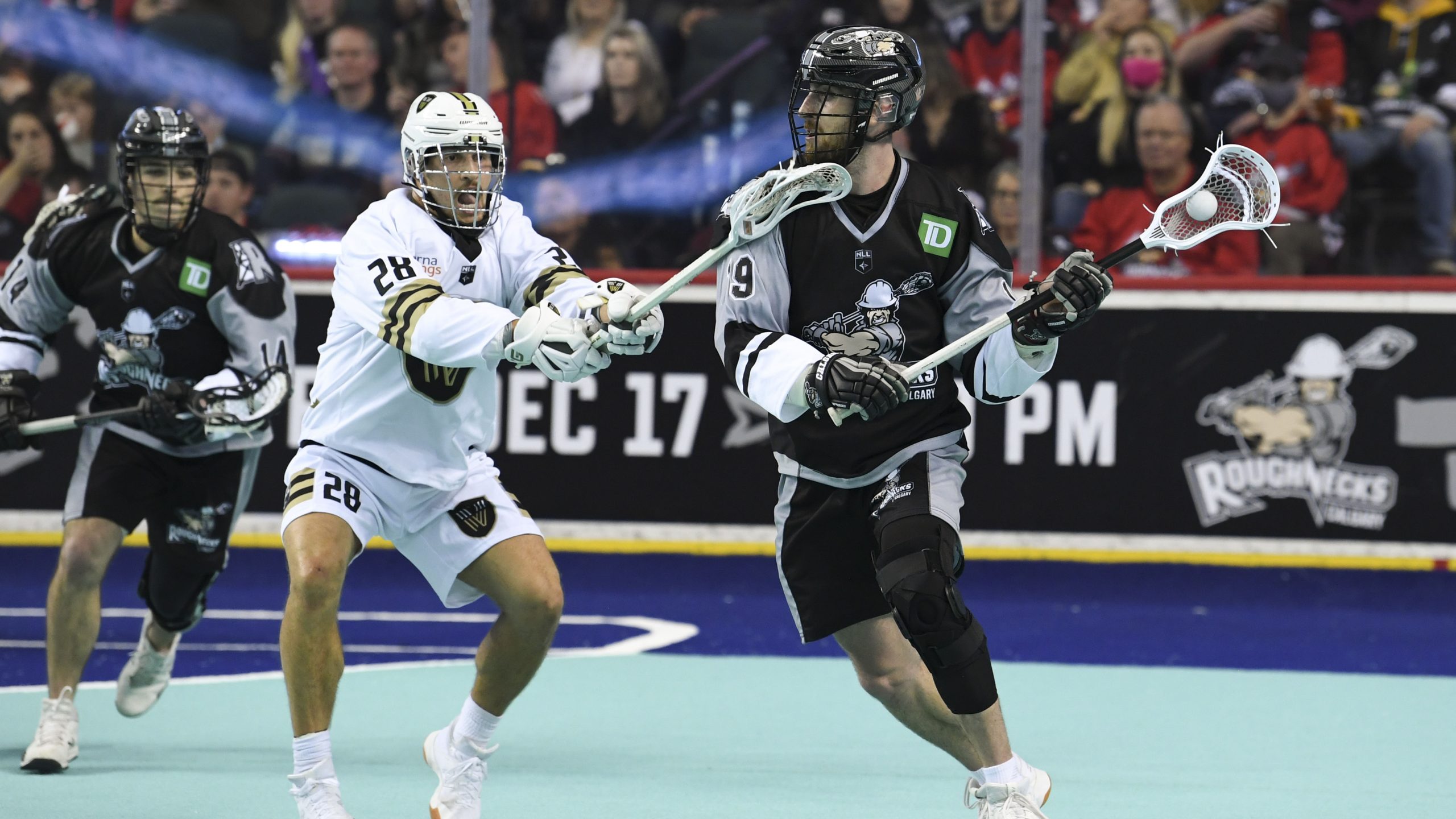 BACK IN BLACK
The return to the floor wasn't exactly how they envisioned it.
But after 636 days without lacrosse at the Rough House, even a 13-9 pre-season loss to the visiting Vancouver Warriors couldn't dampen the spirits of 12,077 fans in attendance. Calgary, sporting new uniforms, was greeted by a roaring ovation as they took to WestJet Field at Scotiabank Saddledome this evening.
However, Vancouver didn't provide such a pleasant introduction, taking a 3-0 lead in the first quarter, with Keegan Bal netting two goals for the away squad.
The Riggers would fight back in the second, netting three of their own with goals from Reese Callies, Tyler Pace, and Dan Taylor. However, three more from Vancouver would have them doubling the home team 6-3 at the break.
A run from the Roughnecks in the third would bring them within one heading to the final frame. That charge was led by the King brothers, with Jesse potting a pair and Marshall adding a nice one of his own.
Try as they might, the Riggers couldn't find an answer for Alexis Buque in the final frame, getting just one past the netminder and falling to the Warriors.
Christian Del Bianco was solid in net for the home team, making 50 saves on 63 shots.
COACH'S CORNER:
"That might be the best part of tonight. Our game was our game, but it was nice to see people give us a good ovation at the start of our game and even at the end of our game when we put our sticks up."
"I thought offensively we were okay, they packed it in. I thought their goalie played really well, I haven't see him play that well. I think we hit him, our shooting – we get to the net but our execution wasn't great."
"Tonight is not a good indication because we're not trying to show too much before our game in Buffalo, so we're not running too much, just playing some free ball and we're more of a structured team. Once we put our structure in place, and we'll have more structure down in Buffalo, you'll see the changes from a systematic standpoint."
BY THE NUMBERS:
Jesse King, 2g, 4a
Dan Taylor, 2g, 2a
Tyler Pace, 1g, 3a
KyleWaters, 1g, 1a
Tanner Cook, 1g, 1a
Christian Del Bianco, 50 saves
SAY WHAT:
"I was definitely nervous at the start. We had a lot of good fans out tonight, it was loud and it was exciting. Obviously, it's pre-season, so it's good to get the nerves out now and come the regular season I can relax a bit and play my game a bit more." – Kyle Waters on his debut at the Rough House.
"I just kind of went blank for a second and then looked at the first teammate that I saw and I just started hugging and cheering. It was a pretty cool experience." – Waters on scoring his first goal.
"It was awesome. It was honestly kind of a dream come true, being from Calgary and coming to the Roughnecks games ever since I can remember. To actually be out there and be a part of the team, it's pretty surreal." – Harrison Matsuoka on getting to play at the Saddledome for the first time.
NEXT UP:
The Roughnecks open their regular season schedule on the road in Buffalo to take on the Bandits at the KeyBank Center on December 4th. This is Calgary's first trip to Buffalo since May 18, 2019 when the Riggers beat the Bandits 10-7 in Game 1 of the 2019 NLL Champion's Cup.