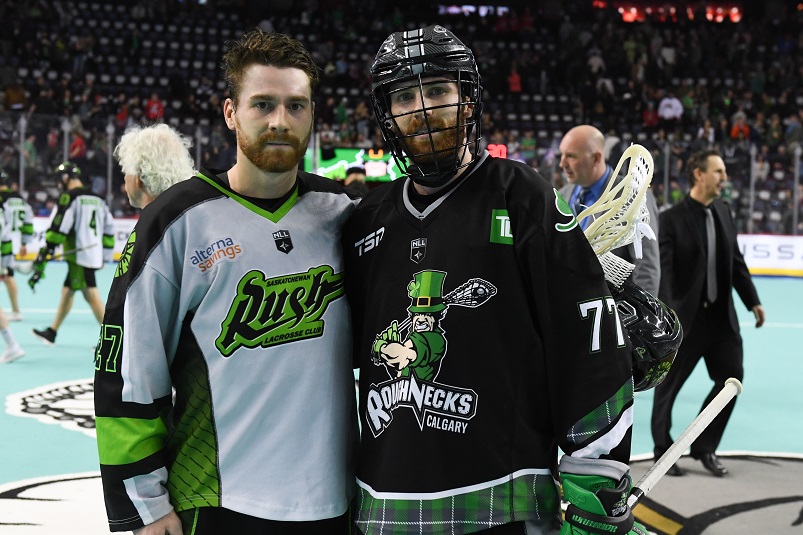 Riley Pollock – 12-01-23
Oh brother – Zach and Josh Currier are back together again.
The Roughnecks reunited the duo on Wednesday, sending the Saskatchewan Rush a conditional pick in next year's draft in exchange for the 29-year-old Josh.
Riggers fans may be able to get their first look at the Currier brothers on the same side of the floor in the NLL on Saturday night when the Roughnecks host the San Diego Seals at the Rough House. TICKETS
Zach, the younger of the two brothers, is pumped to have his big bro back on his team.
"I'm pretty excited, it has been a couple of years," said Zach. "The Last time we would have played together would have been for the (Peterborough) Lakers back in 2019.
"Obviously I'm really close with my brother who was the best man at my wedding so it's great to have my best friend on the team."
Zach and Josh played essentially every second year together growing up, with Josh being just one-year older than Zach, and then played many years of junior and senior together in Ontario.
"When we got to junior I played four years with him in Junior A, in Peterborough, and then we played four seasons with the senior team and we were very fortunate to win three Mann Cups together so that was a pretty cool experience doing that."
Josh is in his sixth season in the NLL and has 98 goals and 187 points in 77 career games, but had yet to find his way into the lineup in Saskatchewan this season.
Zach talked about what Josh can bring to the Roughnecks.
"He's pretty athletic and has a very accurate shot," he said. "Hopefully we can put him in spots where we can utilize both of those attributes of his. He's also a great team guy, he got scratched for the first four games in Saskatchewan but he's not a guy that complains to management or asks for a trade, it just came up naturally so he's a great team guy, so I'm happy to have him on board."