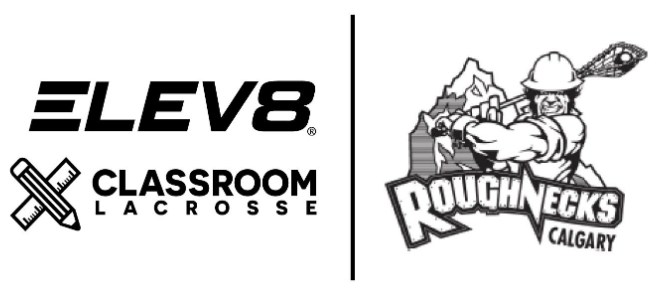 Calgary, AB – The Calgary Roughnecks Lacrosse Club is proud to once again partner with ELEV8 Lacrosse to present the ELEV8 CLASSROOM Lacrosse program.
As the presenting sponsor of the ELEV8 CLASSROOM Lacrosse program, the Roughnecks will provide funding for twenty-five local schools in the Calgary and Rockyview school districts to take part in learning the fundamentals of the game of lacrosse. In addition, the Roughnecks will donate two home game tickets to every student who participates in the program for the 2019-20 school year.
"We are looking forward to building on the success of the ELEV8 CLASSROOM Lacrosse program during the 2019/2020 school year and continuing an incredible partnership with the 2019 NLL Champion Calgary Roughnecks as our Presenting Sponsor," said ELEV8 Founder and CEO, Geoff Snider. "The expanded programming and continued strategic partnership will allow more students in Calgary and surrounding communities to be introduced to Canada's National Summer Sport, in an effort to drive physical literacy in schools and ultimately grow participation in youth sport. We are excited to continue to work with young people in the community and spearhead the introduction of the sport at a grassroots level which is an important component of the development of youth lacrosse in Calgary, Alberta, and Canada."
Since 2015, @ELEV8Lax has introduced lacrosse to 73,617 kids in Calgary and surrounding areas! 🥍

As the Presenting Sponsor of the ELEV8 CLASSROOM Lacrosse Program, the Roughnecks are proud to support ELEV8's mission to #GrowTheGame in Alberta! pic.twitter.com/fnFxsV8D2N

— Calgary Roughnecks (@NLLRoughnecks) April 16, 2019
The ELEV8 CLASSROOM Lacrosse program introduces the sport of lacrosse to students while educating them on the history of the sport in Canada and North America. Students learn basic skills and drills of lacrosse from ELEV8's professional coaching staff led by Roughnecks alumni Geoff Snider and current forward Dan Taylor.
Last year ELEV8 CLASSROOM Lacrosse visited 32,935 students in Calgary and surrounding area and brought 10,000 new fans to Calgary Roughnecks games.
"The ELEV8 CLASSROOM Lacrosse program had significant success last season. Many school aged kids were introduced to the sport through the program as well as enjoying a Roughnecks game at the Scotiabank Saddledome. We are grateful to Geoff and his team for providing the leadership and mentoring for these students," commented Roughnecks Vice President and Alternate Governor Mike Moore. "We look forward to continuing to make an impact in our community through this program."
For more information or to register your school please contact info@elev8lacrosse.com or phone 403.479.4307.