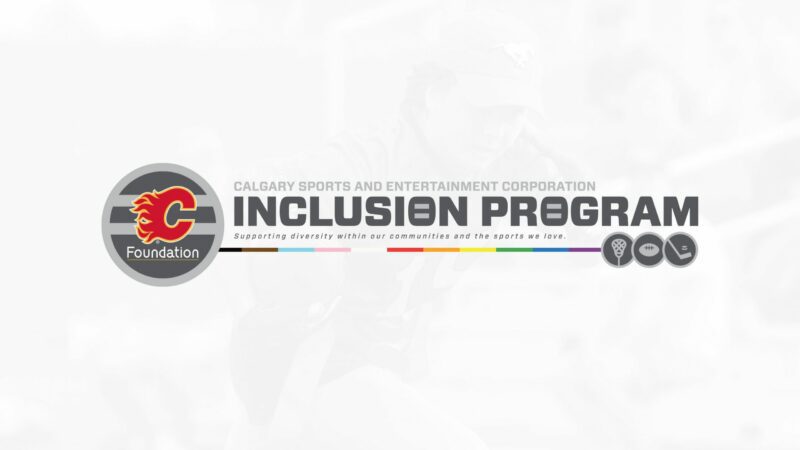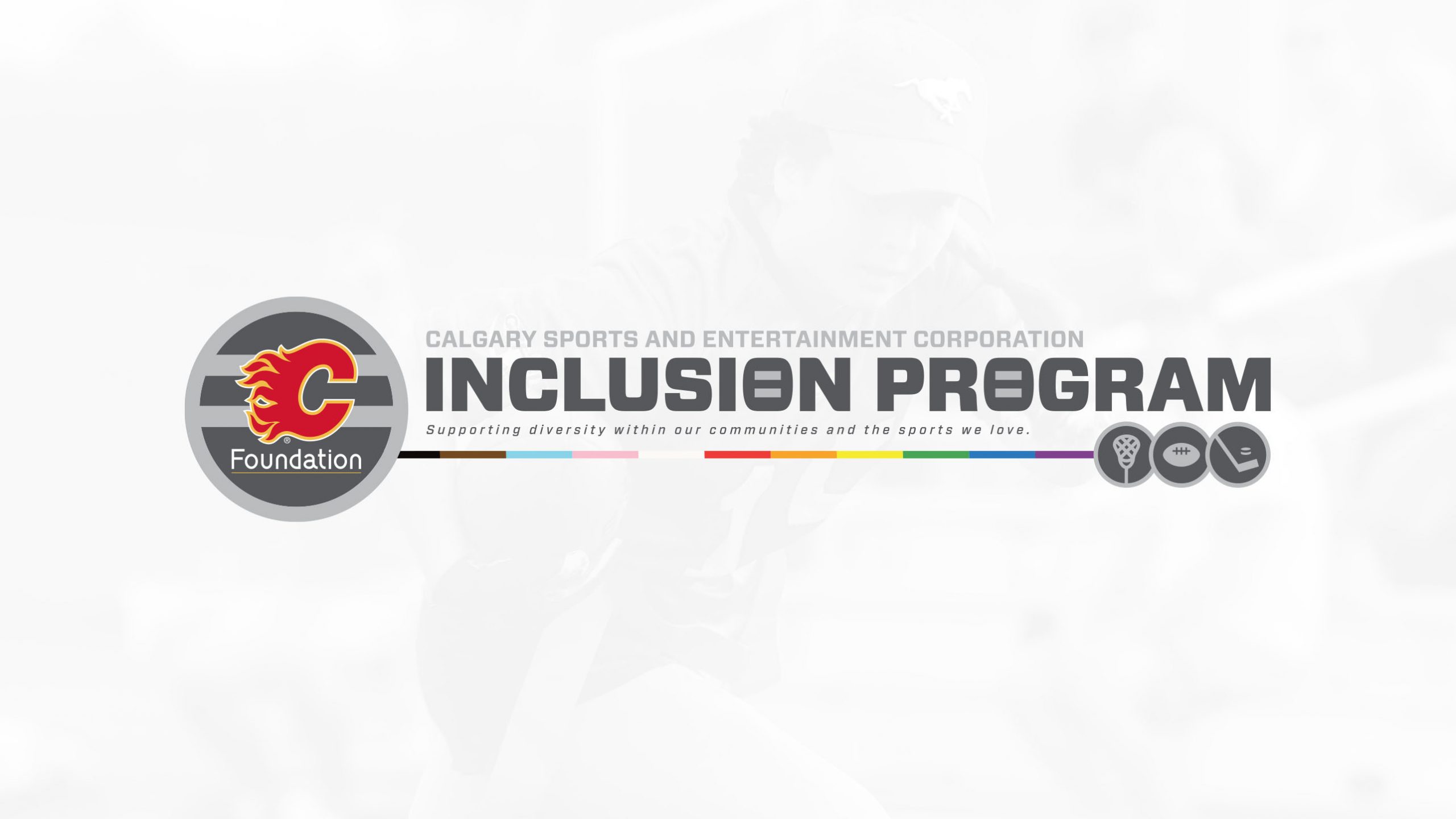 Calgary Sports and Entertainment Corporation (CSEC) and the Calgary Flames Foundation are proud to introduce the creation of the CSEC Inclusion Program. This program is comprised of an investment in sport inclusion through the Calgary Flames Foundation, along with the establishment of organizational and community partnerships and programs that promote inclusion.
CSEC values diversity, equity and inclusion by providing a welcoming environment internally and externally. Organizational priorities include supporting a diverse and inclusive workplace through human resources policies, processes, inclusion-related initiatives and educational training for all CSEC staff and athletes.
This inclusion programs includes a $2 million commitment through the Calgary Flames Foundation to support inclusion, diversity and equality in sport. The CSEC Inclusion Program will foster greater inclusion and access to sport for BIPOC (Black, Indigenous, People of Colour) individuals, people with disabilities, women and girls and the LGBTQ+ community.
"We know that sport can be an equalizer, often providing a level playing field. The Calgary Flames Foundation and CSEC have created the CSEC Inclusion Program with the goal of removing barriers and influencing meaningful change, while supporting the growth of participation in organized and spontaneous sport among youth in all our communities," says Jeff McCaig, Chair of the Calgary Flames Foundation.
The following are the introductory initiatives and partnerships included in the launch of the CSEC Inclusion Program. The Calgary Flames Foundation and CSEC are looking forward to continuing to learn, grow, work and support initiatives through a long term vision of inclusion in sport.
INDIGENOUS MENTORSHIP AND INTERNSHIP PROGRAM
CSEC is launching an internship and mentorship program for surrounding indigenous communities and students. The mentorship program will provide indigenous youth and students' access to exclusive educational seminars hosted by CSEC departmental leaders on the business of sport and entertainment. In conjunction with these two programs, CSEC will work with neighbouring indigenous communities to offer educational seminars, hosted by indigenous leaders and peoples, for CSEC staff.
CREATING INCLUSIVE SPACES
In addition to the two inclusive spaces that the Calgary Flames Foundation helped open this year on the Siksika Nation and a fully accessible outdoor rink in Parkdale, funding will continue to be provided to assist in the construction of sport and recreational spaces in southern Alberta that stimulate inclusion among diverse populations and promote inclusive and accessible spaces.
EXTENSION OF CSEC SCHOLARSHIP PROGRAM AND CALGARY BLACK CHAMBERS
The Calgary Flames Foundation currently provides scholarships to post-secondary student athletes across southern Alberta. Additional funds will be made available within this program to create two additional scholarships opportunities per school to be awarded to BIPOC student athletes. This is also paired with an annual investment in the Calgary Black Chambers Scholarship Program awarded with the goal of supporting and promoting the academic achievements of Calgary's Black students.
SPIRIT NORTH PARTNERSHIP – MOVEMENT MATTERS
This partnership with Spirit North will support their program called Movement Matters, which promotes mental and physical health through sport and play for southern Alberta's Indigenous children and youth aged 6-16 in southern Alberta.
INDIGENOUS SPORT HEROES EDUCATION EXPERIENCE
The Calgary Flames Foundation supports the Canada's Sports Hall of Fame Indigenous Sport Heroes Education Experience. This is a web based, multi-media, interactive experience sharing the stories of the 14 Indigenous Hall of Famers for K-12 students.
BLACK GIRL HOCKEY CLUB
The Black Girl Hockey Club provides education, scholarship opportunities and community spaces focused on providing Black girls and women access to hockey. Calgary Flames Foundation funding will subsidize the costs of playing hockey for Black girls aged 9-18 years.
CALGARY FLAMES LACE UP FOR NEWCOMERS HOCKEY PROGRAM
This floor hockey program focused on newcomers to Canada aged 8- 12, will run once a week at YMCAs across Calgary in collaboration with the Centre for Newcomers and Trellis. The program is offered at no cost as an introduction to hockey and sport.
CALGARY FLAMES NHL/NHLPA FIRST SHIFT PROGRAM
The First Shift Program is designed to ensure a positive experience for new-to-hockey families. The program provides a full set of equipment to participants ages 6-10 and is an important step to learning to play and removing barriers to entry. This season, camps will include an all-girls camp, a camp in partnership with APNA hockey focused on the South Asian hockey community in Calgary, and camps in Tsuut'ina Nation and Siksika Nation.
CALGARY FLAMES ADAPTIVE HOCKEY PROGRAM
The Calgary Flames Foundation support will prioritize the procurement of roller sleds for clinics in Calgary. These clinics will be a combination of roller sled and on-ice sledge hockey clinics in partnership with PX3 AMP Sports Academy.
EXTENSION OF THE SUPERHEROS PROGRAM TO CENTRAL ALBERTA
SuperHEROS is an adapted on-ice hockey program for children and youth living with physical and cognitive challenges that otherwise would be a barrier to taking part in hockey. The Calgary Flames Foundation was a key part of the partnership that brought this program to Calgary, the first of its kind in Western Canada. In partnership with HEROS, the Calgary Flames Foundation now will help to extend the program to provide adapted hockey throughout the Central Alberta Region.
SENSORY KITS
Sensory kits, designed to make CSEC games and events more accessible and inviting to children and people with sensory challenges, will be available upon request for no cost at McMahon Stadium and the Scotiabank Saddledome at guest services for all Calgary Flames, Hitmen, Roughnecks and Stampeders games and events.
VOLT HOCKEY – CALGARY FLAMES DIVISION
The Calgary Flames Foundation has partnered with Variety, the Children's Charity of Alberta Association, to present the Calgary Flames Division of the Volt Hockey Program. Volt Hockey is an adaptive variation of hockey that has been designed for children and adults with complex disabilities to enable them to play hockey.
THE ALBERTA SPORTS AND RECREATION ASSOCIATION FOR THE BLIND (ASRAB)
Support has been provided by the Calgary Flames Foundation focused on physical education modules for children with visual impairments. This partnership will help create a resource that physical education teachers can access when they have students with visual impairments.
PROFESSIONAL WOMEN'S HOCKEY PLAYER ASSOCIATION (PWHPA)
The Calgary Flames and Calgary Flames Foundation are proud to partner with the Professional Women's Hockey Player Association (PWHPA) on a variety of programs and also supported the May 2021 PWHPA Secret Dream Gap Tour in Calgary.
FAST AND FEMALE
Fast and Female fosters lasting involvement in sports for young girls. Fast and Female provides opportunities for powerful connection with REAL (Relatable, Empowered, Active Leaders) Role Models from within the girls' communities. The Calgary Flames Foundation has been pleased to partner with Fast and Female in the past and looks forward to working closely with the organization in the future in our shared goals of creating meaningful space to keep girls active in sport and play.
YOU CAN PLAY
This partnership with You Can Play will support educational resources for CSEC teams along with a unique interactive educational experience for young athletes in football, lacrosse and hockey. The You Can Play Project works to ensure the safety and inclusion for all who participate in sports, including LGBTQ+ athletes, coaches and fans. This partnership supports the fight for fairness in the locker room and sport spaces everywhere.
CSEC and the Calgary Flames Foundation are dedicated to using sport to celebrate, support and celebrate diversity and inclusion in our community. The Calgary Flames Foundation strives to improve the lives of southern Albertans through support of health and wellness, education and grassroots sports. Since the Flames ownership group brought the team to Calgary in 1980 the Calgary Flames Foundation has injected over $50 million into southern Alberta communities.