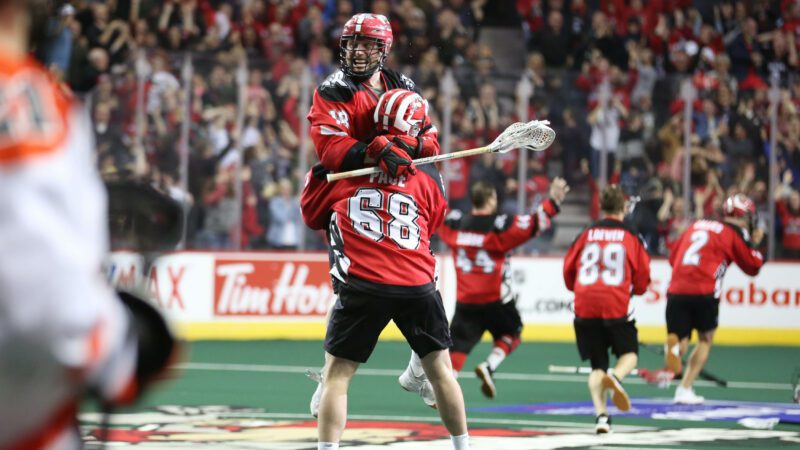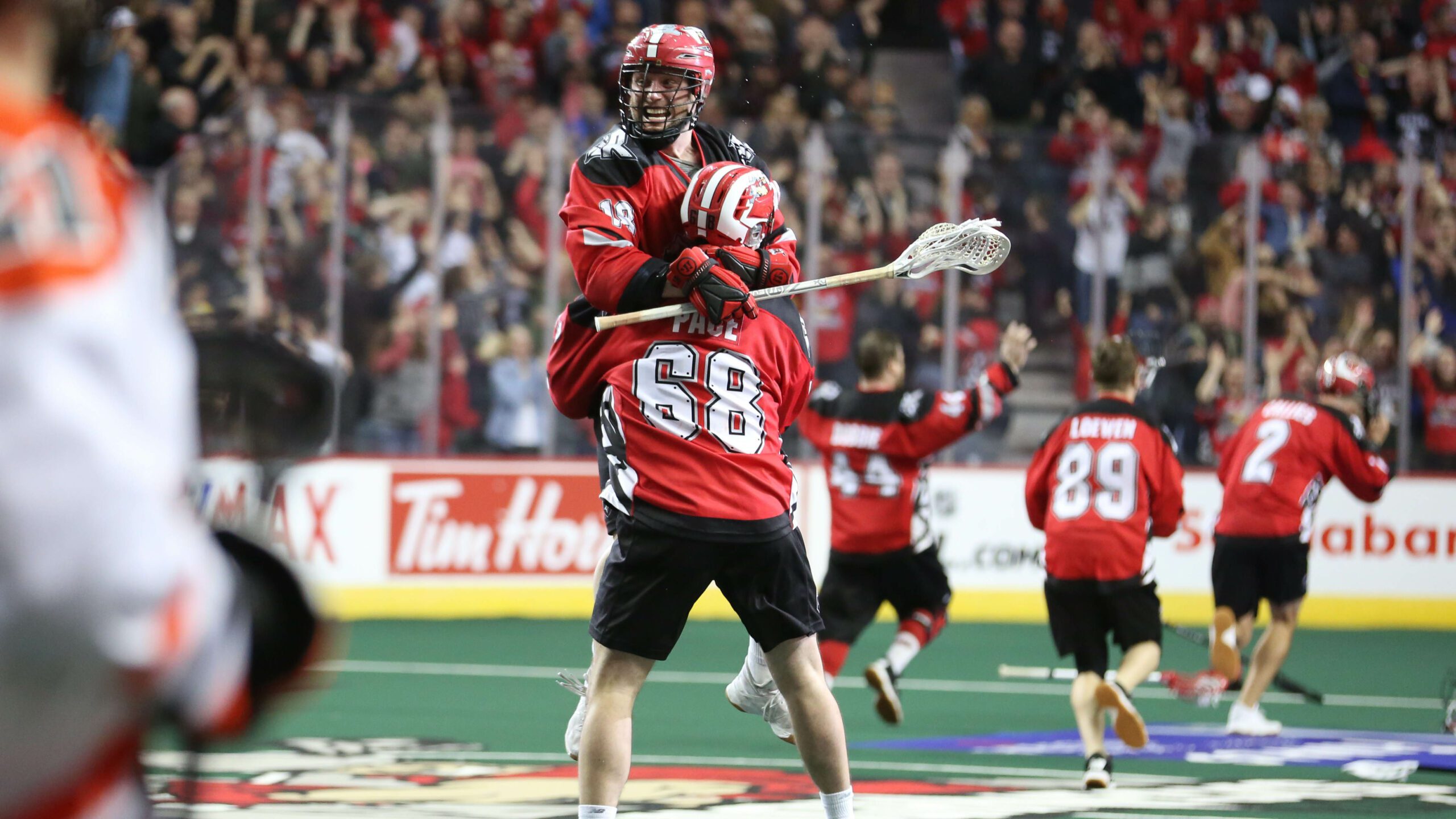 Biggest goal of his life?
Without a doubt, says Rhys Duch.
"I mean, I don't know if you can score a bigger goal," said the veteran forward of his overtime snipe that won Game 2 and gave the Roughnecks a sweep in their best-of-three NLL Finals series with the Buffalo Bandits Saturday night at the Scotiabank Saddledome, earning the franchise their third title.
"Overtime … for the championship … there's literally not anything bigger. It's surreal – a dream come true. Just unreal."
Rhys Duch in OVERTIME!

The @NLLRoughnecks are the 2019 NLL Finals Champs 🏆#BUFvsCGY #NLLFinals pic.twitter.com/KtiBzt05zA

— NLL (@NLL) May 26, 2019
It's the type of things kids dream about doing.
Grown men, too.
Heading into Saturday night, Duch had played 199 combined regular-season and playoff games.
He had scored 430 goals, including 33 in 15 post-season tilts.
But none quite compare to The Goal.
Buffalo had the first possession of extra time, Christian Del Bianco shutting the door and sending his team down the carpet for their first crack.
Then … well, let's let Duch walk you through it.
"We had drawn a play up to put the ball in (Curtis) Dickson's stick – I mean, the best goal-scorer in the world, so kind of a no-brainer," said Duch. "And he hit the post and then it was just a series of fortunate events. The ball kind of came around the boards to Kinger (Jesse King), he got the rebound, and then we kind of just went into the normal motions of our offence. With the way it went, shot and rebound, their defence had kind of sunk in and then the lane just kind of opened up for me."
Like Moses parting the Red Sea – fitting in the home of the C of Red – Duch, one of the deadliest outside shooters in the league, found himself wide open about 25-feet out from the net, staring down Bandits goalie Matt Vinc.
"I was like, 'holy smokes – I have to step into this one,' " said Duch. "I just ran to the spot shaking my stick and (Riley Loewen's) eyes got big when he saw me and my eyes got big when I saw the ball coming from him."
Did he have time to be nervous or really think about the gravity of the moment?
"The adrenaline was pumping," he answered. "I mean, I was more nervous when they had the ball and I was on the bench – you kind of feel helpless. You just have to watch and rely on our defence and our goalie, like we have all year.
"Once you get out there, you kind of fall into your instincts and go with it."
He stepped into the shot, scored short-side.
Game over 1:12 into OT.
Cue the celebration.
"I had shot most of my shots far-side during the game and I had kind of told myself before I went out there, hey if you get a chance shoot short-side on next one."
After being held without a goal in the West Semifinal and West Final (he collected four assists), he scored twice in Game 1 in Buffalo and ended up with four points in a massive 10-7 win.
Just 18 seconds into the fourth quarter in Game 2, he scored his first goal of the night to go with an earlier assist.
He ended the post-season run fourth in Riggers scoring with 11 points.
It was a magical finish for Duch, who battled a foot injury the past few campaigns, and was released by the Vancouver Warriors prior to the season
"It was disheartening at the time," he said. "It's a pretty big blow. But Calgary called me right away and they took a chance. We had a conversation, they said they knew I'd been struggling with my foot, asked how I was doing and I said I'm the best I've been and let's do this. It was really exciting.
"It was a risk, right?" he continued. "It was a risk for any team.
"But they took a chance."
And it paid off.
Big time.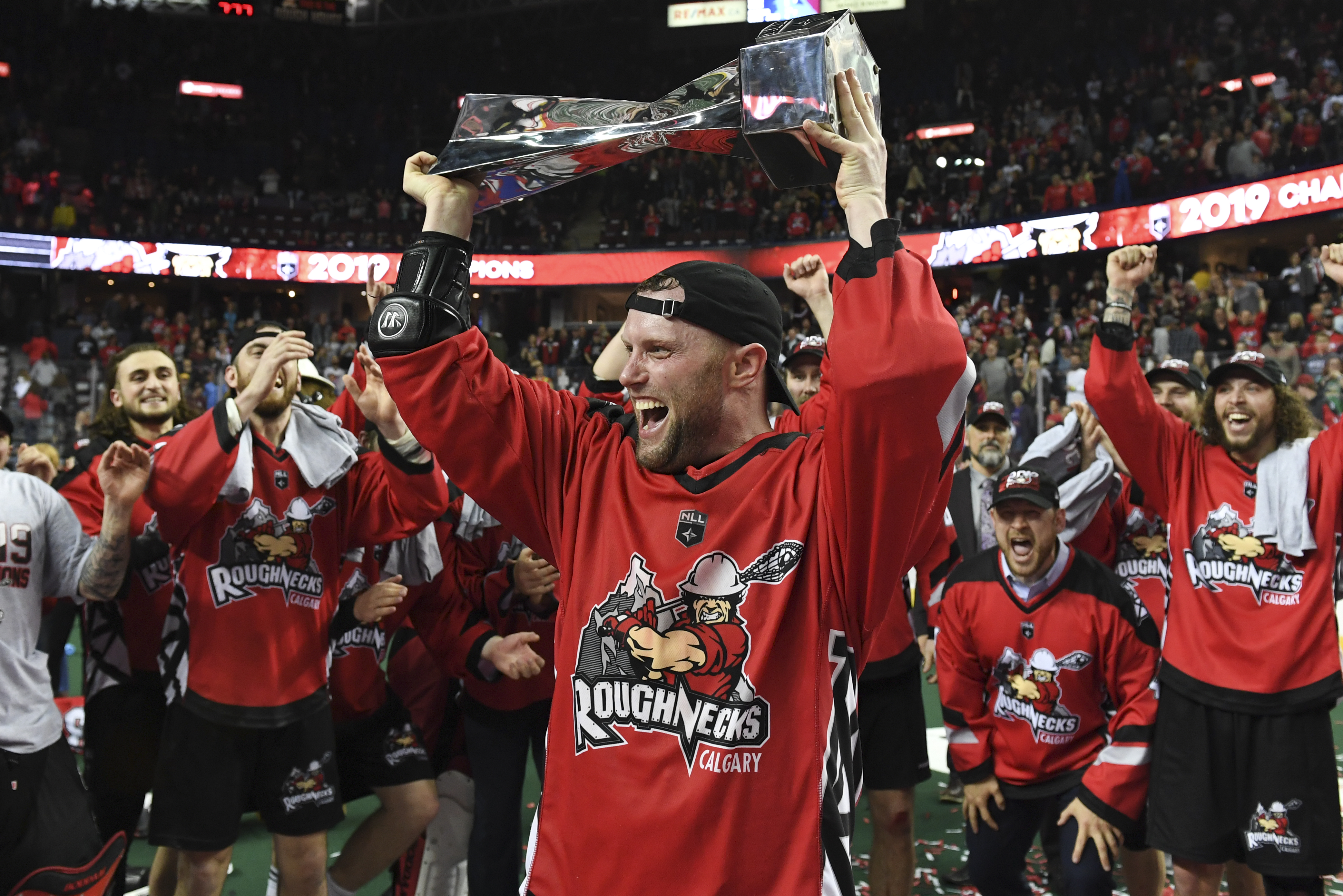 Duch – who had 27 goals and 74 points in the regular season – was brought in to score goals and provide leadership. He did both, especially in the playoffs.
"All the coaches pulled me aside at some point or another during the season and said these are important games and this why we brought you in here," he explained. "They put me in places to be successful, put their trust in me – like my teammates did – and we all put it on the line; always for the guy standing next to you.
"I was just grateful to have the opportunity and glad I was able to make it work."
The drama of sports is why fans are so passionate and Duch's season is but one story in an incredible season for the Roughnecks, one that started out bumpy but ended on the highest note possible.
"Oh man, we won seven games in a row to finish the season," said Duch. "It really took all of us. We were missing some guys at the beginning of the year for different reasons. I mean, every team has those type of things. But I think we found a way to turn things that, maybe, that cause some teams to stay in a negative spiral and we found ways to create positives out of them. We all rallied together.
"It took every single one of those guys in the dressing room – all the way up to the GM and ownership (to win the title). It was such a cohesive unit, on all levels. The stars aligned and the stars don't align very often in this sport.
"It's hard to do that. It fell into place."
Roughnecks 2019-20 season tickets are now available for as low as $32.11/seat for adults and $23/seat for children and students (plus applicable fees and taxes). Visit Ticketmaster or the Scotiabank Saddledome box office to join the Rough House party.