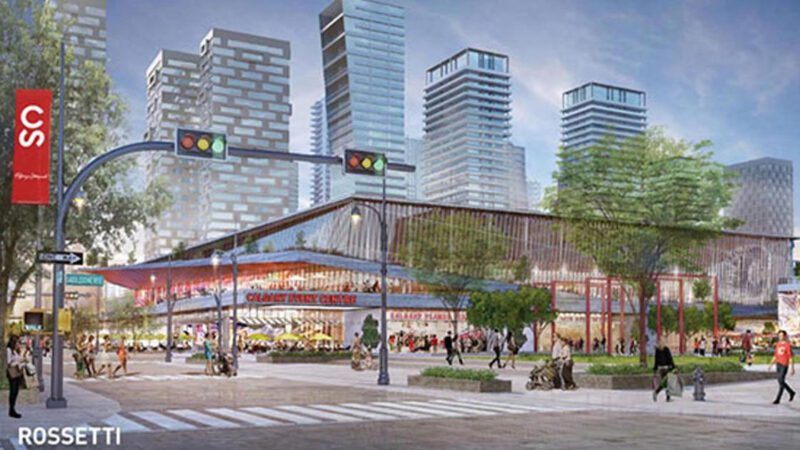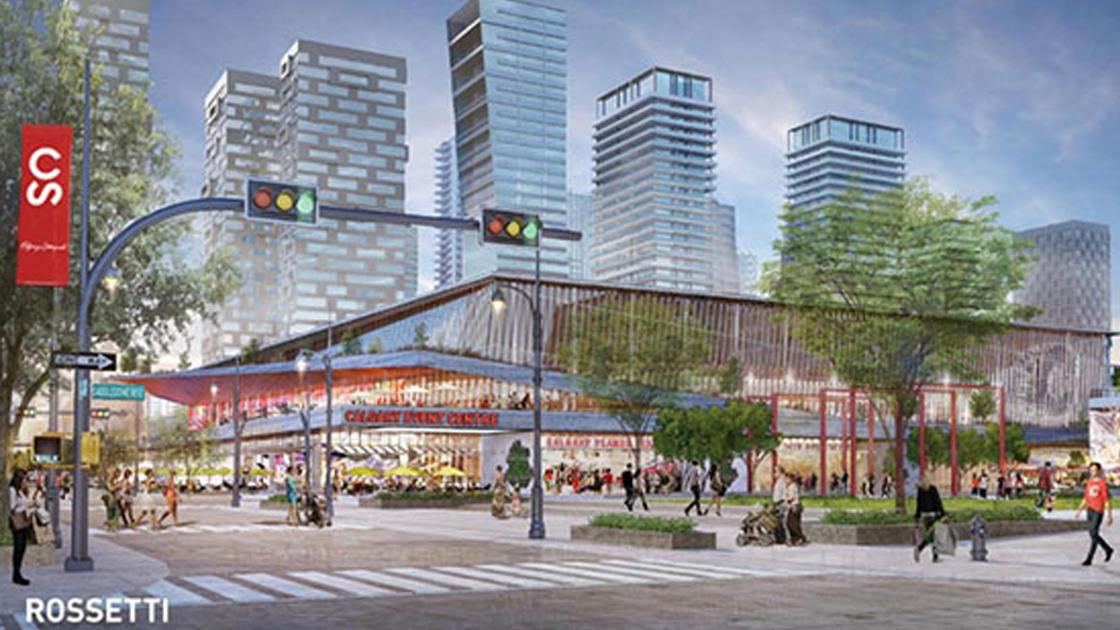 Today, Calgary Municipal Land Corporation (CMLC) announced the Prime Design Consultant (PDC), Construction Management (CM) and specialty firms selected to lead the design and construction of Calgary's new Event Centre, a catalyst in the organization's vision for Calgary's Culture & Entertainment District. DIALOG, a local multi-disciplinary design firm, and HOK, a global design, architecture, engineering and planning firm, have come together as partners to create a world-class destination that will elevate the spectator, athlete and performer experience in Calgary, building on the potential of Rivers District Master Plan.
The DIALOG + HOK partnership blends local experience in leading the design of iconic Calgary projects like the Central Library and the new Cancer Centre; with international sports expertise in the design of notable projects including Little Caesars Arena (Detroit) and Mercedes-Benz Stadium (Atlanta). DIALOG + HOK were selected based on their combined relevant expertise for projects of this scale, thoughtful understanding of the guiding principles of the project and connection to how the Event Centre will contribute to, and fit within, the area supporting a vibrant Culture & Entertainment District.
To manage the complex construction delivery of the $550 million project, local construction firm CANA Construction partnered with Mortenson Construction have been selected for their in-depth local knowledge and vast experience in construction of sport and entertainment venues across North America.
"The Event Centre will be a year-round entertainment facility that will serve as an extraordinary civic amenity for Calgarians and visitors to enjoy for generations to come," says Kate Thompson, President and CEO, Calgary Municipal Land Corporation. "First and foremost, we were looking for a team to work alongside us for the next five years, we're confident in our selection of DIALOG + HOK and CANA + Mortenson based on their collective experience, capabilities and understanding to deliver a venue that demonstrates Calgary's pride and spirit."
CMLC initiated the procurement process in January 2020 with a series of Request for Proposals (RFPs) to select the PDC team, CM team, and specialty consultants for structural, mechanical, and electrical engineering. The process involved an evaluation committee comprised of CMLC, The City of Calgary and Calgary Sports and Entertainment Corporation (CSEC) representatives to review and shortlist interested firms.
The PDC RFP solicited interest from nine teams from across North America and was shortlisted to four teams to advance to interviews. DIALOG + HOK were selected by the project steering committee for their combined expertise and ability to lead the design in a complex urban environment. CANA + Mortenson were the successful recipient of the CM RFP, having proved their experience and capabilities among two other firms during the selection process. Speciality consultant teams required to support the structural, mechanical and electrical requirements for the project have been selected and include:
Structural engineering: Entuitive + Thornton Tomasetti
Electrical engineering: DIALOG + ME + Designcore
Mechanical: Remedy + ME
"As we move forward with the development of this facility, we are confident this project team brings the experience, leadership and ambition to realize the full potential of what the Event Centre provides Calgary," says John Bean, President and CEO, Calgary Sports and Entertainment Corporation. "With their experience of large-scale sport and entertainment facilities, we know that Calgary's new Event Centre will be a source of civic pride for many years to come."
Fundamental principles for the project describe not only the importance of a premiere sport and entertainment venue but a careful integration of how the facility fosters active community spaces surrounding the facility and integration into the vision for Calgary's Culture & Entertainment District. The goal for the design of the Event Centre is to balance the needs and expectations of various sporting leagues, while providing the flexibility and adaptability to host a myriad of entertainment, cultural and commercial events. This project will serve as the anchor for the surrounding district with neighbouring amenities like the soon-to-be expanded BMO Centre.
"The Event Centre is one of several significant infrastructure projects to which The City has made a significant city-building and financial commitment," says Stuart Dalgleish, General Manager, Planning and Development, City of Calgary and Event Centre Steering Committee member. "The work these teams have been entrusted to do will contribute significantly to the Culture & Entertainment District and have a lasting impact on our city."
Fusing collaboration with expertise, the DIALOG + HOK team will provide diverse design thinking that will challenge assumptions, explore alternatives, and seek fresh opportunities.
"Our passion for collaboration and combined experience in providing state-of-the-art design solutions, backed by thorough technical sport and entertainment expertise will create an unparalleled visitor experience," says Rob Adamson, Principal, DIALOG. "Our design team is proud to have the capacity and experience to tailor the design of the Event Centre with the needs of Calgarians at the forefront. We are committed to this project team and look forward to working along side our partners to successfully deliver this project."
CANA + Mortenson plays a critical role in managing construction of the facility. "We are a proud partner on this project, we bring a team that understands these venues, the public spaces around them and the capacity to deliver it successfully," says Fabrizio Carinelli, President, CANA Management Ltd.
With the PDC and CM teams now in place, the firms will work on the concept design of the facility, considering the fundamental principles of the project set forth by the City of Calgary, CMLC and CSEC, aligning with the Rivers District Master Plan, Area Redevelopment Plan (ARP) and public engagement findings.
Construction of the Event Centre is set to commence in August 2021, with completion slated for May 2024.
Project Team:
1) Development Management: CMLC
2) Prime Design Team: Dialog (Calgary) + HOK (Kansas City, Missouri)
3) Construction Management: CANA Construction (Calgary) + Mortenson (Minneapolis)
4) Speciality:
a. Structural engineering: Entuitive + Thornton
b. Electrical engineering: Dialog +ME+Designcore
c. Mechanical engineering: Remedy +ME
Calgary Municipal Land Corporation (CMLC):
A wholly owned subsidiary of The City of Calgary, CMLC has stewarded the dramatic transformation of East Village over the past 12 years. Now, guided by the Rivers District Master Plan, CMLC is working to infuse new energy and new life into east Victoria Park and usher in the re-emergence of downtown Calgary's east end as Culture & Entertainment district like no other.
In fall 2018, CMLC wrapped up a complex five-year construction program, delivering a new Central Library worthy of our city's global stature. Soon thereafter, following nine months of intensive and broad-scale public engagement, CMLC completed the Rivers District Master Plan (RDMP), a comprehensive vision document created in collaboration with the Calgary Stampede. With development agreements in place with The City of Calgary and Calgary Sports & Entertainment Corporation, CMLC will lead the development management of the $550M Event Centre.
DIALOG + HOK:
DIALOG is a multi-disciplinary design firm with studios across Calgary, San Francisco, Vancouver, Edmonton and Toronto. The firm's work includes designing for urban vibrancy, health and wellness, transportation, education, arts and culture, residential, retail, and commercial, as well as mixed-use solutions.
DIALOG has been designing community spaces in Calgary since 1960. DIALOG is passionate about design and believes it can, and should, meaningfully improve the wellbeing of our communities and the environment we all share. Current and recent projects include Calgary Central Library, Calgary Cancer Centre, Calgary International Airport and the MacKimmie Complex at the University of Calgary.
With offices around the globe, HOK designs buildings and spaces that respond to the needs of people and the environment. HOK designers are rooted in technical excellence, driven by imagination and focused on a solitary goal: to deliver solutions that inspire clients and communities.
HOK's Sports + Recreation + Entertainment practice has expertise in the design of arenas, stadiums, ballparks, training facilities and recreation centers. The group plans and designs world-class sports complexes that are centerpieces of successful, vibrant entertainment districts, communities and campuses. Current and recent projects include Little Caesars Arena in Detroit; Rogers Place in Edmonton, Alberta; the renovation of State Farm Arena and design of Mercedes-Benz Stadium in Atlanta; the renovation of Hard Rock Stadium in Miami and Yas Arena in Abu Dhabi.
CANA + Mortenson:
Locally owned and operated by the Simpson family and headquartered in Calgary, CANA has been delivering unique projects in Alberta since 1942. Having built the original Saddledome, renovated in 1995, and restored in record time after the Alberta floods in 2013, this project is a continuation of a legacy for the Simpson family and CANA. CANA also delivered notable projects including the West LRT Expansion and TELUS Convention Centre for The City of Calgary and StudioBell – home of the National Music Centre, a significant project in East Village.
Mortenson is a top sports builder and brings the most in-depth knowledge and recent experience of event facilities in North America. Their resume includes 200 sports venues with an aggregate value of $14 billion on projects including the Fiserv Forum in Milwaukee, the Xcel Energy Center in St. Paul, the Chase Center in San Francisco, Allegiant Stadium in Las Vegas, and the Seattle Center Arena.