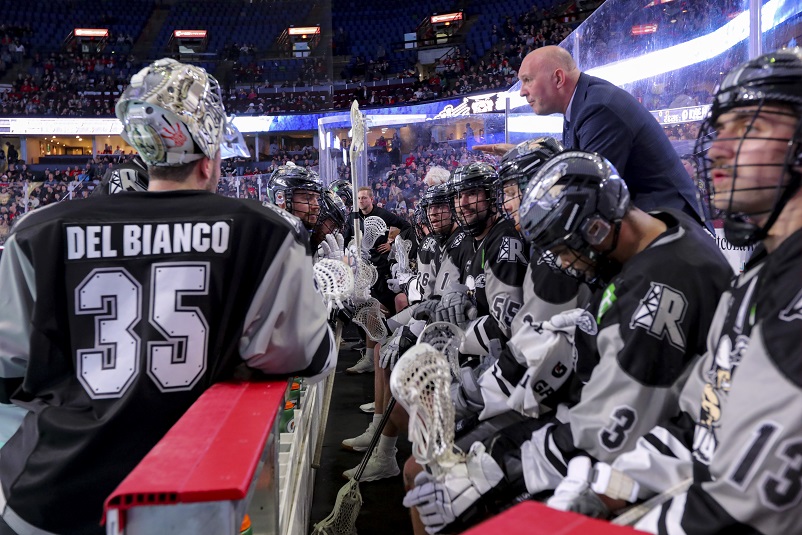 By: Laurence Heinen
Josh Currier made a victorious debut for the Roughnecks during a 14-10 win over the previously undefeated San Diego Seals on Saturday.
The newly-acquired forward scored 30 seconds into the game and also chipped in with four assists to help lead the Roughnecks (3-2) to a thrilling win in front of 10,113 enthusiastic fans at the Scotiabank Saddledome.
For his efforts, Josh Currier was chosen as first star of the game just three days after Calgary acquired him from the Saskatchewan Rush in exchange for a conditional 2024 second-round draft pick.
Not to be outdone, Zach Currier scored 14 seconds after his older brother to give the 'Necks an early 2-0 lead. Zach added two more assists and collected 12 loose balls and was chosen as third star.
Shane Simpson finished with a hat trick and two helpers, which earned him accolades as second star.
Captain Jesse King also had a hat trick to go with one assist, while Zach Herreweyers chipped in with two goals (see below for more scoring statistics).
Goalie Christian Del Bianco had a solid game as he finished with 39 saves, while also chipping in with three helpers.
The 'Necks continued to build on the early momentum provided by the Curriers as Haiden Dickson and King fired back-to-back goals to give the 'Necks a 4-0 lead at the 4:45 mark of the first quarter. After allowing four goals on just six shots, San Diego goalie Frank Scigliano was replaced in net by Christopher Origlieri.
Tyler Pace promptly snapped a low shot through Origlieri's legs to put Calgary up 5-0.
The Riggers then got into penalty trouble as the Seals potted three straight power-play goals before adding an even-strength marker to pull within one by 9:01 of the second quarter.
Herreweyers then tallied back-to-back goals before King scored on a breakaway late in the first half to give the Riggers an 8-4 advantage heading into the half-time break.
Simpson and Dan Taylor scored for the hometown favourites in the third quarter before Mitch Wilde and King found the back of the net behind Origlieri early in the final frame to extend Calgary's lead to 12-7.
The visitors made a push down the stretch, but could only manage three more goals, while Simpson scored twice to wrap up his hat trick and seal the victory over the Seals.
COACH'S CORNER
"We had a tough one last game (against the Seals – a 17-14 road loss on Dec. 30) and we had a chance only a week later to prepare for them again. We tried to make some key adjustments and it's great on paper, but the guys just really stepped up. It was a true band of brothers tonight."
"Yeah, I thought (the Curriers) delivered, but I think everybody delivered. I don't think you can pick a guy out there that was coasting or was a passenger tonight. I think that's how you have to win in the National Lacrosse League is every single guy and no job is bigger than the next job. I think that's the big thing guys realize. Guys are going to score, guys are going to stop 'em. Delbs again was just outstanding. Whatever you're asked of by your teammates and by your coaches, you do it and you're going to have success like we did tonight."
BY THE NUMBERS:
Simpson 3g, 2a
King 3g, 1a
Herreweyers 2g
Pace 1g, 5a
Josh Currier 1g, 4a
Zach Currier, 1g, 2a, 12 loose balls
Taylor 1g, 2a
Del Bianco 39 saves, 3a
Dickson 1g, 1a
Wilde 1g, 1a
Salama 2a
SAY WHAT:
"The Curriers delivered — yeah, it was a great start and it was very exciting. I know for my family, they were probably pretty excited about that as well. (The trade) was Thursday, so no one really had time to get out here, but they were all watching from home." – Zach Currier
"It's fun (to see the Currier brothers play well). We all know Zach and it's nice to add Josh. We always joke that hey, it makes Zach happy to have his brother in town, too. So, try to keep them both around for a long time here. Obviously it was a big goal to start for both of them and we hope they can build off that and just keep going and contributing." – Christian Del Bianco
NEXT UP:
After enjoying a bye in Week 8, the Riggers will return to the 'Dome on Saturday, Jan. 28 (7 p.m.) when they host the Toronto Rock for the only time this season. The Roughnecks will commemorate the Every Child Matters moment during the game by wearing orange warm-up shirts among other initiatives.