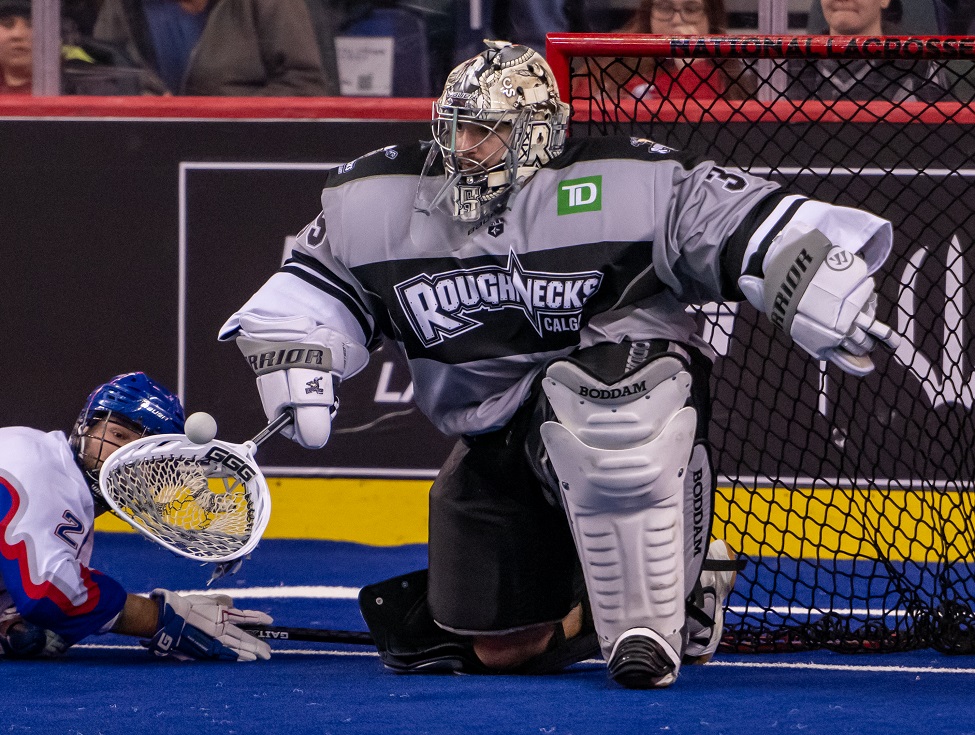 By: Riley Pollock – 07-02-23
This week's Super Bowl quarterbacks – Patrick Mahomes and Jalen Hurts – would no doubt be impressed with the dimes Christian Del Bianco is throwing this season.
CBD leads all NLL goalies with 12 assists and is a huge part of the Riggers transition success, firing long-range, pinpoint passes to teammates in full stride up the floor.
Given the amount of time spends honing his stick skills, perhaps he should even get a shot at forward?
"I'd say I practice it more than most.' said Del Bianco. "Most of the guys on our team can vouch for the fact that I'm a pretty big fan of gambling while shooting crossbars. I always try to sucker somebody into shooting the bar with me. We sit at centre and lob a bucket of balls at it. I definitely like that, I think it's a good way of finding your touch on the ball, making sure you have the range down so you don't overthrow it or underthrow it. It's not really a super serious thing, but it's a fun way to improve your stick skills."
He will look to add to his numbers this weekend when the Riggers host the Saskatchewan Rush Friday and Colorado Mammoth on Saturday. TICKETS
The Roughnecks have scored 26 of their 82 goals from the backend this season, which works out to about 31% of their tallies. They're second-most only to the Toronto Rock, who have 29 in one more game played.
Shane Simpson leads the way with nine transition goals this season for Calgary, but the Riggers have nine different defensive players that have found the back of the net. Del Bianco talked about the speedy group he is working with this year.
"I always joke when I'm talking to people back home in Coquitlam, that Ethan Ticehurst was a guy that in junior, everyone was like oh my god this guy is the fastest player," he said. "You put him out there with these guys, and he still might be second or third fastest on the team but when you have guys like Simpson and (Zach) Currier out there, it just seems normal. They're all moving at such a high pace, Shane especially, there's so many foot races he wins, so this group is pretty impressive."
Del Bianco's single-season high in assists is 17, which he notched in both 2018 and 2022. The NLL record is 23 assists in one season, set by Erik Miller in 2003 and equaled by Pat O'Toole in 2007.
On pace to break that record, CDB – as usual – was quick to give credit to those around him for his success this season.
"It's a benefit of our system and the guys I get to play with," said Del Bianco. "When you have so many guys that are getting open that often, they're getting down the floor and out running just about everyone. I think it gives you more opportunities to push the ball."
For every assist Del Bianco gets, Ascent Consulting donates $500 to KidSport Calgary, something he and the rest of his teammates take pride in.
"It's obviously the generosity of Bill Alston and Ascent Consulting," he said. "But I think our players have really bought into it and they enjoy it. When someone scores a big goal out of the transition game they're always joking that it's for the kids. It's a fun spin that adds an extra incentive to every goal we score out of the back end."