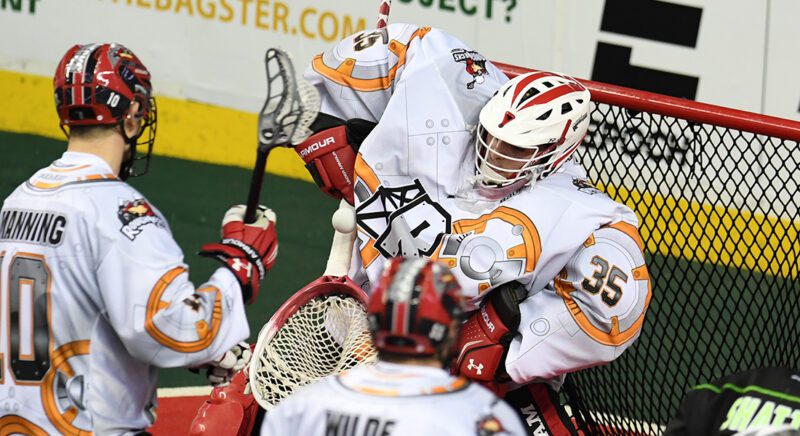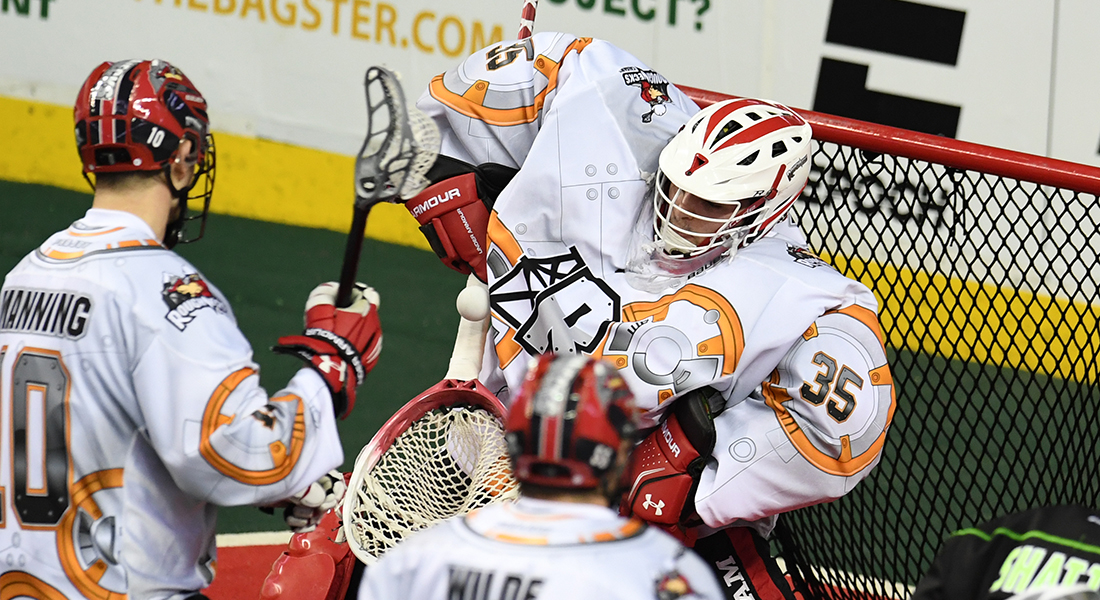 The role of a backup goaltender is one of the most mentally challenging tasks in all of sports.
But when Roughnecks 'tender Christian Del Bianco got the nod in the second quarter of his team's game against the Saskatchewan Rush on Saturday, he took it in stride.
"I think the situation is, you just go in there and you try to do whatever you can to change the tides," said the 20-year-old netminder. "Really, there's nothing else you can do but just focus as much as you can and take it one shot at a time."
With his team trailing 5-1 after the first quarter, Del Bianco's night probably didn't start off the way he would have hoped.
After relieving starter Frank Scigliano, Del Bianco allowed five goals on 12 second-quarter shots as the Riggers headed to the locker room staring down a 10-4 deficit against one of the top teams in the league.
But Del Bianco didn't panic.
"I think you just kind of enjoy it, you can't feel bad for yourself, everything is in your control," he said. "If you sit there and feel bad for yourself it's probably not going to go your way. But if you're positive and you work towards changing the tides, generally it's going to be a difference."
Del Bianco and his teammates stayed positive, and when the second half began, the difference was drastic.
The 2015 second-round turned aside all 14 shots the Rush sent his way as the Roughnecks outscored their opponents 5-0 in the third quarter to spark an incredible second-half rally.
It wasn't the first time Del Bianco turned in a memorable performance against the Riggers archrivals.
Last February, he made 35 saves in a 12-11 overtime thriller that saw Saskatchewan emerge with the win. A few weeks later, he split duties with Scigliano, stopping 24 of 30 shots in a 13-10 loss against a Rush roster filled with familiar faces from his junior lacrosse days in his B.C. hometown.
"I think a lot of it was that like half their offence I grew up watching in Coquitlam," Del Bianco said with a laugh. "Between Ben McIntosh, Robert Church and Mark Matthews, I think there's just a little bit of familiarity when we play them so I think that helps the situation."
Unfortunately, familiarity wasn't enough to lift the Roughnecks to victory on Saturday.
Dane Dobbie scored in the final minute of regulation to force an extra frame, but the Rush took the game 13-12 in overtime.
"I think there's a couple I wish I could have back and a couple where I got lucky posts so it's just kind of lacrosse, it's sports — it's fifty-fifty sometimes," said Del Bianco. "One save away and that sucks. But you live and you learn."
The Roughnecks take on the Toronto Rock Saturday night at 5 p.m. MT.