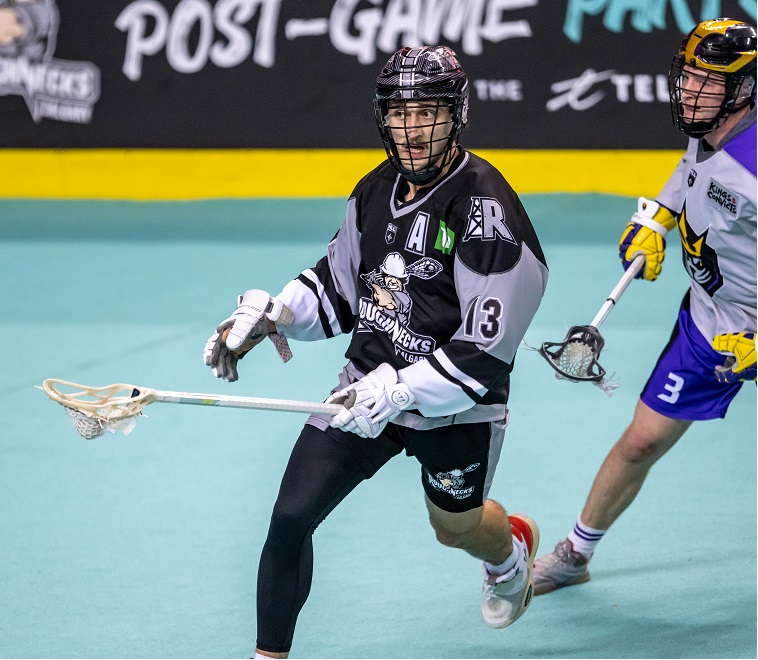 By: Riley Pollock – 24-01-23
As the old saying goes, consistency is key.
And that's something the Roughnecks defensive group is focusing on, said Eli Salama.
The Riggers are averaging just 10 goals against per game this season, good enough for fourth least in the NLL.
But while Salama thinks they have played some great games on the back end, they have also ended up in some high-scoring tilts so far.
"Some nights we're holding teams to low single digits and other nights were in barnburner, track meet type of games," he said. "I think that there is something to be said about each game but as a whole, I think we've done well but as a defensive unit we would also say that there's certain stuff that we can improve on and we're striving to be better each week."
The Riggers are athletic and strong on the back end and Salama says that's part of the identity they are trying to build.
"Our biggest thing is we're just trying to wear down the opposition," he explained. "We've got a really young defensive group but we're all confident in our abilities to take on the matchup they are given, shift in and shift out.
"I think the biggest thing is we just want to be the hardest team to play against and go for every loose ball and we're going to hit hard, too, on the way. I think it's a smothering, trying to be as dominant as possible, dictating and not reacting type of mentality that we have."
The Roughnecks, like all NLL teams, are not together all week and mostly only see each other the day before a game at practice. Salama says the group still does a good job watching film individually and messaging their observations in a team group chat.
"There are guys like Mitch Wilde or Christian (Del Bianco) that are always chiming in on the team group," said Salama. "Just talking about the other teams that we are coming up against for the week. We've got a lot of guys that love watching film and are not scared to share their opinions in the group chat which is nice for some of the (offensive) guys if they ever get caught on a shift at defence they're prepared for what we are thinking."
The Riggers have been quick in transition from the backend, lead by goaltender Christian Del Bianco who has eight assists already this season.
"Game in and game out Christian is going to give everything he has," Salama said. "He demands excellence from himself and the rest of us so when you have someone like that, he's definitely a leader on the defence and the backbone of our team, having his demand so much from himself only makes you want to demand more from yourself. He has a ton of assists and obviously there are lots of guys who are reaping the benefits of him making those saves and throwing those passes."
One of the players who is benefiting from the strong transition game is Shane Simpson. He has already matched his single-season high for goals with eight which he set in 2020.
"I think Shane is another one of those guys who wasn't overly happy with his year last year from a production standpoint," Salama said. "For him to come out so hot this year and just be on an absolute tear, he's the fastest guy in the NLL and an awesome guy as well and to see him having the success he is to start the year is awesome."
Simpson will get a chance to set a new career high for goals in a season this Saturday, Jan. 28 when the Roughnecks host the Toronto Rock at the Rough House for the Every Child Matters Game. TICKETS