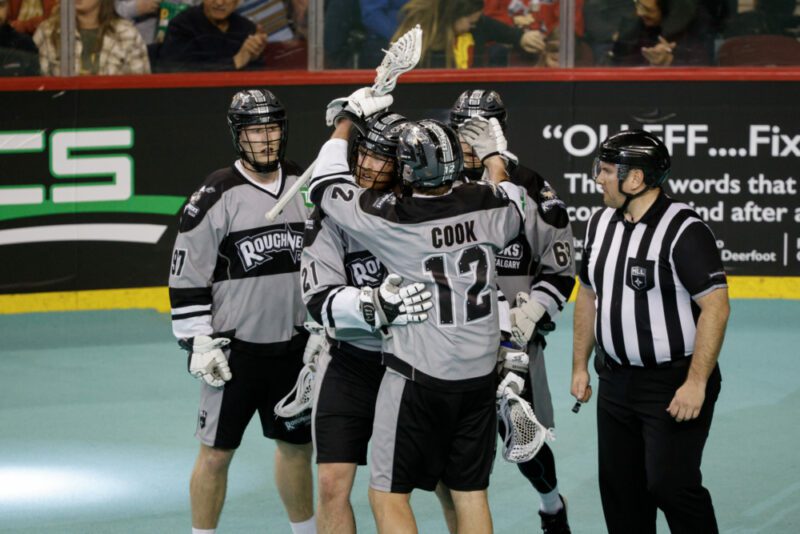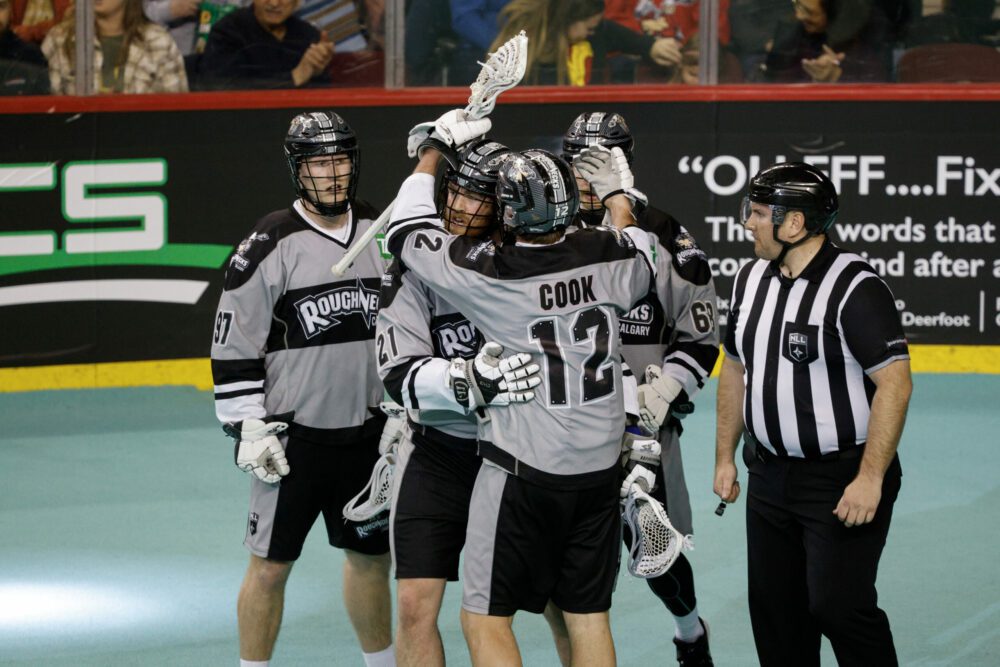 By: Laurence Heinen – 08-04-23
The Roughnecks played like 'The Incredibles' at their annual Superhero Party on WestJet Field at the Scotiabank Saddledome.
Led by their 'Dynamic Duo' of Jesse King and Tyler Pace, the Roughnecks (11-5) built up a 6-2 lead by halftime and held on for a 12-5 win in front of 11,404 appreciative fans, many of who dressed up as superheroes themselves.
King, who's first in team scoring, finished with a hat trick and three helpers, while Pace, who's second behind King on the ledger, scored twice and set up four others.
Meanwhile goalie Christian Del Bianco played like 'Mr. Incredible' in net as he stopped 30 of 35 shots he faced.
King opened the scoring at 4:44 of the first quarter when he whipped a long-range shot past Panther City goalie Nick Damude. For King, it was the fifth straight contest in which he scored the first goal of the game for the Riggers.
After PCLC tied the game up, Kyle Waters regained the one-goal cushion for the hometown favourites when his shot squeaked past Damude and trickled across the goal line.
Tanner Cook, Kyle Waters, Haiden Dickson and King scored for the home side in the second quarter before the visitors responded with three straight goals to cut the lead to just two goals by the 10:14 mark of the third.
Pace then scored a power-play goal at 12:43 of the third before notching an even-strength marker with eight seconds left on the clock.
The 'Necks broke the game wide open in the final frame as Shane Simpson, King, Josh Currier and Cook all found the back of the net.
BY THE NUMBERS:
Jesse King 3g, 3a
Tyler Pace 2g, 4a
Tanner Cook 2g, 4a
Kyle Waters 2g, 1a
Haiden Dickson 1g, 2a
Josh Currier 1g, 1a
Shane Simpson 1g
Dan Taylor 3a
Reece Callies 1a
Christian Del Bianco 30 saves
Coaches Corner: 
"That's a playoff mentality we tried to come out with tonight. We wanted to play fast, we wanted to be really aggressive. There's going to be highs and lows of the game and they battled back to within a couple. We went from 6-4 to 8-4 and next thing you know, we just kind of took off. When our defence is getting stops and we're pounding them, again it takes pressure off our offence and we can just do our job and stay the course."
"I've been here for I don't know how many years now, but I love our fans. I noticed it when you look up during the national anthems and you look around and it's 'wow,' there's not a lot of empty seats. I know they're standing and then they're so loud. It builds that momentum for our guys. For us, that's our extra seventh guy out there. It makes such a difference and I've said for years about the Roughneck fans, they're knowledgeable fans. They understand the game. They get it and they can appreciate that blue-collar hard work we instilled in the guys."
SAY WHAT:
"We're just finding that consistency. Obviously we had not our best game down in San Diego and took a loss, but we got it back on track. We're not having these skids where we're going three losses at a time or anything like that. It's pretty fun to be a part of and obviously the accolades for me with how many wins I have (personal record of 11 wins) is a team stat at the end of the day." – Christian Del Bianco
"It's really impactful when you can have a guy like Tyler on that side of the floor that is aware of his surroundings and has guys around him that might be a little bit new and he's really going out of his way to teach these guys little things and when you look over on the other side, and he's there as a swing guy, it's always comforting." – Jesse King
"When Jesse has the ball, it's a sense of calmness. So you're always looking to get open, because he's looking and you know he's going to find you if you get open. It's always calm on the bench. You don't really get upset on the bench and say, 'We gotta get one – we gotta get one. We know it's coming. And I was just fortunate, because on the power play, we ran a play that was kind for me. I just got open on a nice play for the lefties. I was wide open." – Tyler Pace
NEXT UP:
The Roughnecks will host their Fan Appreciation Party next Friday, April 14 (7 p.m.) when the Las Vegas Desert Dogs pay their first-ever visit to the Rough House. The Riggers will be looking to avenge an 11-9 setback they suffered to the Dogs in Las Vegas on Feb. 24.