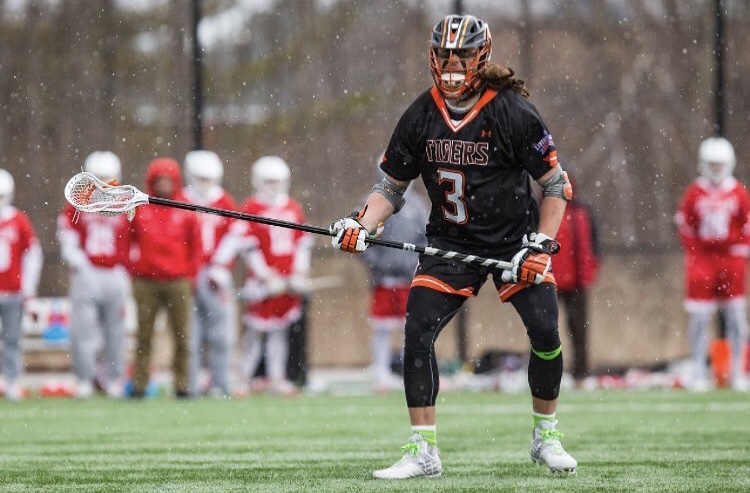 If the Roughnecks were looking for speed and skill, they got their guy.
Eli Salama, a righty defender from Coquitlam, was selected with the 12th-overall pick Tuesday at the 2018 NLL Draft in Philadelphia.
"I couldn't be happier, Calgary is an awesome organization," Salama said. "I've also got a bunch of old teammates and friends on the team there in Christian Del Bianco, Tyler Pace and others, as well.
"It's been a dream to play in the NLL, so I couldn't be happier to put on that Roughnecks' red and white."
And while being selected was exciting, it wasn't unexpected – especially after seeing the Roughnecks brain trust at his WLA Langley Thunder games throughout the summer.
"I was watching the stream online and I had a feeling that I was going to be the pick, and I was right," Salama explained."(Riggers head coach) Curt Malawsky is a Coquitlam guy, so I've been around the rink with him a little bit. I saw him in the stands this past summer a lot, and obviously in Coquitlam when I played in junior for the Adanacs."
That first-hand knowledge cemented Salama on the team's draft board.
"He was one of the top defenders in the 2016 Minto Cup," said the bench boss. "And we really liked the way he played in Langley. We watched him play quite a bit this summer; Boardie (Roughnecks GM Mike Board), myself, Robbie (Robert Williams) and Bob (McMahon) watched him."
And what did they see?
A versatile athlete, who moves up-and-down the floor well, and has a great ability to close gaps.
"Speed describes my style," Salama said. "I'm not the biggest guy in the world, I can be a physical defender when I need to, but I pride myself on speed.
"I'm not an old-school, stay-at-home defender type guy. I'll play that locked-down defence if that's what you want me to do, but if you want me to push the ball in transition I'm more than happy to do that."
And with that skill set, the Rochester Institute of Technology alum will surely make a perfect understudy for a few Rigger defenders.
"I'm looking forward to playing with Tyson Bell and Dan MacRae," Salama explained. "MacRae is also an RIT alum, but I've never had the chance to play with him or meet him. The two of them are both tenacious defenders, they're both elite-level guys, and I think they have a lot to teach.
"I couldn't be more excited to join the Roughnecks family."