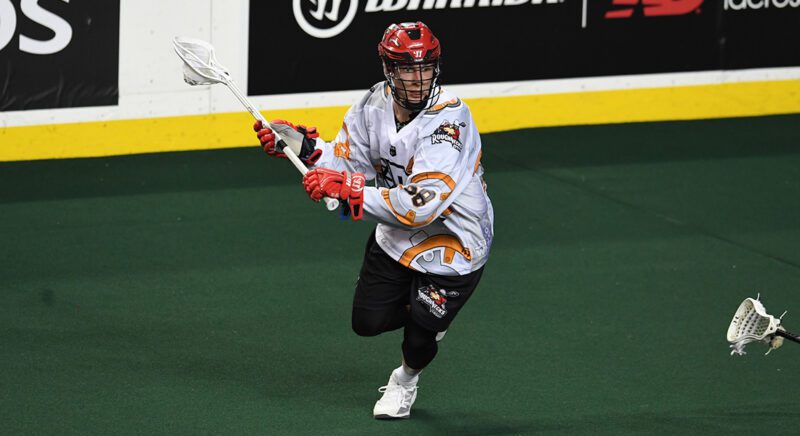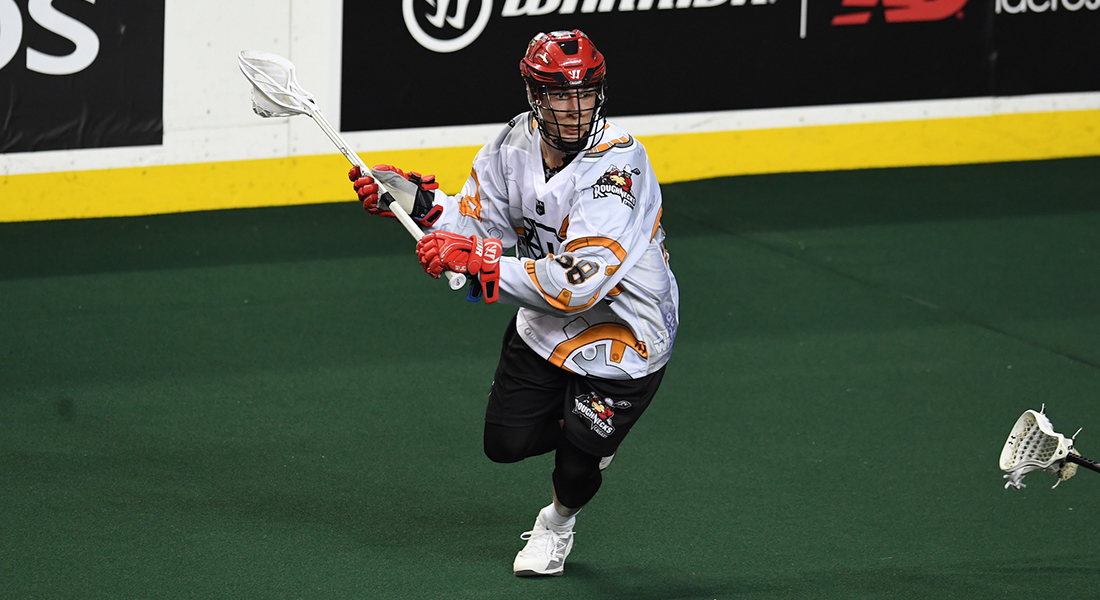 Defining one's role on a new team can be a complicated task, but Roughnecks rookie Tyler Pace is finding his way.
"I think that I've proven I can play on both sides of the floor, so I think that that's kind of a big role to have," said the 22-year-old native of Coquitlam, B.C. "I feel that I'm reliable and maybe that's my job is to be reliable on either end, just in case, heaven forbid, someone goes down [or] a void needs to be filled."
Pace was recently called upon to fill such a void, and he proved to be more than reliable.
Listed as a defender on the Roughnecks official roster, Pace filled in for Tyler Digby on offence in the Riggers 13-12 overtime loss to the Saskatchewan Rush on Saturday.
It was Pace's fourth game with the Roughnecks, and though the team didn't earn the win, the second quarter saw the rookie score the first goal of his young NLL career. Standing near the attack line, Pace took a cross-zone pass from Holden Cattoni, jogged in and fired the ball between the legs of Rush goalie Evan Kirk.
"My guy slid, tried to fill a gap or whatever it was, and I ended up wide open," said Pace. "You give really any offensive player I think in this league time like that and they're expected to put the ball in the net so I'm just glad that I did."
After Pace buried the ball, one of his teammates made sure to recover it for him to commemorate the achievement.
"I think I'm going to hold onto that one," he said. "Maybe with some of my memorabilia that I've gathered over the years."
Pace has certainly had plenty of chances to fill his shelves. Along with a slieu of individual honours, he won the Minto Cup as captain of the Coquitlam Jr. Adanacs in 2016, and was a member of the University of Denver Pioneers field lacrosse team that claimed the NCAA Div. I national championship in 2015.
Pace was a midfielder during his four years as a Pioneer, which has helped him in his role as a two-way player for the Roughnecks.
"I may not be the best guy on defence just like I'm definitely not the best guy on offence," said the 2017 ninth-overall pick. "But I know enough about the game and I've played long enough and I think I'm good enough to be able to play at both sides and so coach has kind of given me that responsibility and I deal with it [through] my play."
Fellow Rigger Wesley Berg was an essential member of that 2015 championship squad in Denver, while head coach Curt Malawsky was a member of the coaching staff in Pace's days with the Adanacs. For Pace, having a few familiar faces in the locker room has made the transition to the NLL easier, but there are some lessons in the major leagues that your teammates can't teach you.
"When I got hit against Buffalo," Pace chuckled as he recalled the biggest learning moment of his rookie season so far. "Maybe a couple years in junior and college I didn't keep my head up as much, maybe I felt safe or something. But now I know. This is a man's league; keep your head up."