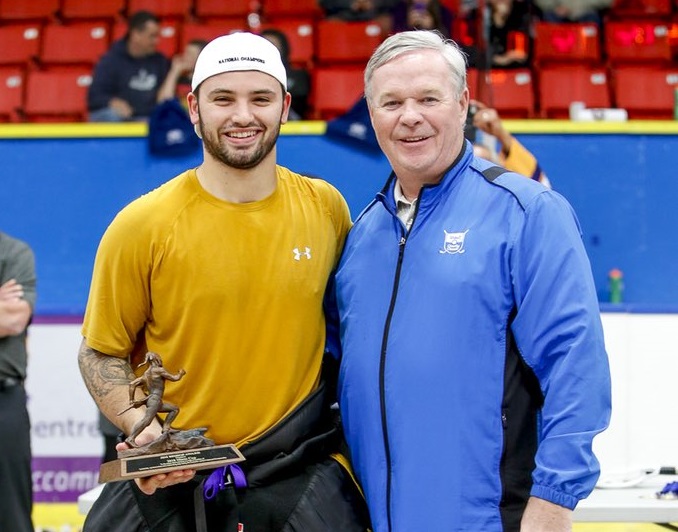 Photo: Christian Del Bianco is presented the Jim Bishop trophy by past President of CLA Jim Burke. (courtesy: Minto Cup 2018)
Talk about going out with a bang.
Roughnecks netminder Christian Del Bianco closed out an astounding junior-A career after winning the Minto Cup Saturday night, as the Coquitlam Adanacs defeated the Brampton Excelsiors 10-8 in OT, taking the series three games to one.
"It's pretty awesome, I can't lie," beamed Del Bianco at the Max Bell Centre. "Every year it's such a special group of guys… Watching your best friends hoist the cup is one of the best feelings in the world, I think."
Del Bianco finished the tournament with a 7.43 GAA, and .823 save percentage in eight games.
He also walked away with the Jim Bishop Award for qualities of leadership, sportsmanship and outstanding play. And the Jim McConaghy Memorial Award, for the MVP for the Minto Cup Series.
This comes after cleaning up at the BC Junior-A Lacrosse League Awards before heading to the national competition. (OB Reid Memorial Award – Outstanding Achievement; John Urban Award – Graduating Player; Monty Leahy Award – Top Goaltender; and the Henry "Del" Demonico Trophy – Most Valuable Player.)
The young phenom is one of a rare group of players in NLL history to have had a starting, impact role with a league club but a year of junior eligibility still left at the end of that pro season.
"Christian is awesome," said Adanacs head coach and former NLL star Pat Coyle. "He's super level, great team guy, great leader.
"To me, he's the X-Factor often when we're playing against teams – they'll get to a point where they're not sure if they're going to get another goal.
"The lift that gives us, and how that affects the other team mentally, you can't explain it. I don't think it's something people can see from the stands, but teams actually tighten up knowing they're shooting on him."
But the ever-humble Del Bianco isn't concerned about awards, or personal achievement – he's just proud of his team.
"I think the best thing was that there was a lot of political stuff going on in this series, and I think more than anything our team just wanted to get out there and play," he explained. "I think we showed that, we didn't care who was reffing, who was on the floor, we just wanted to get the job done."
Two Minto Cups, plenty of awards, and quite possibly the best goaltending the Junior Adanacs have ever witnessed.
There's a lot to look back on for Del Bianco.
"I'm going to miss it, it's tough," he said."Moreso than any other place, you're playing with your best friends. I think the biggest thing I'll take away from my junior-A career is the memories, it's spectacular, there's nowhere else I would have rather played."