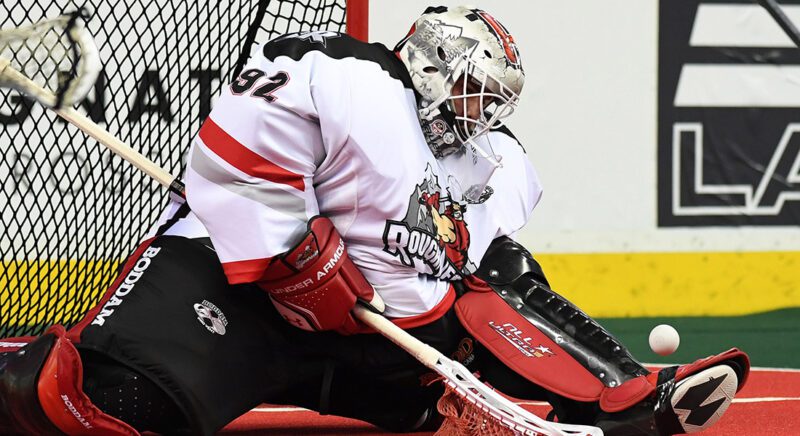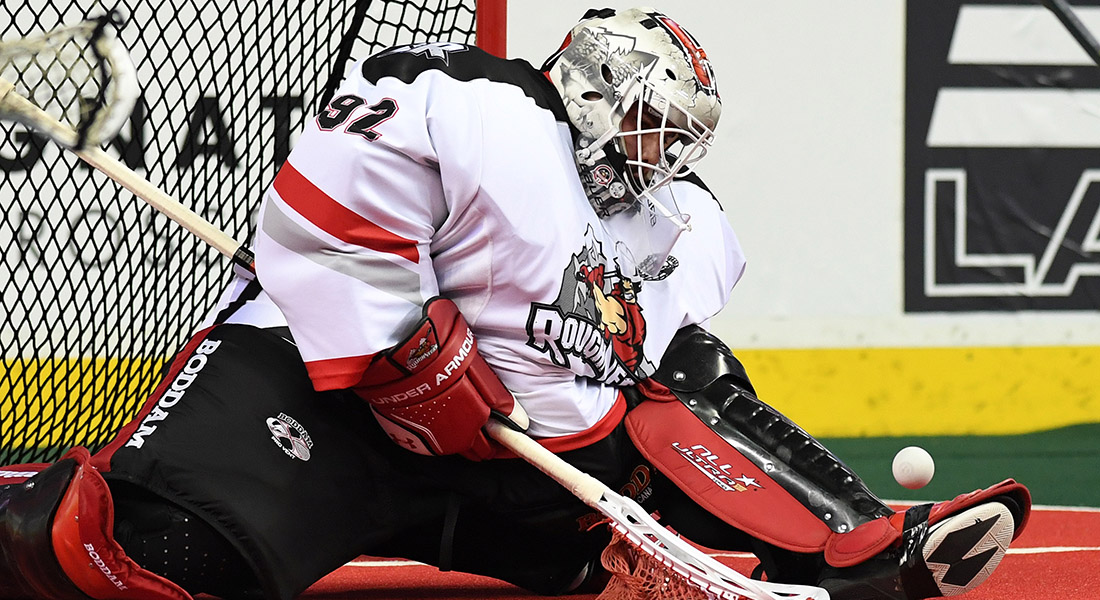 Photo by Candice Ward
For an evening, anyway, Superman was more than happy to lend out his cape and comic-book reputation for arriving just in the nick of time to stop the bad guys and save the day.
"Just a huge effort by Frankie,'' lauded Curtis Dickson. "Huge. What'd they end up with? Sixty-Three shots."
A soft, admiring shake off the head.
"I mean, any time you get a 50-plus-save night from your goalie you'd better be winning games."
Perhaps somewhat overlooked in a three hat-trick home opener at the Scotiabank Saddledome – via Dickson, Holden Cattoni and Riley Loewen – that featured an admirable collective bounce-back performance from last weekend's "all-around absolute stinker" (Dickson's apt description) at Rochester, was the contribution of goaltender Frank Scigliano.
"Frank,'' praised Loewen, following a morale-boosting 15-12 National Lacrosse League silencing of the visiting Vancouver Stealth, "is such a big part of this team.
"When he's rolling our confidence is up and it's really big for us."
There certainly did seem to be an inordinate number of the trademark "What's he got?" queries to a crowd of 9,708 from PA announcer Mookie Wilson of 95.9 CHFM Radio.
The answer, 51 times, was "Nothing!"
Not only was Scigliano an absolute wall at the defensive end, though. He displayed some attacking flair, as well, firing an arcing, half-the-floor-long dart, spot on the money to defender Tyson Bell in full gallop to score on breakaway.
"I've said over the years, Frankie's such a warrior, such a competitor, that it's hard to be patient in the goal,'' said coach Curt Malawsky.
"You just want to make every save.
"You want to charge that ball. He just wants to win for the team. You can see that (over-aggressiveness) in his game sometimes.
"It's tough to get a young guy to be patient. We talked about about a couple of things.
"He definitely was a patient goaltender today. He let the ball hit him and he watched it into his chest.
"He got the results so hopefully he just stays with it."
As the shot-clock continued to mount, the man doing the repelling remained oblivious.
"I didn't really keep track, to be honest,'' admitted Scigliano, dressing for his 100 NLL game Friday. "At the end I looked up, saw the shot total and kinda went 'Huh …'
"You're just so focused. And yeah, it was better but tonight I feel I made some the saves I should've and I know of a couple I want back already. But that's why you've got the film and get to watch and hopefully make the right changes."
Developing that patience Malawsky spoke of is certainly something Scigliano is on board with.
"You kinda need to take a deep breath sometimes,'' he reasoned. "You've just gotta stay focused. That's what I take from tonight.
"The biggest thing is that when you give up goal, you've got to move on. Some guys are going to make great shots. It happens.
"I think I did a good job tonight of being ready for the next shot. That's the key. Be ready for the next one. Whatever happened on the last one, it's over and done with.
"The next one is the one that matters."
A week ago in the seasonal opener at Rochester, Scigliano started and was touched for 10 goals on 29 shots, giving way to back-up Christian Del Bianco, in a sobering 17-6 loss.
Friday, the Stealth outshot the homesteading Roughnecks 63-53 but couldn't find enough ways through the Scigliano barricade.
"Goaltending's sometimes a tough position,'' he reasoned with a shrug. "If you're not making saves, you're under the microscope.
"That's just the job.
"This week I just tried to come in with an open mind. And I know everyone else did, as well. We just wanted to come together as a group because we know what we have in this room.
"We take pride in our game here. Last week was not indicative of who we are.
"Tonight was a complete effort."