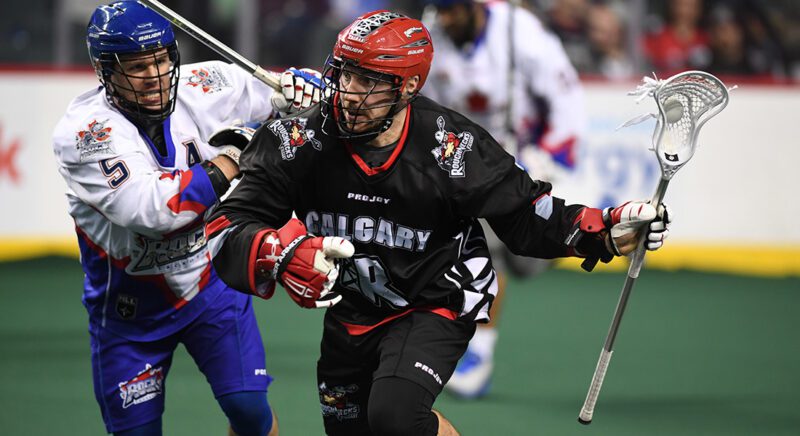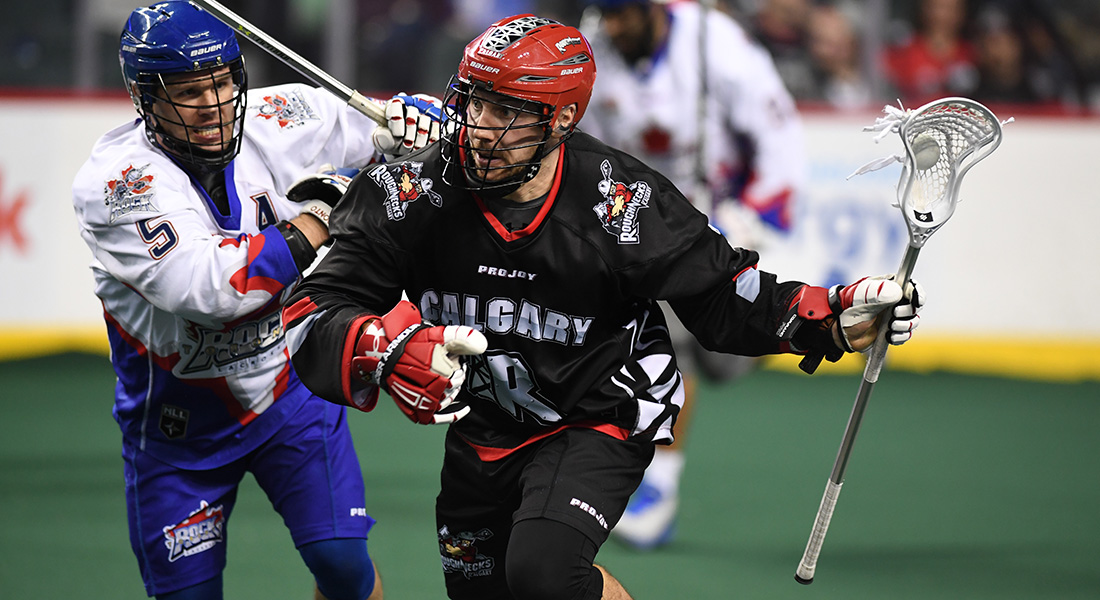 The Calgary Roughnecks battle the Toronto Rock tonight at Air Canada Centre. The Riggers are looking to kick a four-game slide following last Saturday's 13-12 overtime loss to the visiting Saskatchewan Rush. Calgary narrowed a 10-4 halftime deficit, going on a six-goal run while holding the Rush scoreless over a span of 18:25. The home side's resilient comeback fell short as Ben McIntosh found the back of the net 46 seconds into the extra session. Dane Dobbie led the Calgary attack with a pair of goals and five helpers for a game-high seven points. Standing tall between the pipes during Saskatchewan's goal drought was relief netminder Christian Del Bianco who closed the game with 29 saves on 37 shots. For the Rush, they received four-point nights from Mark Matthews (2g, 2a), Curtis Knight (2g, 2a), McIntosh (2g, 2a) and Robert Church (4a). This evening sees the Rock bring a four-game winning streak to the turf. Toronto has outscored their opposition by a combined 82-38 including last weekend's 21-9 triumph over the New England Black Wolves.
VS. TORONTO: Tonight is the first of two regular season meetings between the two clubs. Last season the Rock swept the two-game set by a combined score of 27-17, marking the fifth time in franchise history that Toronto went undefeated in a regular season series against Calgary. Curtis Dickson (8g, 2a) and Jeff Shattler (2g, 8a) led Calgary in the 2017 series with 10 points against Toronto while forward Tom Schreider (7g, 7a) was the top-performer for the Rock with 14 points. The two-game series will wrap on Saturday, Mar. 24, at the Scotiabank Saddledome.
2017 Regular Season Series Recap
Feb. 12/17 at CGY: TOR 11 CGY 7 … The Rock jumped out to a 6-2 lead.
Mar. 11/7 at TOR: TOR 16 CGY 10 … Toronto scored 11 of the game's 20 second-half markers.
Shots on Goal: CGY 87 TOR 105
Power Plays: CGY 6-13 (46.2%) TOR 5-13 (38.5 %)
All-Time Regular Season Records
All-Time vs. TOR: 12-21
All-Time at CGY: 7-9
All-Time at TOR: 5-12
Last CGY Win: Apr. 30/16, 18-17 (OT) at the Scotiabank Saddledome
Last TOR Win: Mar. 11/17, 20-16 at Air Canada Centre
2017-18 Regular Season Head-to-Head
| | | |
| --- | --- | --- |
| Category | Calgary (1-5) | Toronto (4-2) |
| | | |
| | | |
| | | |
| | | |
| | | |
| | | |
| | | |
| | | |
| | | |
DOMINANT DOBBIE: Alternate captain Dane Dobbie became the franchise's all-time leading scorer last Saturday against the Rush. His third-quarter assist pushed his point total to 685, eclipsing the previous mark of 684 set by now-Rush forward Jeff Shattler. Dobbie added two goals and four more assists to finish the night with a game-high seven points and 689 career points (343g, 346a) in 149 games with Calgary.
QUARTER BREAK: The Roughnecks have outscored their opposition in five quarters this season while also tying their opponents in five. Of the 24 quarters played, four have resulted in a one-goal differential while seven saw a two-goal spread.
RIGHT ON THE BURTON: Through the first six games of the season defenceman/transition player Tyler Burton has won 71 of the 116 face-offs he has taken (61.2 per cent). At this time last season he had a 54.5 face-off percentage, winning 66 of 121. He set his personal best in 2017, finishing the campaign with 150 face-off wins after meeting in the dot 293 times (51.2 per cent).
ROOKIE SPOTLIGHT: The Roughnecks selected defenceman Anthony Kalinich in the second round, 21st overall, in the 2017 NLL Draft. He spent the 2017 season with the Langley Thunder of the BCJALL, playing alongside Roughnecks first-year forward Ryan Martel. Kalinich put up nine points (4g, 5a) in 21 games with the Thunder.
CLIMBING THE CHARTS: Defenceman Mike Carnegie has moved into third all-time in franchise games played at 161, surpassing Kaleb Toth who retired in December 2012 with 160 games played. Former captain Andrew McBride sits atop the list with 198 followed by Jeff Shattler at 183.
COACH'S CORNER: Curt Malawsky, named assistant general manager and head coach ahead of the 2013 season, has guided the Roughnecks to 45 wins. He is one win back of duplicating the late Chris Hall's record (46) and two victories away from becoming the winningest coach in franchise history. Hall led the Riggers from 2002-07.
LEADERSHIP GROUP: Defenceman/transition player Dan MacRae is wearing the 'C' this season. He succeeds Bruce Alexander (2002), Tracey Kelusky (2003-10), Andrew McBride (2011-15) and Mike Carnegie (2016-17) as captain. MacRae, who served as alternate captain from 2016-17, has spent his entire eight-year playing career with the Roughnecks. Defenceman Greg Harnett and forward Dane Dobbie return as alternate captains for the 2017-18 season while forward Curtis Dickson received an 'A' for the first time this year. .
DID YOU KNOW?: Dane Dobbie became the franchise's all-time points leader during last weekend's Star Wars Party versus Saskatchewan. He moved ahead of former Roughnecks sniper Jeff Shattler with a third-quarter assist. In 2017 Shattler earned the all-time scoring title with a helper in the first quarter of Calgary's Star Wars Party played on Jan. 28 against Colorado.
RECORD WHEN:
Leading at halftime ……1-1 Outshooting opponent .…… 0-3
Trailing at halftime …….0-3 Outshot by opponent …..…..1-2
Tied at halftime …….….0-1 Shots are tied ……..…………0-0