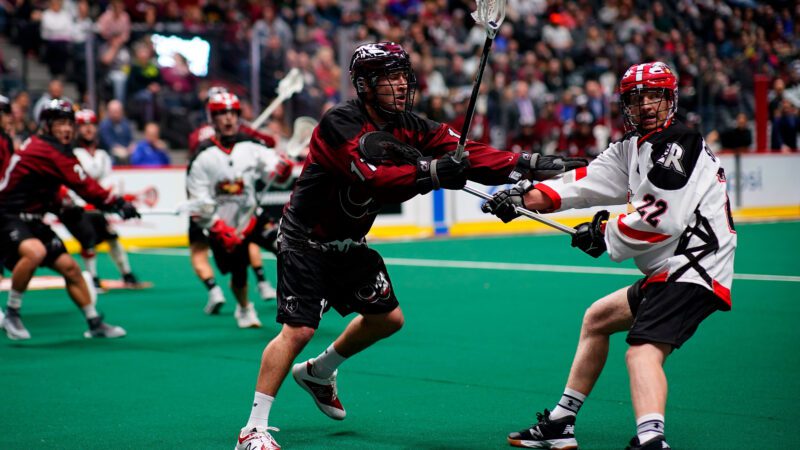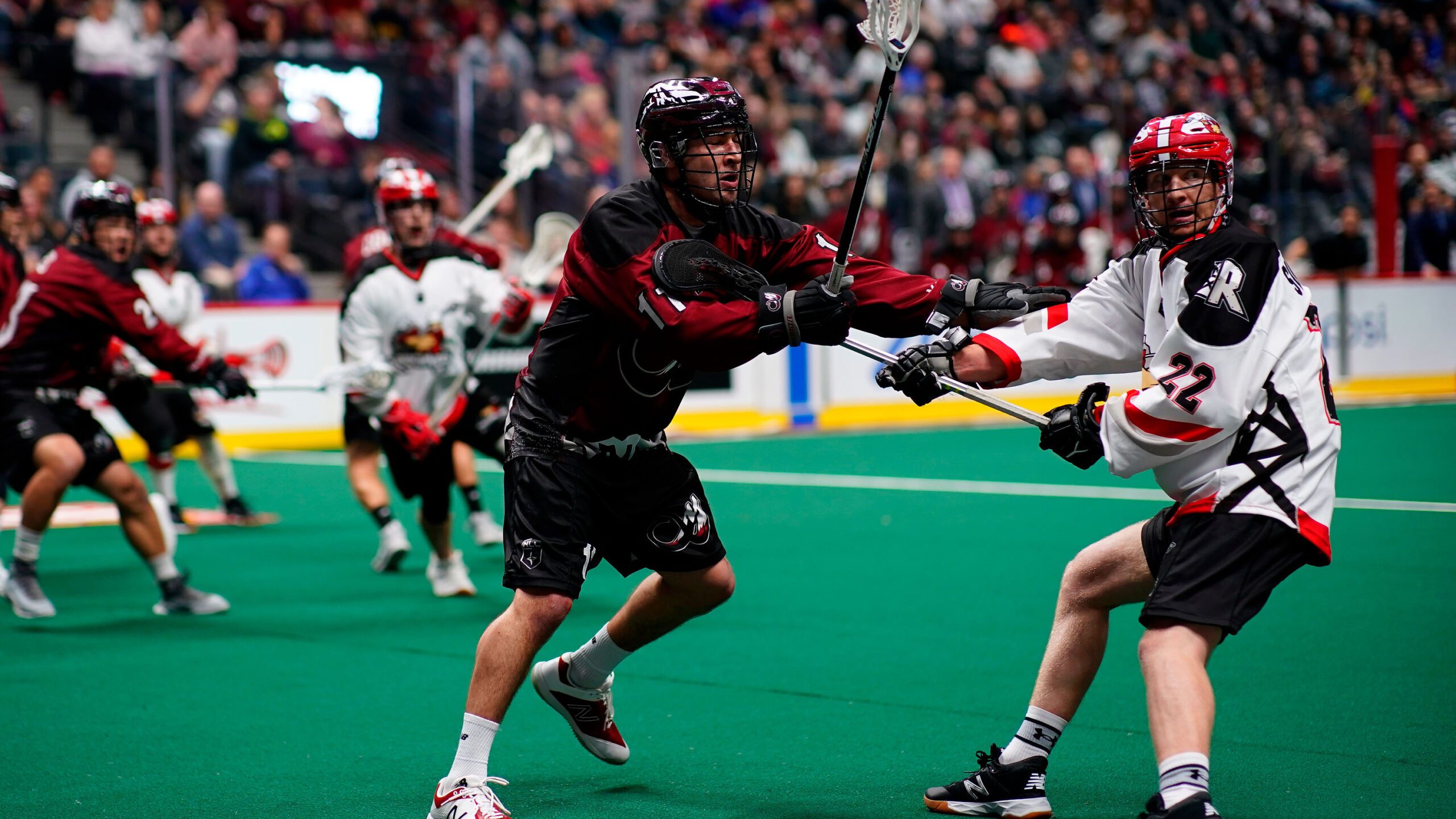 RIGGER RAMBLINGS: The Calgary Roughnecks continue a double-header weekend today as they take on the Colorado Mammoth at the Pepsi Center in a 1:00 p.m. matinee. Calgary is coming off Friday's 15-9 loss against the San Diego Seals at the Pechanga Arena. The home club came out of the gate firing, outshooting Calgary 62-46 while netting six unanswered third quarter goals. Austin Staats (3g, 4a) was the top sniper for San Diego recording a game-high seven points while Rhys Duch and Dane Dobbie each tallied five points with a pair of goals and three assists to lead the Roughnecks' offence. Christian Del Bianco, with an impressive 47-save effort, was the backbone of the Roughnecks' defence as they held San Diego to just one goal in the fourth quarter amidst a multitude of penalties. The Mammoth were last in action on Jan. 12 when the Toronto Rock, who recorded the win with a score of 11-10, outshot the home team by 68-42.
COLORADO: Tonight marks the second of three regular season meetings between the two West Division rivals. Last season, Colorado held the advantage in the series, picking up two of the three wins and outscoring Calgary by a combined 28-27. Calgary is 2-0 when playing on the road this season while Colorado is 0-3 at home. The Riggers and Mammoth don't meet again until Mar. 16 when Colorado visits the Scotiabank Saddledome for the biggest St. Patrick's Day party in Calgary. Game time is 7:00 p.m. MST.
2018-19 Regular Season Series Recap
Jan. 6/19 at COL: CGY 11 COL 8… Roughnecks added six second half goals to overcome the Mammoth 11-8.
Shots on Goal: CGY 39 COL 49
Power Plays: CGY 1-2 (50.0%) COL 0-3 (0.0%)
All-Time Regular Season Records
All-Time vs. COL: 20-24
All-Time at CGY: 13-11
All-Time at COL: 7-13*
Last CGY Win: Feb. 10/18, 13-9 at the Scotiabank Saddledome
Last COL Win: Mar. 10/18, 8-7 at the Pepsi Center
*Note: One loss was against the Washington Power in 2002.
HEAD-TO-HEAD: 2018-19 REGULAR SEASON
| | | |
| --- | --- | --- |
| Category | Roughnecks (3-3) | Colorado (0-3) |
| Home Record | 1-2 | 0-3 |
| Away Record | 2-1 | 0-0 |
| Goals For | 66 | 30 |
| Goals Against | 66 | 39 |
| Power Play Pct. | 42.42 | 42.86 |
| Penalty Kill Pct. | 59.26 | 42.86 |
| Faceoffs Pct. | 51.6 (81-157) | 55.6 (45-81) |
| Loose Balls | 434 | 217 |
| Points Leader – Series | Rhys Duch (6) | Ryan Benesch & Jacob Ruest (3) |
| Points Leader – Season | Dane Dobbie (35) | Ryan Benesch (12) |
ROUGHNECKS MONTH-BY-MONTH: December (2-1), January (1-2).
ROUGHNECKS VS.: (BUF 0-0), (COL 1-0), (GA 0-0), (NE 0-1), (PHI 0-0), (ROC 0-0), (SD 1-1), (SAS 0-0), (TOR 0-0), (VAN 1-1).
RECORD WHEN:
Leading at halftime …… 0-1 Outshooting opponent .…… 2-2
Trailing at halftime ……. 1-2 Outshot by opponent …..….. 1-1
Tied at halftime …….…. 2-0 Shots are tied ……..………… 0-0
SUPERMAN RETURNS: On Jan. 12 the Roughnecks signed 30-year-old forward Curtis Dickson to a multi-year contract. Dickson is entering his ninth season in the National Lacrosse League, all with the Roughnecks. He joined the franchise in the 2010 NLL Entry Draft after being selected by Calgary in the first round, third overall. The Port Coquitlam, British Colombia product sits third all-time in franchise scoring with 641 points (360 goals, 281 assists) in 138 career games.
ROOKIE SPOTLIGHT: Defenceman Shane Simpson recorded his first NLL goal and added a pair of helpers to help Calgary secure the victory against the Colorado Mammoth on Jan. 6. The 24-year-old was drafted by the Roughencks in the first round, 6th overall, in the 2018 NLL Entry Draft. Simpson spent the 2018 season with the Six Naitons Chiefs of the MSL. He recorded 8 points (4g, 4a) in 8 games.
ROAD WARRIORS: The Roughnecks are 2-1 when playing in opposition barns this season. Calgary's best road record when playing an 18-game regular season is 6-3, achieved during the 2014 campaign. Prior to the expansion of the regular season schedule, the Roughnecks twice earned 7-1 road records, first in 2009 and again in 2012.
DID YOU KNOW?: On this day in 2017, alternate captain Dane Dobbie became the 25th player in league history to record 300 NLL career goals and the first player in franchise history to score all 300 as a member of the Roughnecks. The 33-year-old is currently second in the league for goals with 17 and in points with 35. Last season the forward became the franchise's all-time leading scorer finishing the season with 751 points (371g, 380a) in 160 contests to surpass the previous mark of 684 set by now-Rush forward Jeff Shattler. Dobbie is also creeping up on Shattler's franchise record of 416 assists; he currently has 398 helpers in 166 career games.
LADYCROSSE IS BACK: The Calgary Roughnecks are proud to present Ladycrosse on February 3 at the Scotiabank Saddledome. Women aged 18 and over are invited to join us for a fun-filled morning learning directly from the Roughnecks players and coaches on the 'Dome turf. The Roughnecks will be teaching basic lacrosse drills, training routines, and rules of the game. Afterwards, all ladies are invited to mix & mingle with the players and coaches while enjoying a brunch buffet served in the Chrysler Club. Ladycrosse registration along with full event details can be found at CalgaryRoughnecks.com/ladycrosse.
IN THE COMMUNITY: Roughnecks players are excited to visit the Ronald McDonald House on Monday, Jan. 21 from 7:00-8:00 p.m. Families from the Ronald McDonald House and the Alberta Children's Hospital will join the players for some fun and games including Super BINGO.
DEL BIANCO'S ASSISTS FOR KIDS: On Dec. 15, Roughnecks goaltender, Christian Del Bianco, and the Roughnecks Foundation proudly announced a new charitable program, Del Bianco's Assists for Kids presented by Ascent Consulting Ltd. The partnership will see both Del Bianco and the Calgary Roughnecks Foundation direct $30 each while Ascent Consulting Ltd. donates $500 for every regular season assist recorded by the Calgary goaltender. In addition, Del Bianco is auctioning off his helmet on ElevateAuctions.com, which features the KidSport logo. Auction details will be communicated in the new year. Del Bianco tallied 17 assists during the 2017-18 regular season and hopes to increase his point total this year.
MILESTONE MARKERS: On Jan. 18, Tyson Bell picked up nine loose balls to eclipse 300. On Jan. 12, Tyler Burton and Greg Harnett both played their 100th NLL career game while rookie Reece Callies recorded his first NLL goal on the same night. On Jan. 6, first round draft pick in 2018 Shane Simpson tallied his first NLL career point with a goal and two assists while Chad Cummings eclipsed 150 loose balls. On Dec. 28, Dan Taylor eclipsed 50 NLL career points while rookie Reece Callies recorded his first NLL career point with an assist. On Dec. 21, Rhys Duch surpassed 900 NLL career points and rookie Eli Salama recorded his first NLL career point with an assist. On Dec. 15, Dan MacRae eclipsed 600 loose balls while Chris Boushy recorded his first NLL goal and assist on the same night.
THE ROAD AHEAD: Week 7 is a bye-week for the Riggers before they return home for a matchup against the Vancouver Warriors on Feb. 2. Game time is 7:00 p.m. at the Scotiabank Saddledome for the Maritimes Kitchen Party.