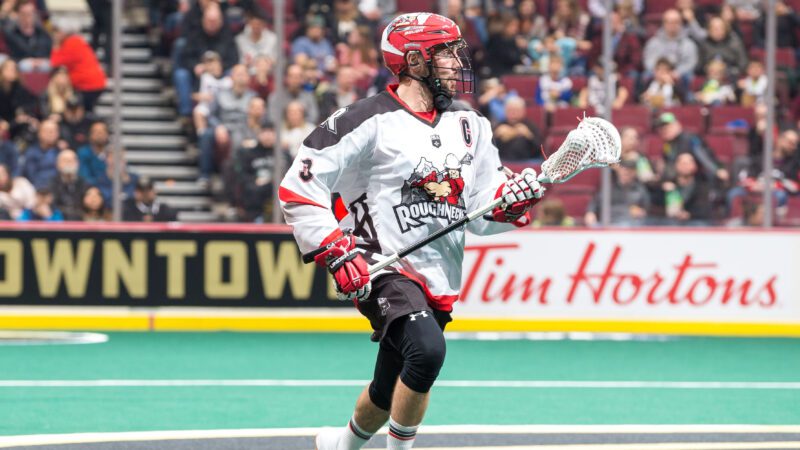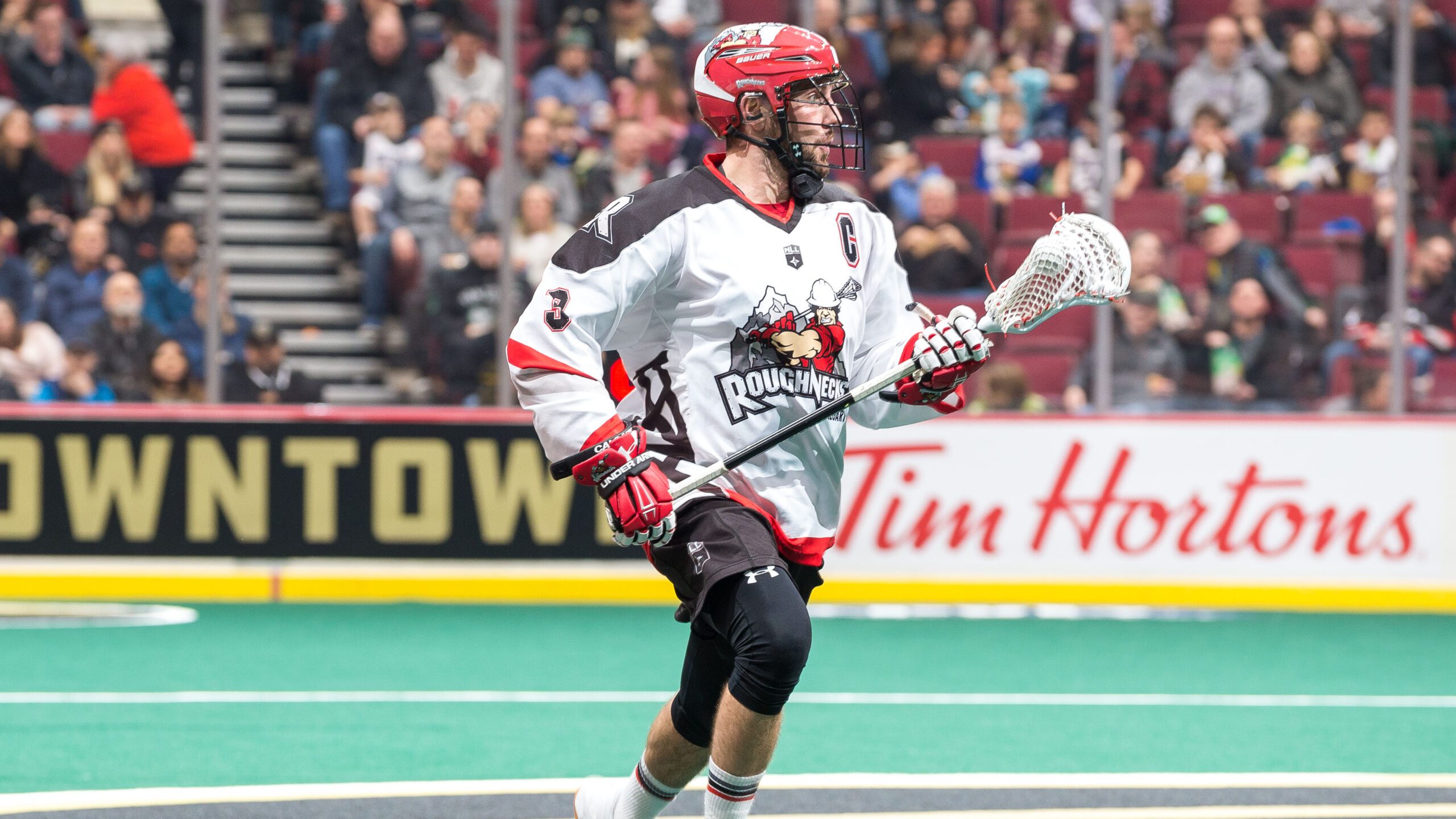 RIGGER RAMBLINGS: The Calgary Roughnecks look to extend their two-game winning streak tonight as they take on the Colorado Mammoth a the Pepsi Center. Game time is 3:00 p.m. ET. The Riggers are coming off last Friday's 9-5 victory over the San Diego Seals. The night began a close-knit affair with goaltenders on both ends of the field putting up first-star performances. Christian Del Bianco stopped 46 shots to record his second consecutive win while former Roughneck Frank Scigliano made 49 saves for the Seals. Dane Dobbie led the charge for the Riggers with a pair of goals and four assists while Rhys Duch (3g, 2a) followed with five points. Rookie Chris Boushy scored twice while Dan Taylor (1g, 2a) and Mitch Wilde (1g) also netted goals in a game that entered the fourth quarter knotted at four apiece. The 'Necks pressed in the fourth quarter, adding five goals while holding San Diego to just one.
COLORADO: Tonight marks the first of three regular season meetings between the two West Division rivals. Last season, Colorado held the advantage in the series, picking up two of the three wins and outscoring Calgary by a combined 28-27. The Riggers and Mammoth will meet again on Sunday, Jan. 20 when the Roughnecks return to the Pepsi Center for another 3:00 p.m. matinee matchup. It's a double-header weekend for the 'Necks as they visit the Seals on Friday, Jan. 18 at the Valley View Casino Centre.
2017-18 Regular Season Series Recap
Dec. 29/17 at CGY: COL 11 CGY 7 … Colorado scored seven goals in the second half en route to a 11-7 victory.
Feb. 10/18 at CGY: CGY 13 COL 9 … The Roughnecks record a 13-9 win highlighted by a multitude of milestones.
Mar. 10/18 at COL: COL 8 CGY 7 … Roughnecks fell by a single goal while the Mammoth clinch a playoff spot.
Shots on Goal: CGY 148 COL 163
Power Plays: CGY 5-12 (41.7%) COL 11-17 (64.7%)
All-Time Regular Season Records
All-Time vs. COL: 20-24
All-Time at CGY: 13-11
All-Time at COL: 7-13*
Last CGY Win: Feb. 10/18, 13-9 at the Scotiabank Saddledome
Last COL Win: Mar. 10/18, 8-7 at the Pepsi Center
*Note: One loss was against the Washington Power in 2002.
HEAD-TO-HEAD: 2018-19 REGULAR SEASON
Category
Roughnecks (2-1)
Colorado (0-1)
Home Record
1-1
0-1
Away Record
1-0
0-0
Goals For
36
12
Goals Against
27
17
Power Play Pct.
45.45
50.00
Penalty Kill Pct.
53.85
0.00
Faceoffs Pct.
50.0 (38-76)
54.5 (18-33)
Loose Balls
202
77
Points Leader – Series
n/a
n/a
Points Leader – Season
Dane Dobbie (22)
Ryan Benesch (5)

Jeremy Noble (5)
DIVISIONAL DIET: Tonight marks the last of four West Division contests to start the season for the Roughnecks. Calgary currently has a 2-1 record against their West Division rivals after finishing 5-5 last season.
DOMINANT DOBBIE: Alternate captain Dane Dobbie leads the league in goals with 11 and in shots with 62. Last season the forward became the franchise's all-time leading scorer finishing the season with 751 points (371g, 380a) in 160 contests to surpass the previous mark of 684 set by now-Rush forward Jeff Shattler. Dobbie is also creeping up on Shattler's franchise record of 416 assists; he currently has 391 helpers in 163 career games.
STREAKING: Captain Dan MacRae and rookie Eli Salama both have assists in back-to-back contests. Dane Dobbie (11g, 11a), Rhys Duch (6g, 13a), Tyler Pace (5g, 8a), Dan Taylor (4g, 8a), Riley Loewen (4g, 4a), Mitch Wilde (2g, 2a) and rookie Chris Boushy (3g, 2a) have points in all three matchups this season.
QUARTER BREAK: The Roughnecks have outscored their opposition in seven quarters this season while also tying their opponents in two. Of the 12 quarters played, three have resulted in a one-goal differential while four saw a spread of two or more goals.
SPECIAL TEAMS WATCH: Calgary's power play is fifth in the NLL at 45.45% The penalty kill is seventh in the league at 53.85%.
DEL BIANCO'S ASSISTS FOR KIDS: On Dec. 15, Roughnecks goaltender, Christian Del Bianco, and the Roughnecks Foundation proudly announced a new charitable program, Del Bianco's Assists for Kids presented by Ascent Consulting Ltd. The partnership will see both Del Bianco and the Calgary Roughnecks Foundation direct $30 each while Ascent Consulting Ltd. donates $500 for every regular season assist recorded by the Calgary goaltender. In addition, Del Bianco is auctioning off his helmet on ElevateAuctions.com, which features the KidSport logo. Auction details will be communicated in the new year. Del Bianco tallied 17 assists during the 2017-18 regular season and hopes to increase his point total this year.
MILESTONE MARKERS: On Dec. 28, Dan Taylor eclipsed 50 NLL career points. On Dec. 21, Rhys Duch surpassed 900 NLL career points and rookie Eli Salama recorded his first NLL career point with an assist. On Dec. 15, Dan MacRae eclipsed 600 loose balls while Chris Boushy recorded his first NLL goal and assist on the same night.
DID YOU KNOW?: Goaltender Christian Del Bianco tops the NLL with 114 saves for a league-leading 8.79 goals against average. He is currently in a three-way tie for the most wins with two, alongside Mike Poulin of the Georgia Swarm and Matt Vinc with the Buffalo Bandits.
RECORD WHEN:
Leading at halftime …… 0-1 Outshooting opponent .…… 2-1
Trailing at halftime ……. 1-0 Outshot by opponent …..….. 0-0
Tied at halftime …….…. 1-0 Shots are tied ……..………… 0-0
ROUGHNECKS MONTH-BY-MONTH: December (2-1), January (0-0).
ROUGHNECKS VS.: (BUF 0-0), (COL 0-0), (GA 0-0), (NE 0-0), (PHI 0-0), (ROC 0-0), (SD 1-0), (SAS 0-0), (TOR 0-0), (VAN 1-1).
HOW THE 2018-19 ROUGHNECKS WERE BUILT (21):
NLL Draft (13): Callies*, Cummings, Currier, Del Bianco, Carter Dickson*, Dobbie, Harnett, Kalinich, MacRae, Martel, Pace, Salama*, Simpson*
Trade (3): Loewen, Taylor, Wilde
Free Agent (5): Boushy*, Burton, Carnegie, Duch, Richards
*Denotes rookie
BOXING WEEK BLOWOUT: Until Saturday, Jan. 12, the Roughnecks are offering 20% off season tickets for the remaining seven home games. With your season tickets you receive exclusive FanAttic store discounts, referral benefits and a dedicated customer service representative. No ticket will go to waste with our flexible ticket exchange program and many more special offers. Get yours today at CalgaryRoughnecks.com.
THE ROAD AHEAD: The Roughnecks head home to host the New England Black Wolves on Saturday, Jan. 12 at 7:00 p.m. at the Scotiabank Saddledome. Doors will welcome fans at 5:30 p.m. for the $5 Happy Hour featuring food and drink specials at all concourse concessions. The Dueling Piano Kings will take over the turf for a live performance during the halftime show. Also, the Grey Cup will be in the Rough House with photo opportunities for fans in the Chrysler Club.