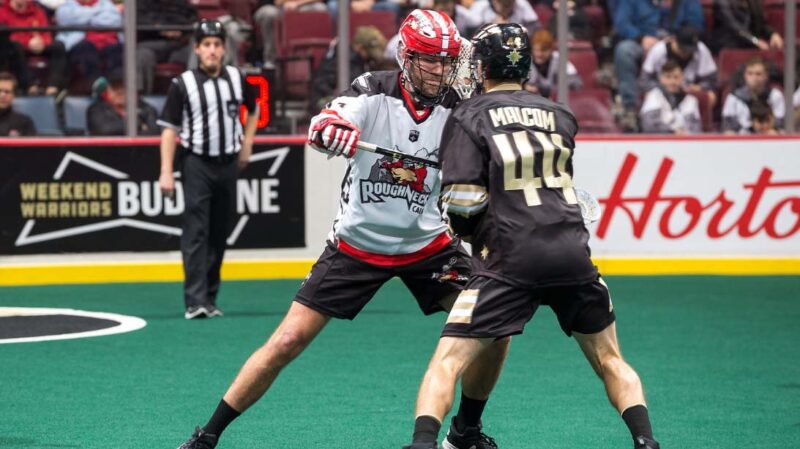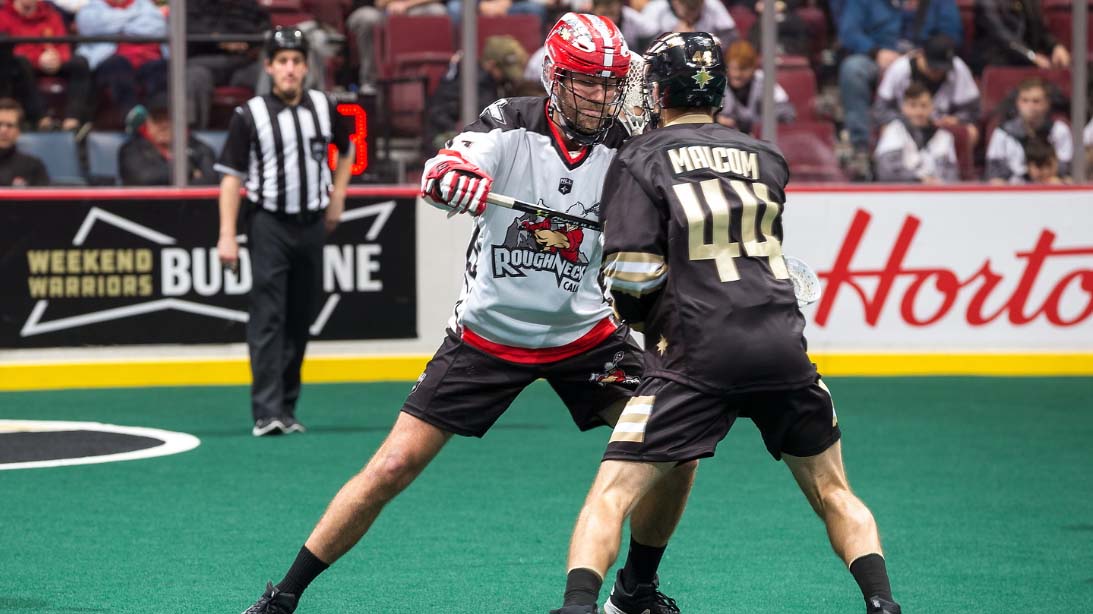 RIGGER RAMBLINGS: The reigning 2019 NLL Champion Calgary Roughnecks begin their 19th season tonight by visiting the Vancouver Warriors at Rogers Arena. Calgary will look to defend their championship title after finishing 10-8 in the 2018-19 regular season and winning out against San Diego, Colorado and Buffalo in the Final series to complete their clean sweep of the post-season. The victory marks the third NLL Cup in Roughnecks franchise history, winning the Champion's Cup in 2004 (Buffalo Bandits) and 2009 (New York Titans). Vancouver did not qualify for the 2019 post-season.
VANCOUVER: Tonight marks the first of two regular season meetings between the Roughnecks and Warriors. Calgary won their three-game series 2-1 during the 2018-19 regular season and outscored Vancouver by a combined 35-27. Dane Dobbie (10g, 11a) led the Riggers with 21 points while Logan Schuss (6g, 9a) topped the Vancouver Warriors with 15. Calgary does not face-off against the Warriors again until March 28 at the Scotiabank Saddledome.
2018-19 Regular Season Series Recap
Dec. 15/18 at CGY: VAN 14 CGY 13 OT… Matt Beers scored 4:17 into overtime to push Vancouver past Calgary.
Dec. 21/18 at VAN: CGY 14 VAN 8… Roughnecks score eight second half goals en route to a 14-8 victory.
Feb. 2/19 at CGY: CGY 8 VAN 5… Down 4-2, the Roughnecks pressed in the second half to overcome the Warriors 8-5.
Shots on Goal: CGY 158 VAN 130
Power Plays: CGY 9-18 (50.0%) VAN 5-12 (41.7%)
All-Time Regular Season Records
All-Time vs. VAN: 31-21
All-Time at CGY: 12-13
All-Time at VAN: 19-8
Last CGY Win: Feb. 2/19, 8-5 at the Scotiabank Saddledome
Last VAN Win: Dec. 15/18, 14-13 OT at the Scotiabank Saddledome
ALL-TIME IN SEASON OPENERS: In their previous 18 season openers, the Roughnecks have a combined record of seven wins and 11 losses. Tonight marks the fifth time Calgary has faced Vancouver in a season opener with a record of 1-2-1.
OFF-SEASON TRANSACTIONS: On July 9, defencemen Shane Simpson and Dan MacRae were claimed by the Rochester Knighthawks and New York Riptide, respectively, in the 2019 National Lacrosse League Expansion Draft. Then on July 12, the Roughnecks reclaimed Shane Simpson and acquired a first round pick in the 2019 NLL Entry Draft and a second round selection in 2021 from the San Diego Seals in exchange for forward Wesley Berg. San Diego acquired Simpson from the Knighthawks for Turner Evans.
FRESH FACES: The 21-player active roster includes 18 returning players from the championship team and three new faces from Calgary's 2019 draft class: defenceman Liam LeClair (first round, seventh overall), forwards Haiden Dickson (first round, eighth overall) and Marshal King (second round, 22nd overall), round out the 2019-20 Roughnecks active roster.
PRE-SEASON RECAP: The Colorado Mammoth edge the reigning NLL Champion Calgary Roughnecks 12-9 during their only pre-season showing on Nov. 16 at the Scotiabank Saddledome. The two teams kept it close to begin the night, with the score tied on five occasions, but the Mammoth pulled ahead late in the third quarter to take an 8-6 lead. Colorado added four more goals in the final frame to secure the victory. Eli McLaughlin led the Mammoth with seven points (2g, 5a) while Jacob Ruest (3g, 3a) was next with six. Dane Dobie was Calgary's top point producer with seven including two goals and five assists.
HOW THE ROUGHNECKS WERE BUILT (21):
NLL Draft (15): Bell, Cummings, Currier, Del Bianco, C. Dickson, H. Dickson*, Dobbie, Harnett, Kalinich, M. King*, LeClair*, Manning, Pace, Salama, Simpson
Trade (3): J. King, Taylor, Wilde
Free Agent (3): Burton, Duch, Richards
*Denotes rookie
LEADERSHIP GROUP: On Nov. 14, the Roughnecks announced that 12-year National Lacrosse League veteran and 2019 NLL MVP, Dane Dobbie, will wear the 'C' for the 2019-20 season. Dobbie succeeds Dan MacRae (2017-19), Mike Carnegie (2016-17), Andrew McBride (2011-15), Tracey Kelusky (2003-10), Kaleb Toth (2002) and Bruce Alexander (2002) as captain. Curtis Dickson and Greg Harnett return as alternates to form the remainder of the leadership group. Dobbie, who served as alternate captain from 2014-19, has spent his entire playing career with the Roughnecks and holds franchise records in several categories including most regular season points (866) and most playoff points (138).
ELEV8 CLASSROOM LACROSSE: The Roughnecks commit to a second year as presenting sponsor of ELEV8 CLASSROOM Lacrosse. Calgary Roughnecks will provide funding for 25 local schools in the Calgary and Rockyview school districts to take part in learning the fundamentals of the game of lacrosse. In addition, they will donate two home game tickets to every student who participates in the program for the 2019-20 school year. Last year ELEV8 CLASSROOM Lacrosse visited 32,935 students in Calgary and surrounding area and brought 10,000 new fans to Roughnecks games.
PRE-GAME IN SADDLEROOM GRILL: New this year, the Saddleroom Grill located above section 212, will be open before all Roughnecks home games. The pre-game meal, which begins two hours prior to puck drop, features a brand new Roughnecks menu with great prices including platters that start at just $13 per person. Visit Roughnecks.com/Saddleroom or call 403-777-3694 for more information.
THE ROAD AHEAD: Following tonight's game, the Roughnecks have a two-week bye before hosting their Home Opener against the Colorado Mammoth on Dec. 21. The 2019 NLL Championship banner will be raised to the rafters of the Scotiabank Saddledome with the first 3,000 fans in the building to receive mini replica banners. Doors open at 6:00 p.m. for the $5 Happy Hour featuring food and beverage specials at all concourse concessions