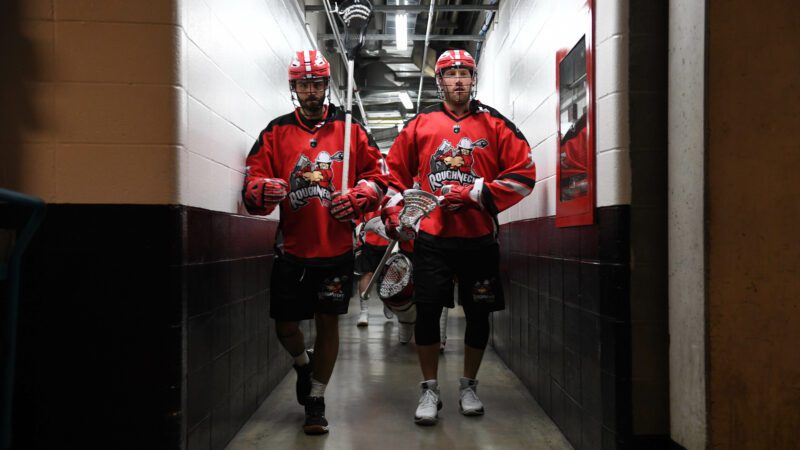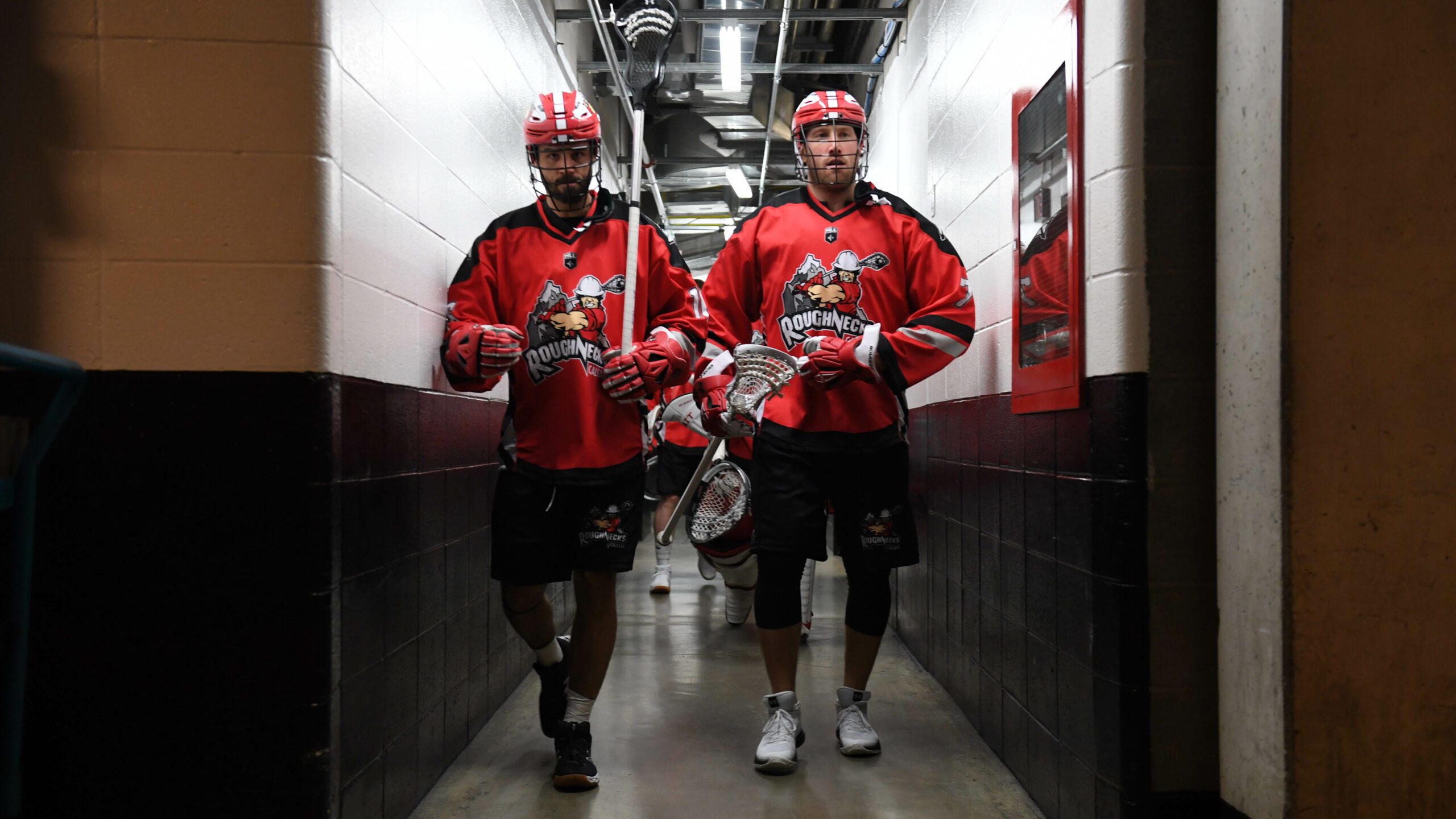 RIGGER RAMBLINGS: The Calgary Roughnecks will look to build upon last Friday's victory this evening when the San Diego Seals visit the Scotiabank Saddledome for the first time. It's the Biggest Ugly Christmas Sweater Party in Calgary featuring concourse activities including music, a variety of games and a Christmas photo booth. Fans are encouraged to wear their best (or worst) holiday sweater and bring one to donate to Project Warmth for those in need this holiday season. Project Warmth will also be accepting winter jackets, toques and gloves of all sizes. The Calgary Roughnecks dominated the second half scoring eight goals en route to a 14-8 win over the Vancouver Warriors last Friday at Rogers Arena. Rhys Duch (2g, 8a) eclipsed 900 NLL career points as he led the charge offensively for the Roughnecks with a game leading 10 point effort. Dane Dobbie found the back of the net on four occasions and helped with three others while teammates Tyler Pace (3g, 3a) and Riley Loewen (3g, 2a) each scored a hat trick for the visiting team. Mitch Jones was the top performer for the Warriors with two goals and two assists, followed by Logan Schuss (1g, 2a) with a three point effort.
SAN DIEGO: Tonight marks the first of three regular season meetings between the Roughnecks and Seals. San Diego, which was awarded an NLL expansion team in August of 2017, began their inaugural season with a 17-12 victory over the Colorado Mammoth last Saturday. The Riggers and Seals will meet again on Friday, Jan. 18 when the Roughnecks travel South to the Valley View Casino Center.
HEAD-TO-HEAD: 2018-19 REGULAR SEASON
| | | |
| --- | --- | --- |
| Category | Roughnecks (1-1) | San Diego (1-0) |
| Home Record | 0-1 | 0-0 |
| Away Record | 1-0 | 1-0 |
| Goals For | 27 | 17 |
| Goals Against | 22 | 12 |
| Power Play Pct. | 53.33 | 100.00 |
| Penalty Kill Pct. | 44.44 | 50.00 |
| Faceoffs Pct. | 56.9 (33-58) | 45.5 (15-33) |
| Loose Balls | 135 | 74 |
| Points Leader – Series | n/a | n/a |
| Points Leader – Season | Dane Dobbie (16) | Austin Staats (9) |
DIVISIONAL DIET: Tonight marks the third of four West Division contests for the Roughnecks. Calgary will next face-off against the Colorado Mammoth on Jan. 6 at the Pepsi Centre. Last season, the Roughnecks finished 5-5 against West Division opponents.
NLL DEBUTS: Defencemen/transition players Eli Salama (drafted 12th overall in the 2018 NLL Draft) and Reece Callies (selected 13th overall in 2018) made their NLL debuts on Dec. 21 against the Vancouver Warriors. Salama recorded one assist and picked up two loose balls while Callies also scooped up a pair of loose balls. Forwards Chris Boushy (selected 31st overall by the Saskatchewan Rush in the 2017 NLL Draft) and Carter Dickson (drafted 45th overall in 2018) along with defence/transition player Shane Simpson (selected 6th overall in 2018) made their NLL debuts in Calgary's home opener on Dec. 15. Boushy recorded two points (1g, 1a) in the home setback while Simpson collected eight loose balls and recorded two turnovers and Dickson took two shots on goal.
DEL BIANCO'S ASSISTS FOR KIDS: On Saturday Roughnecks goaltender, Christian Del Bianco, and the Roughnecks Foundation proudly announced a new charitable program, Del Bianco's Assists for Kids presented by Ascent Consulting Ltd. The partnership will see both Del Bianco and the Calgary Roughnecks Foundation direct $30 while Ascent Consulting Ltd. donates $500 for every regular season assist recorded by the Calgary goaltender. In addition, Del Bianco is auctioning off his helmet on ElevateAuctions.com, which features the KidSport logo. Auction details will be communicated in the new year. Del Bianco tallied 17 assists during the 2017-18 regular season and hopes to increase his point total this year.
FRESH FACES: The 21-player active roster includes 14 returning players and seven new faces: free agents Rhys Duch and Chris Boushy join forward Dan Taylor, acquired from the Toronto Rock on Aug. 13. Four players from Calgary's 2018 draft class: defencemen/transition players Shane Simpson (first round, sixth overall), Eli Salama (first round, 12th overall), Reece Callies (first round, 13th overall) and forward Carter Dickson (third round, 45th overall) round out the 2018-19 Roughnecks active roster.
MILESTONE MARKERS: On Dec. 21, Rhys Duch surpassed 900 NLL career points and rookie Eli Salama recorded his first NLL career point with an assist. On Dec. 15, Dan MacRae eclipsed 600 loose balls while Chris Boushy recorded his first NLL goal and assist on the same night.
DID YOU KNOW?: This is Calgary's 18th season in the NLL. The franchise has an all-time record of 156-128.
RECORD WHEN:
Leading at halftime …… 0-1 Outshooting opponent .…… 1-1
Trailing at halftime ……. 0-0 Outshot by opponent …..….. 0-0
Tied at halftime …….…. 1-0 Shots are tied ……..………… 0-0
ROUGHNECKS MONTH-BY-MONTH: December (1-1).
ROUGHNECKS VS.: (BUF 0-0), (COL 0-0), (GA 0-0), (NE 0-0), (PHI 0-0), (ROC 0-0), (SD 0-0), (SAS 0-0), (TOR 0-0), (VAN 1-1).
HOW THE 2018-19 ROUGHNECKS WERE BUILT (21):
NLL Draft (13): Callies*, Cummings, Currier, Del Bianco, Carter Dickson*, Dobbie, Harnett, Kalinich, MacRae, Martel, Pace, Salama*, Simpson*
Trade (3): Loewen, Taylor, Wilde
Free Agent (5): Boushy*, Burton, Carnegie, Duch, Richards
*Denotes rookie
POST-GAME AUTOGRAPHS: After each home game, fans are invited down on the turf through Section 103 where they can meet the Roughnecks players and get autographs.
NEW FAN ZONES: The Roughnecks are excited to introduce three new zones this season that offer the same great entertainment but with an enhanced fan experience and preferred pricing.
Family Zone: Enjoy the Rough House excitement in our brand new alcohol-free zone located in section 218.
Student Zone: All University and College students are welcome to party with their peers in sections 203 and 204 for only $15 (plus GST and applicable fees) during every Roughnecks home game. (Available at the Scotiabank Saddledome box office with presentation of valid Student ID or online through TicketMaster.com with valid student email address).
Rough House Reserved: Get the lowest priced lower bowl tickets for just $20 (plus GST and applicable fees) directly through CalgaryRoughnecks.com. Tickets are available each Monday at 10:00 a.m. prior to all Roughnecks home games (while quantities last).
THE ROAD AHEAD: The Roughnecks now take on West Division rivals, the Colorado Mammoth, on Sunday, Jan. 6 in a 1:00 p.m. matinee. They will then head home to host the New England Black Wolves on Saturday, Jan. 12 at 7:00 p.m. Doors will welcome fans at 5:30 p.m. for the $5 Happy Hour featuring food and drink specials at all concourse concessions and the Dueling Piano Kings will be performing live during the halftime show. The Grey Cup will also be in the Rough House with photo opportunities for fans in the Chrysler Club.